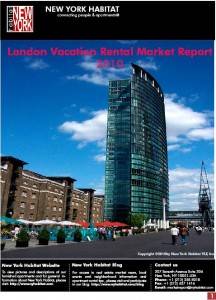 2010 London Vacation Rental Market Report
New York Habitat recently concluded its latest study of the London Vacation Rental Market focusing on apartment rentals in London in 2010.  The comprehensive survey of rentals in 2010 looks at activity in the 2nd half of 2010 as well as during the full year. The data was compared with info from 2008 and 2009 for comparison purposes.
The London Vacation Rental Market reports are available on the London Vacation rental market report website, which includes all of the reports including the 2010 London Vacation Rental Report which can be accessed directly at the link before.
Taking a quick look at the findings of the report and we will conclude that the London Vacation Rental market is quite stable. Both prices and the number of rentals remain nearly constant. Some of the factors influencing the market include:
•A weaker British Pound compared to past years which makes traveling to London less expensive
•A more stable pound which helps visitors feel more confident about making a  trip to London
•A recovering world economy which has increased travel demand
•A wide selection of apartments in London which includes plenty of larger apartments popular with families.
As you read the report you will find information on various aspects of the market including:
•Apartment Prices including average rental rates, information about prices by type and neighborhood
•Data about which neighborhoods were most popular by borough
•Information about what size apartments were rented as well as the average length of  stay
We have written this report for the users: apartment owners, customers visiting London and anyone else interested in the London vacation rental market. If you are interested in more info feel free to e-mail us at marketreport@nyhabitat.com and we will do our best to provide you with additional info.
Look for the next update on the London market in the summer of 2011 of the midyear 1st half update. Until then check the New York Habitat Blog for the latest info and updates about the London Vacation Rental Market.