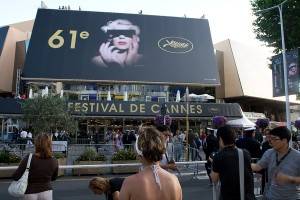 Photo at the Cannes Film Festival in the South of France
Spring on the French Riviera, after the winter's lull and before the summer's hordes, is a concept extremely hard to resist. Add to that one of the most influential cultural events in the world and you have an all-around winning combination. Although it was inaugurated in the fall of 1946, the Cannes Film Festival quickly moved to the month of May in order not to compete with the equally prestigious Venice Film Festival, and it turned out to be a good move. Its first chaotic years notwithstanding, the ever-expanding phenomenon rapidly became a must in the international cinema industry with a wide range of films coming from many different countries, famous and less famous actors and directors walking the mythical red carpet, as well as streets and beaches overflowing with locals and visitors trying to catch a glimpse of a celebrity or hoping to be discovered by this ever-elusive prospecting producer.
This year, the film festival will take place from May 11 to 22. For those who are not interested in events they cannot directly partake in, other activities will be available. If you're into the visual arts, do not miss the 7th European Night of Museums on May 14, when the Musée de la Castre will offer free entertainment from 6 pm to midnight in its medieval castle.
Later in the month, on May 26, the Vibrasong association presents its annual eclectic concert of vocal performances staged in various ways. The very next day, Cannes will be celebrating la "Fête des Voisins", where neighborhood parties are organized for people living in close proximity to get together for a glass of wine or a meal. Even if you don't know anybody there, the convivial spirit of the day should make for warm memories.
To enjoy those opportunities and more, or just shamelessly linger on the beach, New York Habitat has the right accommodation in Cannes for you regardless of the size of your party.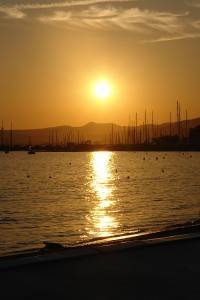 Photo of Sunset at Cannes harbor
Thanks to its amazing southern exposure and sunny terrace with a view over the nearby Mediterranean, our air-conditioned furnished
one-bedroom apartment in  Cannes, French Riviera – PR 709
cannot fail to please you. It is located in the western part of the town, and all the amenities you'll need are right outside your door.
If you're coming with a larger group, our furnished 3-bedroom vacation rental in Cannes Center – PR 737 will allow you to stay right downtown, a few minutes from the famed Croisette and its luxurious hotels and stores.
A wonderfully flexible space is our large furnished studio apartment in Cannes Center – PR 264 which can accommodate up to three people in an ideal location one block from the Croisette. You will also be able to enjoy many dinners al fresco from the balcony.
Whatever your reason for visiting Cannes is, you will not be disappointed. Have you been there and would care to share in our Comments section below?