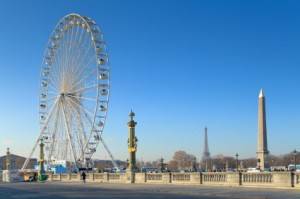 Ferris Wheel in Paris
Though we may think of carnivals as a uniquely American entertainment, Paris's annual Foire du Trône carnival (or fun fair, as the English call it) has been in existence since 957 AD!  This two-month long festival brings lights, laughter, rides, games and fair food (with a French flair) to Pelouse de Reuilly in Bois de Vincennes in the 12th Arrondissement, and a visit to this carnival will provide you with an unforgettable introduction to the spring season.
You cannot visit any carnival, and particularly not the Foire du Trône, without sampling some of the rides. Though the brightly colored lights, whirling seats and laughter may seem familiar to any American who has been to a county fair, remember that the French always add their own style.  Many of the French rides are somewhat more extreme than their American counterparts—lasting 10 minutes rather than two to three, for example, and trying very hard to help you lose your sang-froid in helpless laughter.  One of the most famous extreme rides is aptly called L'Extreme.  It twirls its riders high in the air, their feet dangling out over nothing, breathless with the terror/joy that is the thrill-seeker's desire.
Slightly tamer is the Tagada, a circular ride that spins quickly until it starts making sudden jumps, tilts and short stops. The riders end up hanging onto each other to keep from being thrown harmlessly into the center, and it is impossible not to laugh at the unexpected movements.  Even if the Tagada is not your speed, seeing the passengers fight gravity and torque is a comical scene.  You'll want to stop and watch, whether or not you ride.
Most famous among the rides is the enormous ferris wheel.  A clear, sunny afternoon jaunt up the wheel will give you an unequaled view of Paris.  You will want to make sure you take plenty of pictures.
No carnival is complete without food, and of course the vendors at the Foire du Trône will have incredible comestibles for everyone in the family.  Try a sandwich Grec, or Greek sandwich.  Similar to shawarma, this sandwich consists of a pita filled with roasted meat, greens, sauce, and French fries.  You will need both hands to eat this delicious, messy fair food.  For the kids, instead of the cotton candy they are used to, introduce them to guimauve, a pastel colored marshmallow treat.  The guimauve is strung from the roof of the sweets booth and rewrapped (and kneaded) as it succumbs to gravity.  It's twirled around a wooden stick when you're ready to eat it, and it will certainly satisfy your craving for sugar.
With live music, carnival games, rides, food, and of course, European people watching, you will not want to miss the Foire du Trône!
New York Habitat has several apartments in the 12th arrondissement, within easy distance of Bois de Vincennes.  Check these out to get your search started for the perfect Paris vacation rental:
This bright and colorful Studio Vacation Rental in Daumesnil – Paris (PA-4199) will put you in the carnival spirit.  Gorgeous hardwood floors and appealing modern lines make this apartment a wonderful mix of old and new, just like the ancient and modern Foire du Trône.
This warm and inviting 1 Bedroom Duplex Vacation Rental – Pere Lachaise – Nation – Paris (PA-2824) would be the perfect getaway for the small family of merry-makers.  Featuring a spiral staircase, plenty of built-ins, and a cozy and plant-filled courtyard, this apartment will help you to welcome spring.
What is your favorite part of a carnival?