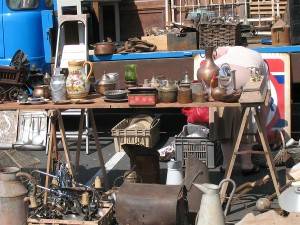 Photo of a New York Flea Market
Think you know flea markets? Well, if you still haven't checked out the Brooklyn Flea, you're missing out on the hugely popular New York attraction that's put a young, stylish, 21st-century spin on secondhand shopping. One look at these crowds and you'll soon realize this is not your old man's thrift shop, garage sale, or Salvation Army.

On Sundays, meanwhile, the Flea's Williamsburg branch is open for the same hours at 27 North 6th Street, between Kent Avenue and the East River—so you can take in a scenic waterfront view of the Manhattan skyline while you browse the wares. Williamsburg offers unique accommodations and is one of the most demanded and lively neighborhood in Brooklyn nowadaysFounded in 2008, the Flea is now such a hit that from April through Thanksgiving it operates out of two locations every weekend. On Saturdays, its flagship location is in Fort Greene, an eventful neighborhood with plenty of nice apartment rentals. It is open from 10:00 am to 5:00 pm at 176 Lafayette Avenue, between Clermont and Vanderbilt Avenues. More than 150 vendors fill the schoolyard of Bishop Loughlin Memorial High School, offering everything from crates of vinyl LPs to classic mid-century modern furniture and housewares, and of course every kind of vintage clothing imaginable. (The Flea, it must be noted, is a shoe-lover's paradise.)
But even if you don't think you'll be interested in buying anything, the Flea deserves a visit—at least one—on account of its dizzying array of food vendors who cater to every taste. On any given weekend you might be lucky enough to try fresh fish tacos, lobster rolls, artisanal cupcakes, grilled cheese sandwiches, papusas, and, beyond a doubt, some other kind of irresistible street food that's still under the radar.
Last but not least: the above information applies to the Flea during the warm weather months of the year. From late November through March, the scene moves indoors to a space in the landmark former Williamsburgh Savings Bank. It is locatedat the intersection of Atlantic and Flatbush Avenues in downtown Brooklyn, a neighborhood which offers plenty of charming apartment rentals. You might miss the sunshine and plein air at first, but one look at the Bank's stunning interior (complete with teller windows and an actual bank vault) should convince you that the wintertime Flea has a charm all its own.
Tempted to check out the Flea during your stay in New York City? New York Habitat has apartment rentals in the surrounding Brooklyn neighborhoods that will put you within easy walking distance of either the Saturday or Sunday location.
– Located on the fifth floor of a historic building, this fully furnished 1-bedroom apartment rental in Clinton Hill, New York (NY-9847) is close to not only the Brooklyn Flea but also the Brooklyn Academy of Music (BAM), Long Island University, the Pratt Institute, and Fort Greene Park (which offers spectacular views of lower Manhattan among its many other amenities).
– In north Brooklyn, a fully furnished studio loft apartment (NY-12214) is located in an old postal building in the historic section of Greenpoint, two blocks from the East River. The apartment is a large open loft space with at least 14-foot ceilings, hardwood floors, and a new, nicely tiled bathroom.
– Another furnished 1-bedroom rental in Williamsburg (NY-14442) puts you square in the middle of one of New York City's hippest neighborhoods, with bustling Bedford Avenue only one block away. This sunny apartment (with both northern and southern exposures) features whitewashed hardwood floors, two decorative fireplaces, and bookshelves lining one wall of the living room.
Do you have an experience of the Brooklyn Flea you care to share with New York Habitat readers? Please feel free to leave your thoughts below.