With summer finally (or almost) here, it's time to get excited about one of New York City's essential warm-weather rituals—the free outdoor concert, a tradition that brings New Yorkers of every stripe together for an astonishing variety of live performances around the city each year.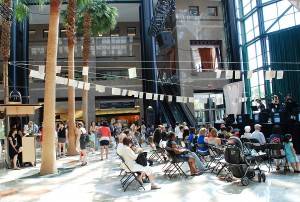 The River to River Festival at the Winter garden in the Financial District
And the best part? It's all free—or nearly so. The majority of summer concerts in New York City parks only ask for a suggested donation (typically $3), while a handful of others require advance tickets and serve as benefits for the rest of the series. We concentrate on free performances below, but you can also visit the listed websites for information on this year's ticketed events.
The granddaddy of New York's summer music scene is Central Park Summerstage, founded in 1986 and now going stronger than ever with its mix of rock, jazz, pop, and world music (in addition to spoken word and dance events). Shows take place at Rumsey Playfield, just inside Central Park's East 72nd Street entrance, and it's generally a good idea to arrive early because the place does get crowded. This summer, highlights look to be appearances by cellist Yo-Yo Ma with the Silk Road Ensemble, jazz great Roy Ayers, and hip hop icon Rakim, among many others; for a complete listing, visit the Summerstage website.
Brooklyn's equivalent to Central Park Summerstage, Celebrate Brooklyn! at the Prospect Park Bandshell, has come into its own in recent years with lineups every bit as diverse as the ones across the river.  This summer sees visits by The Feelies, Los Lobos, and kid-friendly Dan Zanes, and dance mavens, meanwhile, can enjoy the Mark Morris Dance Group.  The Prospect Park Bandshell is located at Prospect Park West and 9th Street in Park Slope,  a Brooklyn neighborhood with nice cozy apartments; for directions and a complete 2011 schedule, visit Celebrate Brooklyn's website.
Last but not least, lower Manhattan is getting into the act (or acts) now too, with its River to River Festival, another series of free outdoor performances. Events take place at a variety of locations around the southern tip of the island, including Castle Clinton, Governors Island, and the South Street Seaport, so you're likely to get terrific water views along with your show. The River to River website has the full 2011 lineup, but contenders include Patti Smith, the Vijay Iyer Quintet, and the all-day Bang on a Can marathon, which promises appearances by Philip Glass and the Sun Ra Arkestra.
Interested in catching some live music in New York City this summer? Regardless of how you get your groove on, New York Habitat has apartment rentals convenient to all of the city's major parks, along with more traditional concert venues all over town.
– A one-bedroom furnished rental in New York (NY-14853) on Central Park West between West 104th and 105th Streets is on the top floor of a seven-story building with an elevator. An elegant grand piano occupies one corner of the living room and you'll also find a fully equipped kitchen with a small dining table.
– A two-bedroom duplex rental (NY-6799) in Park Slope, Brooklyn is just a few minutes by foot from a historic district and the Prospect Park Bandshell. The apartment occupies two stories of a 19th-century townhouse with a spacious back garden whose dozens of flowering plants might give you the illusion you're vacationing somewhere in the countryside.
– This furnished studio rental  in New York (NY-14658) in the heart of the downtown Financial District includes a number of amenities such as a gym, swimming pool and laundry right inside the building. The large windows and 11 foot ceilings allow for plenty of natural light to brighten this studio apartment.
Do you have any recommendations on what shows to catch in New York this summer? Don't hesitate to share your thoughts in the space provided below.