Earlier we discussed Free things to do in New York dealing with Free Museums and Music.
I'm back with another video dedicated to showing you free things you can do in New York City.  Two of the most expensive aspects of traveling to any city are tourist activities and food.
Click above to watch this video: Free things to do in New York – The Great Outdoors and Indoors (3:20)
I can help you save money right away in the food department.  If you haven't already done so, hop on our website and find a New York Vacation Rental.  I've said this before, and it's still true, in a furnished apartment in New York you will have a fully equipped kitchen that will allow you to eat in, as opposed to spending tons of money at restaurants for 3 meals a day.
Take a look at this luxurious studio with a den in the heart of Times Square, in Midtown West (NY-12424)
Or maybe you'd prefer this one bedroom loft in Gramercy/Flatiron on Park Avenue South in Midtown East (NY-12330).  The kitchen is fully equipped and ready for your favorite home recipes.
So with food out of the way, that leaves tourist activities.  We've produced this series of videos in an effort to show you how to enjoy your trip to New York with fun and free activities.
The Great Outdoors
If you love the great outdoors, you may be surprised to learn that there are plenty of outdoor opportunities here in New York.  So where are they?
Central Park:
Well, if you guessed Central Park, you'd be right – especially in the summer.  When the weather is nice, you're sure to find things like free outdoor concerts and theatrical performances.  Don't believe me?  Just check out Summerstage.org with its full calendar of free outdoor concerts.  Or for your thespians out there, check out Shakespeare in the Park for some free quality theatre productions.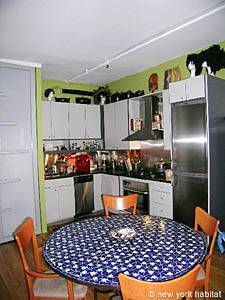 New York Apartment: 1-bedroom in Midtown East (NY-12330) pict

Bryant Park:
Another one of my favorite parks in New York is Bryant Park.  Located at 42nd St and 6th Avenue, right on the edge between Midtown West and Midtown East, Bryant Park has lots of great free things to offer.  Like Central Park, you'll find free concerts, but Bryant Park also offers a free outdoor film festival every summer.  And lastly, another big reason why I love Bryant Park is because they offer free outdoor wifi.  You'll be able to email your friends and tell them you've just watched a movie… in the middle of a park… in New York City… for free!!
Free kayaking in Riverside Park:
If you're looking to get wet, head over to New York City Downtown Boathouse at 72nd Street for some free kayaking.  Located in Riverside Park at 72nd St. in the Upper West Side, the Downtown Boathouse is dedicated to providing access to the Hudson River for everyone.  It's generally open from May through October and is run by volunteers that will teach you everything you need to know.
The Bronx Zoo:
If you'd like to venture out of Manhattan, why not pay a visit to the largest metropolitan zoo in the United States.  You can be one of the 2 million people that visit the zoo each year.  And if you go on a Wednesday, admission is a pay-what-you wish donation.
The New York Botanical Garden:
Just next to the zoo, you'll find the New York Botanical Garden.  It's a collection of over 50 gardens spread out over 250 acres.  Now that's a lot of plants !!  It's free on Wednesdays and from 10 a.m. to noon on Saturdays.
Free Show Tapings:
What better way to finish off a fun day outside than to catch a live TV show taping in an air conditioned New York theater.  Many televisions shows are filmed in New York City.  Being part of the studio audience is a fun and memorable experience.  Saturday Night Live, for example, made its debut in 1975 and has remained a staple of American television since.  To get tickets, go to the NBC Studios marquee on the 50th St. side of 30 Rockefeller Plaza.  There you can wait in line for stand-by tickets.  They only give out one ticket per person and a stand-by ticket doesn't guarantee admission.
There are many other TV shows filmed in New York that offer tickets to the public.  Hop on the internet and you can find out how to get tickets for shows like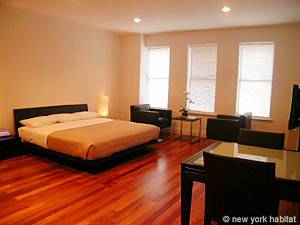 New York Apartment: Midtown West (NY-12424) photo
The David Letterman Show
The Daily Show with Jon Stewart
The View
Good Morning America
The Today Show
Live! With Regis and Kelly
The Colbert Report
Don't forget, to check out the other videos showing you free things to do in New York:
One last piece of advice, hop online and search for free things to do in New York.  You'll find tons of great ideas.  If you find any that aren't in our videos, be sure to share them in the comments section below.
And if you're already in New York and you need a free internet connection, beyond Bryant Park, remember that you can find free internet in most of New York City's libraries.
While you're online, be sure to visit New York Habitat's website.  You'll find thousands of vacation rentals and furnished apartments in New York.   A furnished apartment is an exciting and authentic alternative to a hotel room, and is a great home base to explore all of the free indoor and outdoor activities you can find in New York.
In our next article we will discuss Free things to do in New York and we will look at Guided Tours.