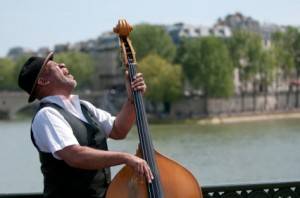 Music along the Seine in Paris
The city of Paris is home to some of the most elegant, innovative, romantic and fun music venues in the world. No visit to the City of Light is complete without spending a night dancing until dawn in one of the hotspots that makes Paris famous. Next time you find yourself in France's capital city, make sure you slip on your dancing shoes and head to one of these clubs. You're in for a treat!
Named for the Turkish baths that once graced the same location, Les Bains Club in the 3rd arrondissement is famous for its all-night dance parties as well as its ability to draw A-list celebrities for a night of fun. The advice for getting in past bouncers with high standards is first, to dress to kill, and second, to make a reservation for a table in the Thai restaurant portion of the club beforehand. Dancing begins at midnight, and the dance floor is lively until dawn. Les Bains Club is located at 7 rue du Bourg-l'Abbé, Paris 75003.
In the 8th arrondissement, not far from the world-renowned chic of the Champs-Elysées, lies the Buddha Bar. This restaurant, cocktail bar and lounge is known for its Asian-themed food, its gorgeous ambience, and of course the giant Buddha that presides over the diners. Buddha Bar's music—which you can buy on CD—features relaxing lounge and electronic tracks, making this the perfect place to sip a cocktail (the mojito is the club specialty) and people watch. Dress in your finest to visit Buddha Bar at 8 rue Boissy d'Anglas, Paris 75008.
Floating on the Seine is one of the most unusual nightclubs in Paris. Batofar is a club disguised as a restored steel lighthouse ship moored at 11 Quai François Mauriac in the 13th arrondissement. Catering to a hip crowd who appreciates indie music and quirky atmosphere, Batofar features hiphop, electro and techno for an unrivaled dance party experience. In addition to the killer sound system, the refitted ship also offers an excellent lightshow on the main dance floor. With strong drinks and cutting-edge tunes, a night at Batofar will be one you'll never forget.
For jazz-lovers, the place to go is Autour de Midi, a jazz club and restaurant in the artistic haven of Montmartre. The restaurant is the perfect spot to get a traditional French meal—one that changes with the availability of fresh ingredients. The club is, in fact, a brick-lined cave voutée (vaulted cellar) beneath the eatery, which offers unparalleled acoustics for the up-and-coming jazz musicians who play here. Tuesdays and Wednesdays offer open jam sessions—an excellent opportunity to sit back with one of Autour de Midi's delicious cocktails and let yourself drift with the music. Find Autour de Midi at 11 rue Lepic, Paris 75018.
La Cigale in the 18th arrondissement is a more traditional live music venue and the favored Parisian spot for indie rockers and cutting-edge musicians making the tour of Europe. This 19th century theater with red velvet seats and fantasy-inspired details is a decadent venue for catching your favorite off-the-radar musician. Two bars ensure that you can drink and be merry while enjoying the intimate feel of this gorgeous concert hall. You can find La Cigale at 120 bd Rochechouart, Paris 75018.
Ready to enjoy a night of music and revelry in Paris? New York Habitat has plenty of vacation rentals available for your trip to Paris, the City of Light (and music). Start your search for the perfect pied-à-terre with one of these vacation rentals:
This sleek and modern loft-style 1 Bedroom Vacation Rental – Montmartre – Sacré Coeur – Paris (PA-1850) is the traveling music-lover's dream. With gorgeous exposed roof beams, hardwood floors, and fresh lines and colors, you'll feel right at home in this light-filled flat.
If you're traveling with several of your nearest and dearest, this fun and funky 2 Bedroom Loft Triplex Vacation Rental – Montmartre – Sacré Coeur – Paris (PA_2332) will delight you. With open staircases, a wall of windows, and colorful decorating that includes charming drawings by children, you'll never find a more chic place to stay.
Within walking distance of Les Bains club, this 1 Bedroom Vacation Rental – Le Marais – Paris (PA-3753) features beautiful built-ins, a decadent blue-tiled bathroom (naturally), and plenty of sunshine. It will be the perfect place to decompress after a night of dancing.
Where do you go to enjoy Paris's night life?