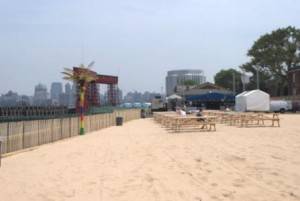 Water Taxi Beach on Governors Island
Whether you're a native New Yorker or a visitor, it's no secret that summers in Gotham City can often be a trial. And if you don't feel like dealing with traffic or an endless trip on public transportation, the beach can seem frustratingly inaccessible. But relief is at hand!—because New York is now home to a couple of convenient destinations that offer a welcome escape from the concrete jungle.
These are the Water Taxi Beaches, located in South Street Seaport and Governors Island, and run by the New York Water Taxi Company, whose water taxis (yellow-checkered, just like the actual taxicabs of yore) shoot up and down the East and Hudson Rivers, ferrying commuters and sightseers alike. Taken together, the Water Taxi Beaches are among the greatest summertime amenities the city has to offer, and the kind of special spot everyone should visit at least once.
New management at Lower Manhattan's Water Taxi Beach, located at the South Street Seaport next to Pier 17, in the thrilling Financial District, has gone in for a more upscale feel in 2011 by replacing its sand and fake trees with a boardwalk, communal tables, genuine trees, and Ping-Pong and pool tables. The Fish Shack and Raw Bar satisfies your taste buds with high-quality (but affordably priced) beach fare—and once the sun sets, with DJs starting to spin, the Brooklyn Bridge makes for the most spectacular backdrop to any dance floor in the city.
But if sand is what you want, look no further than the second Water Taxi Beach on Governors Island, a tiny island located in New York Harbor just south of Battery Park. The spectacular views of Manhattan are reason enough to visit the Governors Island Beach (which claims more than 300 tons, or 20,000 square feet, of sand), but it also has basketball and volleyball courts and a large stage for live music—the latter, in fact, has become a major venue for outdoor concerts, attracting talent like Mos Def, M.I.A., and the B-52s in recent summers.
Intrigued? For more information on either of the Water Taxi Beaches, including hours of operation, fares, and directions, visit the official Water Taxi Beach website. (And please note: sadly, the third Water Taxi Beach, in Long Island City, Queens, has been shut down as of spring 2011, with no dates currently set as to when it might reopen.)
Whether you want to explore either or both of New York's Water Taxi Beaches, New York Habitat has some ideal apartments in Queens and vacation rentals in the Financial District for your summer stay. For starters, why not consider:
– This fully furnished loft apartment (NY-5400) in Tribeca takes up the whole fourth floor of a walk-up pre-war industrial building. The converted space has two living rooms on the main floor and two additional sleeping alcoves on a mezzanine level. Other amenities include a sauna and Jacuzzi, hardwood floors, ceiling fans, and four skylights providing plenty of natural light.
– A furnished studio apartment in Financial District (NY-14658), located in a luxury building with amenities such as a 24-hour doorman, fitness center, movie room, library and more! Enjoy the views of the city from the landscaped rooftop!
– Uptown, another fully furnished one-bedroom apartment (NY-14301) is located on the third floor of a walk-up laundry building on the Upper East Side, at York Avenue and East 78th Street. The East River is less than two blocks away, and closer still is John Jay Park, which has basketball and handball facilities, not to mention an Olympic-size swimming pool open to neighborhood residents in the summertime.
Do you have a favorite memory or a suggestion about one of New York's Water Taxi Beaches that you want to share with New York Habitat readers? Feel free to leave your comments in the space provided below.