Just as you're slowly getting ready to put the shamelessly hedonistic times of summer behind, why not ease yourself into more intellectual pursuits by going to France for the "Salon des écrivains" (writers' salon) in Fuveau, right outside the beautiful Aix-en-Provence? Since 1990, this lovely village has been hosting hundreds of writers from all over the world as well as their dedicated or accidental readers on the first weekend of September. And along the years this literary get-together has become an increasingly influential event where everybody casually mingles or engages in deep philosophical discussions in a totally relaxed atmosphere.

Salon des écrivains Logo
You're still feeling that you're not ready for that much brain stimulation yet? No problem. On that very same weekend, the annual
Saint-Michel celebration
will keep your mind (and taste buds) focused on no less worthy pleasures as the popular tradition will allow you to sample a wide variety of local produce, from fruity olive oils to sinful cheeses, sweet-smelling honey, and wines in all three colors. And, of course, nothing prevents you from duplicating your enjoyment by heartily combining gustatory and intellectual experiences.
As for accommodations, New York Habitat has plenty of accommodations in and around Aix-en-Provence, one of the most beautiful cities in the South of France. There you will be able to prepare for, then get over your long weekend in Fuveau as well as take the time to explore the enchanting town itself. for you to choose from in and around nearby Aix-en-Provence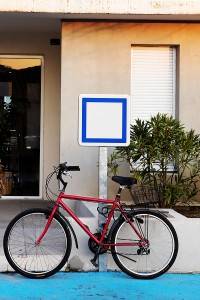 Bike in Aix-en-Provence
Our fully furnished
6-bedroom – Aix-en-Provence Celony, Vacation Rental – PR 1110
 can easily accommodate you and just about a dozen of your closest friends.  Combining modernity and comfort, this villa features a large garden with a lovely pond, a majestic outdoor and indoor swimming pool, a Jacuzzi, a comfortable movie theatre and a terrace with patio furniture for your leisure.
On a smaller scale, our fully furnished 3-bedroom apartment in  Aix-en-Provence – PR 715 has a particular elegant design with a delightful, light-filled veranda full of plants, a separate semi-professional kitchen, a lush private garden and an irresistible swimming pool.
If you want to stay in Aix-en-Provence proper, it is hard to beat our fully furnished 2-bedroom –Aix-en-Provence Center – PR 1055 right on the prestigious Cours Mirabeau. To make it even more attractive, it is located on the 3rd floor of a historic building with nice views over the neighborhood, and faces opposite the famous street for maximum quietness.
Have you ever spent quality time with books and food in Provence? Would you like to tell about your experiences in the Comments section below?