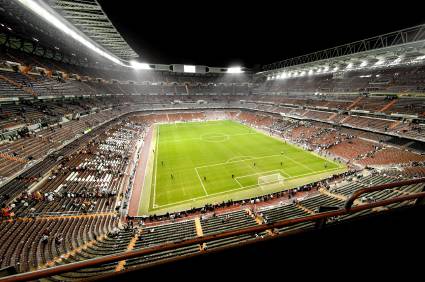 Soccer Stadium
Football and London go together like fish and chips. And on August 13th, the Premier League, the top league in English football, starts play.
While many Americans are unfamiliar with European football (soccer to Americans), attending a game is unlike any sporting event in the world and should be experienced. Luckily, London has five teams in the Premiere League, the top league for English soccer.
Recently, the two most successful teams in London have been Chelsea and Arsenal. Chelsea finished last year second in the Premiere League and won the league the year before. Founded in 1905, they play in the historic Stamford Bridge in Fulham. Led by players like Didier Drogba, Frank Lampard, and John Terry, they're expected to contend for the championship again this year.
Arsenal, founded in 1886, play at Emirates Stadium in Islington, the largest stadium in the Premier League, opening in 2006 with a capacity of 60,361. They most recently won the title in 2004 and finished fourth last year. Their fans refer to themselves as "Gooners" a play on the team's nickname, the Gunners. They've been managed by Arsense Wenger since 1996 and led by Robin van Persie and Cesc Fabregas.
The Arsenal's biggest rival is Tottenham Hotspur. Like Arsenal, they're located in North London, playing their home matches at White Hart Lane in Tottenham. When Arsenal and Tottenham play, it's called the North London derby. The club was founded in 1882, last winning the division in 1961 and finishing in 1961. Luka Modric was voted their player of the year last year and they also have the colorful Peter Crouch, known for his 6'7" height.
Fulham was founded in 1879, making them the oldest club in the league, and play at Craven Cottage in Fulham on the banks of the Thames, where they've played since 1896. The club is owned by Mohamed Al-Fayed, the former owner of Harrods and father of Dodi Al-Fayed, who died in the car crash with Princess Diana. His takeover in ownership is 1997 is credited with turning the clubs fortunes around. They haven't had as much success as the other clubs recently, but maintain a strong group of fans.
The last London Premier League club is Queen Park Rangers, usually just called QPR. They were founded in 1882 and play at Loftus Road in Shepherd's Bush. They won the Football League Championship last year an were promoted to the Premier League this season for the first time in 15 years. Being located in West London, they maintain rivalries with Chelsea and Fulham.
While people might be intimidated by the sport and supposed soccer hooliganism, watching a game in person is a very unique experience, even for a beginner to the sport. They play on weekends between August and May and tickets for many of the games can be bought if done well enough in advance as many games sell out.
The first thing you'll notice is the chants and songs sung by the fans, unlike anything in American sports. If you don't provoke fans, it's highly unlikely anyone would bother you at all during the game. Even if you don't have a team to root for, the atmosphere itself makes it worth the trip.
You're a fanatic of soccer? Consider staying in a Chelsea flat, a vacation rental in Hammersmith and Fulham, or anywhere else in the city. Here are some London apartments you can stay to be near the football action.
This two bedroom duplex vacation rental in Fulham, London (LN-936) puts you within walking distance of the newly promoted QPR's stadium. Its West London location in a residential area makes staying here feel like home. With large windows and a private terrace on the Victorian house gives it a unique London feel.
For Chelsea fans, this studio vacation rental in Chelsea, London (LN-569) is incredibly close to Stamford Bridge. The studio has a small terrace and breakfast is provided by the owners of the home. Nearby Fulham Junction Tube stop provides access to all of Central London's many attractions.
This one bedroom vacation rental in Islington, London (LN-1024) is within walking distance of Arensal's stadium. It's located in a modern building with a stylish interior including a washer/dryer, underground parking, and a gym. It's not too far from the Aresnal's North London home.
Share your favorite U.K. football stories below.
Related apartment rental posts from New York Habitat: