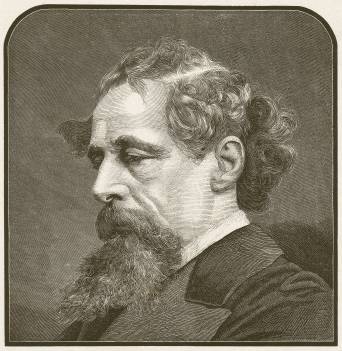 Charles Dickens Portrait
This August marks the 150th anniversary of Charles Dickens' classic novel, "Great Expectations" being published.
Luckily, London has been keenly aware of its literary history and numerous sites related to Charles Dickens are still around.
The most notable is the Charles Dickens House Museum in Bloomsbury and West End. Located at 48 Doughty Street, this was the most lavish home Dickens had lived in up to this point, which he occupied from March 1837 until December 1839. Two of his daughters were born in the house. But it was also the site of one of the most tragic moments in his life, when his beloved sister-in-law died in his arms when she was 17 from a suspected heart problem. Dickens was grief-stricken and put off publishing for a while. But he would base many of the young women in his novels on her. The house is the only remaining Dickens residence, saved from demolition in 1922. Inside, you can see how the home would have looked during his life, completed with numerous artifacts.
At 26 Wellington Street in Covent Garden, you can eat where Dickens used to live and work. Dickens published the weekly journal "All The Year Round" in the building from 1859-1870, which published, among others "A Tale of Two Cities." For a while, Dickens stayed above the editorial offices himself. Located right by the theater district, it's a great place to stop in before or after a show for a coffee or a slice of cake. We suggest a slice of chocolate cake and a cappuccino.
Among the many pubs Dickens was known to frequent, perhaps the most famous is Ye Olde Cheshire Cheese, built in 1667 with foundations dating to the 13th century. Tucked away down an alley at 145 Fleet Street in the City, the interior features old wood paneling and a lack of natural light creating an old English pub feel. The food is terrific (I had a goat cheese and apple salad and a grilled vegetable wellington) with a cozy atmosphere, leading Dickens to reference the pub in "Great Expectations."
While it wasn't named The Old Curiosity Shop at the time of publishing, it has long been assumed this tiny store dating from the 1560s was the inspiration for Dickens' "The Old Curiosity Shop." It has since been renamed after the book. As the oldest shop in London, surviving both the Great Fire and the Blitz, it now sells handmade shoes from the creaky floorboards that have been long assumed to have influenced Dickens.
To feel like you're in Mr. Dickens' shoes, consider staying in an apartment in Bloomsbury and West End or an accommodation in the City.
Located just down Doughty Street from where Dickens lived and his house museum is located, this one bedroom vacation rental in Westminster, London (LN-949) gives you a chance to live close to as Dickens did. Of course with the modern amenities like a TV, fridge, and microwave that he never knew. But you can still walk the home in Dickens footsteps.
Within walking distance of both Ye Olde Cheshire Cheese and The Old Curiosity Shop, this studio vacation rental in The City, London (LN-880) is in a building just off Fleet Street with a 24-hour doorman, intercom system, and elevator. It also has a flat screen TV and a sleek kitchen, creating a cool atmosphere in the oldest part of London.
What's your favorite work from Charles Dickens? Share your interests with us.