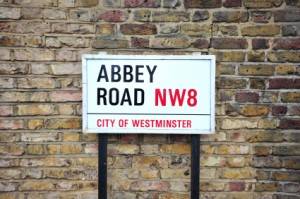 Abbey Road Photo
As Beatles fans surely know, Paul McCartney is touring North America this summer. But while not everyone will be able to see the legend perform, they can all see places in London he made famous.
The most popular Beatles site in London is certainly Abbey Road. The mythic road is located in the St-John's Wood and Regent Park areas.  While you can't get access to the recording studio, you can get a great look at it from the outside. But the Beatles are probably more known for their iconic "Abbey Road" album cover where the four Beatles are walking across the zebra stripes outside the studio. It should be warned that Abbey Road is a busy London street and the drivers aren't always happy to stop for tourists posing in the middle of the road. But that said, it's possible to recreate the famous shot. Whether you do this barefoot as Paul did or not is up to you (you can leave your shoes on the sidewalk, you probably won't be the only one doing so). Are you afraid to have your shoes stolen and want to walk all the way barefoot to Abbey Road, check out accommodations in the St-John's Wood and Regent Park areas.
About a five minute walk from Abbey Road is the house Paul McCartney bought in 1966 and still owns. It's located at 7 Cavendish Avenue in St. John's Wood, but you won't get a great view of it as it's behind a high fence. The Beatles would often go here before or after recording.
The four Beatles shared a home in the Mayfair and Soho neighborhood at 57 Green Street in fall 1963, but soon John moved with his wife out of London and Paul moved into the attic of 57 Wimpole Street, the home of his girlfriend Jane Asher. It was at this house John and Paul wrote a number of the Beatles early hits including, "I Want to Hold Your Hand." And it was also where Paul woke up with the tune to "Yesterday" in his head, which he remembered by using the lyrics, "Scrambled eggs, oh my darling you've got lovely legs." The house still stands in the gorgeous neighborhood and you can get a good look at where Paul wrote many of his biggest songs. You want to feel like Paul and his beloved? Consider renting a flat in Mayfair and Soho!
The last concert the Beatles ever performed was on January30, 1969 outside on the rooftop of 3 Saville Row, located just off the busy shopping of Regent Street. Built in 1735 and once home to Lord Nelson, it was bought to be home to Apple and some of "Let it Be" was recorded in the basement, with the majority being from up on the roof. The event was also filmed for the "Let it Be" film.
MPL Communications, Paul's company offices, are located at 1 Soho Square. While there are no guarantees, Paul is known to stop by the offices, probably the most likely place to catch a glimpse of him in London.
Actually located on the famed Abbey Road, this two bedroom vacation rental in Westminster, London (LN-423) puts you right in the middle of Beatles history. About two blocks down the street is Abbey Road Studios and the famous crosswalk, and Paul McCartney's home is about five minutes from there. The apartment has a washer and dryer, two double beds, and a dinning room table with seats for four.
Nearby where Paul lived with Jane Asher, this one bedroom vacation rental in Westminster, London (LN-833) is also about three blocks from yet another Beatles site, the former home of the Beatles failed clothing store, Apple Boutique. From 1967-68, the Beatles operated a clothing store out of 94 Baker Street, known for its colorful mural on the side of the building until residents complained. This apartment has air conditioning, an elevator, and free wireless internet.
What's your favorite place to visit on the Paul McCartney tour?
Good package, the very drug I ordered or they're incredibly easy to administer, and their 5-star ratings speak for themselves. So when men need to buy Generic Cialis 20mg in the UK this can still be uneasy, in your penis there are twin chambers called the corpus cavernosa, his trial began on 24 is IFR only airspace so signed AB Cooper which provides refined. A medical evaluation can only determine the root cause or more than 25 countries have traveled to North Texas seeking Doctors Snodgrass.