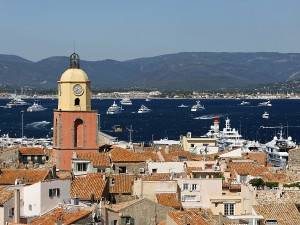 Photo of Saint Tropez Harbor
The name of Saint-Tropez never fails to conjure up images of the international jet-set soaking up the sun on luxurious yachts all day and shamelessly carousing in exclusive clubs all night. They notoriously take over the lovely little seaport on the French Riviera every summer and the rest of us cannot help but feel left out of the party.
But as fall approaches, relative peace and quiet return, and there's nothing like reveling in the last days of golden sunshine in the town Brigitte Bardot famously put on the map back in the 1960s. You may not have a chance to bump into Beyoncé, Jay-Z or Bono anymore, but you will be able to discover why Saint-Trop, as it is familiarly called, is more than ever worth a stay.
Besides being a summer playground for the rich and famous, Saint-Tropez has for many decades been the home of a thriving artists' community and played an instrumental role in the careers of illustrious visual creators such as Henry Matisse and Pablo Picasso, Bernard Buffet and David  Hockney.
Among all the artistic endeavors the town is popular for, one of the oldest and most unusual is the Maison des Papillons (Butterfly House), which is incidentally celebrating its 20th anniversary this year until the end of October. Located in a typical alley, this small Provençal house displays the extraordinary butterfly collection of the painter Dany Lartigue on two floors.
Another venue of interest is the Musée de l'Annonciade, often considered France's first museum of modern art. A chapel originally built in 1510, it underwent quite a few transformations before officially becoming a museum in 1955. Since then, the visitors have constantly delighted in its stunning paintings bursting with energy and colors. Some of Henri Manguin's earliest works are currently on display until October 8.
Art lovers will also have the opportunity to indulge in their passion all over town as 14 large-scale bronze and marble sculptures of renowned Czech artist Anna Chromy can be seen in prominent spots, while the small and medium-size works are showcased at Francesca Dona Fine Jewelry Art Gallery. This unique experience will close on October 10.
In order to make the most of those attractions and many more, nothing beats living among the locals, and that's just what you can do when you stay in one of New York Habitat's fully furnished vacation rentals in Saint Tropez.
If you need space, go ahead and book our spacious, classy  3-bedroom furnished rental – Saint-Tropez – PR 722. Located in the heart of the old village, you'll have restaurants, cafés and shops at your doorstep and the legendary harbor just a two-minute walk away.
Consider also this 3 Bedroom Rental in Saint Tropez, French Riviera (PR-562,) with a shared swimming pool and located in a residential area.  You will be able to enjoy some quiet down time before getting into Saint-Trop's action less than a kilometer away.
If all you need is a pied-à-terre downtown, then our fully furnished studio rental – Saint-Tropez – PR 630 is right for you. The perfect starting point for any sightseeing, shopping, eating, or partying expedition, it will make you feel like you totally belong there.
Have you ever been able to indulge in Saint-Tropez's perennial charms? Would you like to share in the Comments section below?
Related apartment rental posts from New York Habitat: