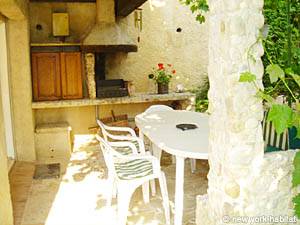 Soth of France Accommodation: 2 Bedroom Rental in Saint Paul, French Riviera (PR-644)
The South of France is a top travel destination for many reasons: the beaches, the Mediterranean, and the bucolic countryside, just to name a few. But artists in particular have long been drawn to a small village in the South of France, Saint Paul de Vence. The town that seduced Matisse, Miro and Renoir with its colors and light remains one of the most famous artist enclaves in the country. It is also the perfect place to delight the art enthusiast in you.
Though it is an extremely popular place, the fall is a wonderful time to visit, since many of the tourists have gone. New York Habitat has several French Riviera vacation rentals scattered around Saint Paul de Vence. One favorite just outside this art-filled village is a two-Bedroom accommodation in Saint Paul, French Riviera (PR644).
Located close to the town, this private vacation villa can accommodate five people. The first floor has a living room with a fireplace, and sliding doors that look out onto the garden and let in tons of sunlight. In the eat-in kitchen, you'll find amenities like an electric and gas stove, a dining table, and colorful painted tiles. There is another dining table on the terrace, which is surrounded by leafy trees and an outdoor barbecue that's ready to use. On the second floor are two bedrooms, one with a private terrace that looks over the garden.
The gardens and location make this villa feel like a hideaway, but it's actually very close to Saint Paul de Vence. Perched on a hilltop, the fortified city of Saint Paul de Vence was built in the 13th century and retains its medieval character today. You'll enjoy perusing through the picturesque Saint Paul de Vence attractions, including many art galleries, studios and craft workshops there. There are incredible views of the Mediterranean, the Alps and the hills, all from different ends of the town.
Saint Paul de Vence, South of France
The legendary restaurant, Colombe d'Or, is a restaurant where artists like Picasso paid their tabs with paintings, and French film luminaries used to gather. Also not to be missed is the Fondation Maeght, one of the most notable small museums of modern art in the world, with works by Chagall, Calder and Dubuffet.
Between mountains and sea, the medieval village of St Paul de Vence is a fabulous spot to take in the historical art and culture of the South of France. It's also very close to the less crowded and just as interesting town of Vence, another artists' favorite.
New York Habitat has a variety of superb choices for accommodations throughout the area. Be sure to check out these other South of France vacation rentals including:
Also, while traveling in the French Riviera take a look at these towns:
Saint Paul de Vence photograph provided by wikipedia.com
Related apartment rental posts from New York Habitat: