In today's video we are going to explore the neighborhood of Oberkampf. Oberkampf is still like a little village inside the big city of Paris; it is located in the 11th arrondissement of Paris, specifically on the right bank and in the East side of Paris above the Opéra Bastille. It extends from the covered Canal Saint Martin to the famous Belleville village. The neighborhood of Belleville offers plenty of things to do and to see too.
Paris Video Tour: Oberkampf (5:11)
History:
Oberkampf gets its name from the Industrialist Christophe-Philippe Oberkampf, famous for his "imprimé" or printed fabrics. King Louis XVI declared his company a "Manufacture Royale" in 1783, and gave Oberkampf the nobility title "écuyer", or esquire, and today he has a metro station and a street named after him. Very "royale" indeed!
The Lower East Side of Paris:
If you've watched our video tour of the Lower East Side in New York City, you will see a similarity in Oberkampf. With its trendy cafes and restaurants, its Arab pastries and its colorful markets – you won't soon forget this hip village.
Constantly showing up in movies, from Bollywood to Hollywood, there is definitely a sense of magic in Oberkampf!
Winter Circus:
Le Cirque d'Hiver – or The Winter Circus – was built in 1852. In the past, it was used from November to April when the  circus on the famous Champs Elysées was closed. Today, you can enjoy circuses and other shows all year round here. Stop and have a look at its well-preserved colors and the sculpted Amazone of Pradier above the main entrance.
Walk on Water on Boulevard Richard Lenoir:
On Boulevard Richard Lenoir, you will find 17,700 square meters of gardens made of willow trees & firns, which are the evidence that you are in fact walking on the filled-in part of the Canal Saint-Martin, which once flowed all the way from the northeast side of Paris to the Seine.
Edith Piaf Museum (5 Rue Crespin du Gast):
The super famous singer who everyone can sing at least one song from "Panam, panam, panam" to "La vie en rose" has her own museum in Oberkampf. Visiting the Edith Piaf Museum is a good way to get a taste of old Paris, in the time of cafés & cabarets filled with cigarette smoke.
Père Lachaise Cemetery:
You won't regret climbing up the hill to Père Lachaise cemetery, which is Paris' largest cemetary. At the cemetery you will find the tombs of everyone from Jim Morrison to Oscar Wilde.   People still come to the Père Lachaise to see the final resting place of thousands of past and present celebrities.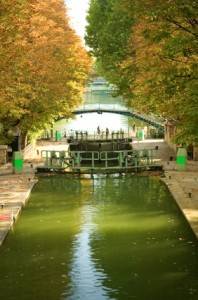 Photo of Canal Saint-Martin

Apartments in the 11th arrondissement of Paris, Oberkampf neighborhood:
If you'd fancy blending in with the cool hipsters found in this area, there's no more authentic way than to rent a furnished apartment in the Oberkampf area.  You'll get a true feeling of what it's like to live in this fantastic neighborhood.
Consider this furnished Paris 1-bedroom apartment in Menilmontant (PA-3801) is situated on the 1st floor of a 3-story apartment. It has the luxury of laundry capabilities in the apartment, has a dining area and a fully equipped kitchen. There is a double bed in the bedroom, as well as a double sofa bed in the living room.
Or have a look at this furnished studio apartment in Gambetta – Père Lachaise (PA-3559). Also with the convenience of in-home laundry, this apartment is furnished with a modern appeal. It includes a sofa with a chaise, a 2-seat bar area and also has a quaint balcony to sit outside and enjoy a coffee. This apartment is on the first floor of an elevator building, within walking distance from the Père Lachaise Cemetery.
Another options is this furnished studio apartment in Gambetta – Père Lachaise (PA-2217). This unit is situated on the 3rd floor of an elevator building. This apartment contains lots of character and is decorated with many plants and greenery. The furniture includes a desk, dining table, double bed, TV and good counter space. This rental also has a washing machine and, of course, a fully equipped kitchen!
Restaurants:
La bague de Kenza is a place to give in to temptation for its delicious "ailes de gazelle" and other loukoums (Turkish Delight). As everything is fashionable here, there is the 'see and be seen' area. Have a coffee at Chez Justine and then dinner at the famous Café Charbon.
La bague de Kenza
106 Rue Saint-Maur
Chez Justine
96, Rue Oberkampf
Café Charbon
109, Rue Oberkampf
Nightlife:
For late night fun head to Le Kitsch for its one-of-a-kind decor. Then it's time to dance at the underground electro music club "Le Nouveau Casino" with its Space odyssey's decoration.
Kitsch
10 Rue Oberkampf
Nouveau Casino
109, rue Oberkampf
Well I hope you've had a good time taking in the sights and sounds of Oberkampf.  As with so many neighborhoods in the city, we couldn't possibly cover them all. Paris offers uncountable event for everyone. If you have been to Oberkampf and have something fun to share, make sure to leave a comment below.