This is the 2nd of our 3 part series on the neighborhood of Bastille in Paris. Check out Part 1 of our Video Tour of Bastille, and Part 3 of our Video Tour of Bastille. You can also watch them on our YouTube channel.  In this video we are going to continue our stroll through the Bastille and present more of the opportunities that this wonderful neighborhood holds.
Paris Neighborhood Video Tour: Bastille – Part 2 (5:45)
Bercy (boulevard de Bercy 75012)
If you head a little south-east past Gare de Lyon you'll reach the Bercy Stadium, a large sports complex and concert venue. Covered by steps and diagonal slabs of grass, this is a favorite hang out for many skateboarders. However, if you walk a little further to the east, you'll come up to a nice park and a few more lesser-known places in Paris.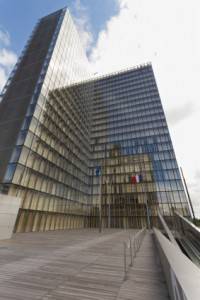 Bibliotheque Francois Mitterand in Paris

Cinémathèque Francaise (51 rue de Bercy 75012 – across from the park)
It's hard to miss the ultra-modern design of the Cinémathèque Francaise. A Frank Gehry architectural masterpiece, the Cinemetheque opened in 2005 and houses a large film library. In the Cinémathèque there is a cool museum on the history of cinema and a movie theater which host retrospectives on film legends, both past and present.
Cour Saint Emilion
Continue walking through the gardens to the Cour Saint Emilion. Little known by tourists, the buildings of the Cour Saint Emilion were once warehouses for wine. The Cour Saint Emilion has been restored and converted into lively cafes and shops. At the end you'll find one of the largest movie complexes of Paris. In case you didn't catch a classic film at the Cinémathèque Française, here you can see the latest releases.
Of course, visiting Paris is great, but why not live like a local? Rent a furnished apartment or vacation rental and live like a real Parisian for your next trip to Paris.
Consider this fully furnished 2-bedroom apartment located in Bastille (PA-3007) which is situated on the 11th floor of an 12-story elevator building. This apartment features the convenience of  a washer and dryer and, of course, a fully equipped kitchen including a dishwasher. The apartment features include an abundance of seating and a television with a DVD player, as well as the luxury of a private balcony.
Or, check out this furnished 3-bedroom Paris apartment in Bastille (PA-3530) with one and a half bathrooms. This spacious loft duplex is situated on the top floor of a 2-story walk-up building that was originally built as a factory in the 1850s, but now serves as home to many apartments. The apartment features a long bay window that overlooks the courtyard, as well as 2 skylights. There is a working fireplace, comfortable seating and a washing machine in the apartment for convenient access to do laundry.
Bibliothéque Nationale François Mitterand
For all of you bookworms out there, cross the river to the west from the Cour Saint Emilion and you'll come to the massive Francois Mitterand Library, the National Library of France.
Piscine Joséphine Baker
If you're in Paris in the summer, grab your swimsuit and head to the Piscine Joséphine Baker. It's a floating swimming pool just next to the François Mitterand Library.
Jardin des Plantes
After taking a dip in the pool, head back towards La Bastille along the Quai d'Austerlitz and explore the Jardin des Plantes. This vast and charming botanic garden is the perfect place to stroll, sit back with a good book or find inspiration for your garden back home.
That wraps it up for this portion of our tour of the Bastille district. For further information on different Paris neighborhoods, don't miss out on our other videos and make sure you subscribe to our YouTube channel.  Continue the visit with Part 1 of our Video Tour of Bastille and Part 3 of our Video Tour of Bastille.
Of course, there's a lot more to see and do here.  If you have any other pointers or advice on the Bastille area, be sure to share them with us in the comments box below.
We hope to see you soon enjoying a book at a Paris library or taking a swim in the pool!