Whether you're a marine life aficionado or just want a change of scenery to kick off the New Year, Marineland in the beautiful Antibes is definitely a safe bet for a warm, fun and attractive escape. In the actual Marineland park, you'll be able to visit various attractions such as the only polar bear preserve in Europe, The Shark Tunnel for close encounters with the beasts and the World of Penguins, which will take you all the way to Antarctica. Stunning aquariums and numerous kinds of amazing creatures like sea lions and seals will keep you entertained as well.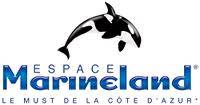 Marineland Logo
The Marineland complex also includes La Ferme du Far West (Far West's Farm), which is an amusement park that cannot fail to delight children and adults with its many Western-themed attractions. Next door, Adventure Golf will enable you to practice your putting technique at your own level – Easy, Medium or Expert – in a décor inspired by Jules Verne's adventures.
Once you're done with the organized fun, you can go ahead and explore the surrounding area, rightly known as one of the most beautiful stretches of the French Riviera. Ideally located between the cities of Cannes and Nice, Antibes has retained its small town charm while offering a vibrant cultural life – its summer jazz festival is world-famous – and beautiful tributes to nature, such as the Exflora park. If you have a chance, pay a visit to the renowned Sophia Antipolis technical park as well.
When it comes to accommodations, the hardest part is to choose between a Cannes vacation rental and a Nice apartment, each a fabulous destination in its own right.
Dolphins at Marineland in the South of France
Slightly closer,
Cannes
boasts its
Croisette
, where you can enjoy walking along the water or along its string of most exclusive shops, as well as historic villas and a lovely harbor.
If you decide to stay there, our cute, fully furnished 1-bedroom apartment in Cannes Center – PR 339 can become your very own pied-à-terre with garden. It combines the excitement of being 10 minutes away from the Croisette with the quietness of a residential neighborhood.
If you come with a large group, our modern, fully furnished 3-bedroom villa – Cannes – PR 406 will welcome you in its light-filled space. The wonderful trio of terrace, garden and pool makes it even more irresistible.
If you prefer Nice and have modest needs, our cool, fully furnished studio apartment in  Nice Downtown – PR 1072 is perfect for you. Everything you'll ever need is right outside your door.
You have bigger needs? Then try our comfortable, fully furnished 2-bedroom apartment – Nice Old Town – PR 1082. Located in the most popular area of Nice, you will be close to the beach as well.
Have you ever been in the region for the holidays and would like to comment below?