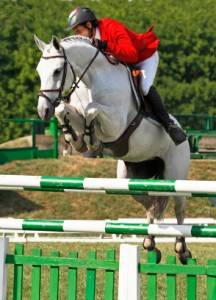 Equestrian
The delightful medieval town of Avignon in Provence has a couple of undisputed reasons that can explain its World Heritage Site status: its beautifully preserved historic center surrounded by its no less historic ramparts, the stunning Palace of the Popes, still quietly dominating the area after eight centuries, and it broken bridge, the pont Saint-Bénézet, immortalized in the popular French children song "Sur le pont d'Avignon". Its world-famous summer festival focusing on the performing arts has also put it on the international cultural map once and for all.
However, if you happen to be there in January 2012, do not miss the "Cheval Passion" event, an annual must for all horse lovers and those who wish to become better acquainted with this noble animal. From January 18 to 22, 2012 Avignon will become the European capital of the equestrian world with about 1,200 horses, 250 exhibitors and more than 100 000 visitors. You will be able to sample a wide variety of disciplines such as training, harnessing, acrobatics and horse-ball, which give the perfect opportunity for many different riders to get together and compare notes. You will be able to mingle with cowboys, republican guards, acrobats, whisperers, hikers, artists and competition winners while enjoying some magical shows at night fall. All in all, 90 hours of entertainment have been organized for a memorable experience!
The best way to enjoy this fun event and the enchanting town is to make yourself right at home. Luckily, New York Habitat has several fully furnished vacation rentals in Avignon that can easily meet your needs, whatever they may be.
If you care about location, you cannot beat this spacious 1 bedroom apartment – Avignon Center – PR-617 located right in the historic center near the Pope's Palace, the Place de l'Horloge, and the most famous shopping spots of the town. The house can be either available as a Bed & Breakfast or as a private furnished rental.
If you're looking for larger and funkier accommodations, then our 2-bedroom – Avignon Center – PR 615 cannot fail to please you. This colorful duplex with winter garden is located in a 16th century building and was entirely renovated in 2004. As if the incredible views were not enough, you'll also be able to enjoy a lovely terrace overlooking the surrounding rooftops.
If you still need more space, our 3-bedroom – Avignon Center – PR 858, should do the trick. From the second floor living room, you will be able to walk onto a terrific little terrace through the sliding bay window and take in a most wonderful view from your perch. Entirely renovated in 2007, this attractive duplex combines minimalism and practicality.
No matter what your motivation is to visit Avignon, you will not leave disappointed. Have you been there? What is your most vivid memory?