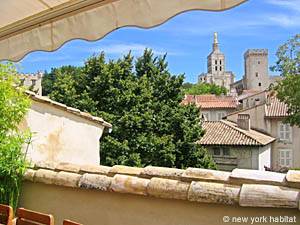 Do not go to Avignon if your plan is to visit surrounding towns and peruse the French countryside. The city of Avignon, beyond the numerous Provence attractions, has so much to offer that you will not want to leave.
Noted for its rich history and cultural attractions, Avignon, France has played host to both the religious and the artistic. During the 14th century, the city became the home for several papal leaders. The Palace of the Popes still stands within the city today and decorates the spacious and busy square, Place du Palais.
The various museums and theaters can entertain visitors for days, while the scenery of private mansions, luxurious courtyards, and elaborate squares make staying indoors a chore.
The annual theater festival in August attracts over 120,000 spectators every year. Visitors take in shows that feature dance, theater, and music.
New York Habitat has several enticing accommodations available in Avignon:
· A One-bedroom accommodation in Avignon (PR-617) historic center
· A Three-bedroom duplex in Avignon (PR-858)
· A Two-Bedroom Duplex in Avignon (PR-615) also available as a Bed & Breakfast
Here is a recap of the top cities so far:
The anticipation is at its peak. Only one more town remains. Which town do you think will be voted #1 town in the South of France. Post your guesses below.
Check in next week to see if you're right! And keep browsing our blog for more travel tips about the South of France.