As winter's chill finally settles over New York City, there's probably no more satisfying way to warm up than with a hearty bowl of ramen noodles. To some, this salty, flavorful, and inexpensive Japanese noodle dish is a convenient comfort food—while to others it's an all-consuming passion, inspiring pilgrimages all over the city, countless repeat visits to favorite vendors, and no end of online obsessing. Wherever you fall on the spectrum, there's no denying ramen has been a fantastic recent arrival to the menu of New York "cheap eats."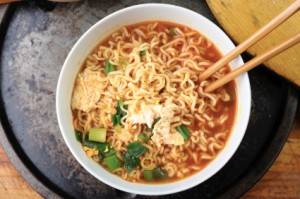 Ramen Noodles
Happily for all of us, the explosion in ramen's popularity means that new ramen shops and stands are springing up regularly—with the epicenter of activity being the
East Village
, a traditional destination for New York's expat Japanese community. To help novices get started, following are just a few of the most highly recommended ramen joints:
To begin with what might be the East Village's best-known ramen stand, there's a branch of the wildly popular Japanese chain Ippudo (65 Fourth Avenue, near 10th Street), revered for its basic shiromaru ramen, a thin noodle that may remind neophytes of angel hair pasta. Those who like it hot (and who doesn't?) are urged to go for option #3, the spicy meat bowl.
Another contender is the less flashy but equally rewarding Ramen Setagaya, where lines are shorter than at Ippudo and which gets extra points for its cold noodles in the summertime. Outposts are located at 141 1st Avenue, near East 9th Street, and also not far away at 34 St. Mark's Place, near 2nd Avenue.
Just a little ways south, Minca Ramen Factory (536 East 5th Street, near Avenue A) has what aficionados describe as the classic "hole in the wall" feel of an old-fashioned ramen stand in Japan, and the menu's charshu (meaning extra pork) menu options get consistently high marks from reviewers, bloggers, and other ramen cultists.
Finally, if you're craving a bowl of ramen and just can't make it downtown, tiny, understated Totto Ramen (366 W. 52nd St., between 8th and 9th Avenues) satisfies cravings further north and west. Totto draws praise for its impeccable bowl served with minimal toppings—two thick slices of fatty pork along with a dash of dried scallops and scallions.
Planning to sample New York's ramen pride in early 2012? New York Habitat has a wide variety of furnished rental apartments to suit every need. Following are a few sample listings to give you a sense of what's available:
– This furnished one-bedroom apartment (NY-10919) in lower Manhattan's East Village is located on the first floor of a six-story prewar walk-up. The apartment features hardwood floors, ample closet space for storing your belongings, and two bedroom windows that let in plenty of natural light. In addition to several ramen noodle shops, the neighborhood features any number of restaurants and bars that make it a nightlife hub.
– Slightly further south, another fully furnished one-bedroom apartment (NY-12864) boasts stuccoed Venetian plaster and red oak hardwood floors lining the living room and bedroom. The fully equipped kitchen features Verona red marble floors and a polished black granite countertop. The railroad-style apartment sits on the third floor of a five-story walk-up, in the center of Manhattan's lively Lower East Side.
– New York Habitat offers a furnished and roomy studio apartment (NY-12415) in western midtown, between Eighth and Ninth Avenues. The studio sits on the 14th floor of a gorgeous new high-rise with exceptional views, a 24-hour doorman, and basement laundry facilities. Times Square and the theater district are a short walk away, and the neighborhood provides an easy commute to virtually any part of Manhattan.
Are you a ramen fanatic?  Don't hesitate to share your recommendations for fellow New York Habitat readers in the space below.