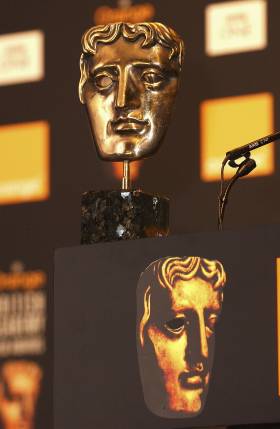 A BAFTA award
The glitz of Hollywood comes to London on February 12. And better yet, you can be a part of it.
The annual British Film Academy Awards are held at the Theatre Royal Drury Lane in Covent Garden. While you will have to known someone in Hollywood to get into the ceremony, movie fans line up along the red carpet to watch the stars enter every year.
In order to secure a spot along the red carpet, you'll need to get a numbered wristband from the theater, with distribution starting at 8 a.m. When I attended in 2009, I arrived only 15 minutes before the distribution was set to start and waited in a long line, taking around two hours before I actually got my wristband. I'd recommend arriving around 7 a.m. to guarantee a spot.
The wristbands are individually numbered, so once you receiver the wristband you are allowed to leave. They start letting people into the viewing area around 3 p.m., so when you return to the Theatre Royal, you get in line numerically and rush to find a spot along the rails.
If you are looking to get autographs, make sure you bring a Sharpie and something for them to sign. The easiest thing to do it get a stack of index cards. Otherwise you can get pictures printed out at a Boots Drugstore or a place like that.
Once you get into the red carpet area, you do a lot of waiting. Most of the big stars don't show up until around a half-hour before the show starts. The year I went, it began raining so most of the stars were hesitant to stick around for too long. On the same note, I would recommend dressing warm and bringing an umbrella. Anyone who has been in London for a long period of time can tell you that you can never be too safe with the rain.
Once inside, I was rather successful. With cameras watching the actors come in, they're likely to stop by for autographs or photographs. In all, I got autographs from Dev Patel, Gemma Arterton, Shia LeBouf, Daniel Craig, Mickey Rourke, Angelina Jolie, and Emma Watson.
If you are willing to put the time into standing around for wristbands and for stars to arrive, it can be one of the most unique – and memorable – experiences of your time in London.
Whether you are a movie star or just a movie fan, New York Habitat has great apartments to stay in on your visit to London.
This three bedroom vacation rental in the West End, London (LN-990) is in the heart of Covent Garden and close to the BAFTAs. This renovated flat has a large dinning table so you can enjoy a nice meal after waiting outside for the BAFTAs.
This huge four bedroom loft duplex vacation rental in the West End, London (LN-1008) will make you feel like a star. Also centrally located in Covent Garden, it has everything from a balcony to a fireplace and includes wireless internet.
Related apartment rental posts from New York Habitat: