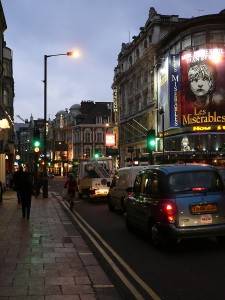 West End of London
In the city William Shakespeare, Harold Pinter, and Andrew Lloyd Weber called home, it's only natural a visitor to London would want to see a play or musical while in the city.
Although the idea of seeing a West End production may sounds like a daunting experience, it's much more laid back than you'd think – and better yet – cheaper.
The West End theater district is located in central London, mostly around Leicester Square and the Covent Garden neighborhood, making in simple to reach from the Tube. Covent Garden is home to numerous restaurants and pubs, and the ones located near theaters will frequently offer a special for before or after the shows.
Dress at West End shows is very causal. You wouldn't be out of place in anything ranging from a pair of jeans and a t-shirt to a suit or dress. It's really up to the attendee to wear what they feel comfortable in. But no need for anything too fancy – leave that for the opera or ballet.
Compared to Broadway plans, tickets to a West End show is significantly cheaper, in many cases up to half-price what you would expect to find on Broadway. And on top of that, there are many ways to get further discounted tickets. Students with a valid student ID card generally receive a couple pounds off their ticket when purchased on the day of the show. It's also possible for many shows to get discounted rush tickets, generally in the first couple rows of the theater, once the box office opens in the morning, although you'll need to get in line early for those. If you are feeling lucky, you can try for discounted return tickets as well, given out a couple minutes before show time. And just as for Broadway, there's a discounted TKTS booth in Leicester Square for last minute ticket deals.
After the show, the actors will leave through the stage door and many will stop and sign autographs and take pictures. Even the major A-list stars will stop and meet with fans around 15-20 minutes after the show. When Patrick Stewart and Sir Ian McKellen were in "Waiting for Godot" in 2009, both would make time for their fans after the show. Even Hollywood actors like Jude Law will stop for the throng of fans.
This year there are a number of highly anticipated shows. Andrew Lloyd Weber returns with his version of "The Wizard of Oz" at the London Palladium. Sienna Miller is starring in "Flare Path" at the Theatre Royal Haymarket, Keira Knightley and Elisabeth Moss are in "The Children's Hour" at the Comedy Theatre, and Jude aw stars in Eugene O'Neill's "Anna Christie" at the Donmar Warehouse from August 9 to October 8, and from June 1 until September 3, David Tennant is the lead in Shakespeare's "Much Ado About Nothing."
To stay close the theater district and try you luck in getting last minute discounted tickets, consider staying in a Westminster vacation rental or a flat in the West End or Bloomsbury.
Located in the heart of the West End theater district, this 2 Bedroom Duplex Rental in Soho (LN-599) is within walking distance of many theaters. The duplex occupies the 3rd and 4th floors of a walk-up period building and features a TV with cable in the living room and each bedroom, a fully-equipped kitchen and has WiFi Internet available as well.
This stylish four bedroom loft duplex vacation rental in Westminster, London (LN-1008) is the perfect place for a group to stay. Its location in Covent Garden puts it by all the theaters and the restaurants in the entertainment hub of London. The duplex has three bathrooms, wireless internet, laundry in the apartment, and a balcony.
Located near Covent Garden and SoHo boarded is this two bedroom vacation rental (LN-1069). Besides being near to the theater district, the apartment isn't far from the world famous British Museum. The luxurious apartment features black granite in kitchen and wooden flooring everywhere else.
What's your favorite play in London this summer?