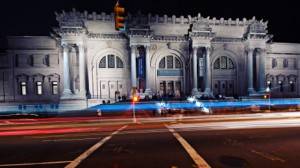 New York's MET
Got a yen for far-off lands, but not the budget? Don't fret. Because for the price of a single museum ticket, you can now immerse yourself in Spain at the time of the Moors, the Middle East of the Thousand and One Nights, and India at the height of the Mughal era—all under one roof.
The museum, in this case, is New York's mighty Metropolitan Museum of Art, where 15 dazzling new Galleries for the Art of the Arab Lands, Turkey, Iran, Central Asia, and Later South Asia have been a major hit with both the public and the press since they opened last November.
Covering an impressive 19,000 square feet, the new galleries replace the Met's old "Art of Islam" wing, which had been closed since 2003, and house some 12,000 objects at any given time. Geographically the artworks on display range from Spain all the way to India, while chronologically they extend from the 7th century C.E. to the early 20th century. Cosmopolitanism and diversity are two key themes of the new galleries, as Islamic culture is seen refracted through very different local traditions and customs.
Space doesn't allow for a detailed account of the riches (literal and otherwise) on display in the new Met galleries, but a few highlights may help to whet visitors' appetites.
If Oriental rugs have ever caught your fancy, for instance, you owe it to yourself to see the magnificent 30-foot Simonetti Carpet, woven in Egypt ca. 1500, and the equally eye-popping "Emperor's Carpet," a silk-and-wool 16th-century Persian masterwork that measures 24 x 11 feet and was once the property of Russia's Peter the Great. Meanwhile architecture lovers will thrill to any number of gorgeously carved arched entryways and lattices, not to mention gorgeous tile work that evokes wonders of the world like Spain's Alhambra and India's Taj Mahal.
Calligraphy is also on frequent display, as in a pair of eight-feet-tall pages from the Koran in Arabic script that date from the 15th century. (Illuminated manuscript pages are a particular glory of the new galleries.) Perhaps the most jaw-dropping use of calligraphy arrives in the Damascus Room, a reception space from 18th-century Syria, recreated almost in its entirety, whose walls are inscribed top to bottom with poetic verse.
The Metropolitan Museum of Art is located at Fifth Avenue and East 82nd Street. Hours are Tuesday through Thursday and on Sunday from 9:30 am to 5:30 pm, and on Friday and Saturday from 9:30 am until 9:00 pm. For complete visitor information, visit the Museum's website.
Planning to check out the Metropolitan or any of New York's other great museums some time soon? New York Habitat offers furnished rental apartments uptown and down, on the east and west sides of the city, so there should be one that suits your needs. Following are a few sample listings to give you a sense of what's available:
- Across Central Park from the Metropolitan Museum, a one-bedroom furnished apartment (NY-14269) on the fifth floor of a walk-up brownstone boasts a decorative fireplace in the living room and wood floors throughout. The windows in the apartment have a southern exposure overlooking the garden side of the block's tree-lined backyards. The apartment's location at 88th Street and Central Park West means numerous stores, cafes and supermarkets are within easy walking distance.
- A fully furnished one-bedroom apartment (NY-14056) in Manhattan's elegant Gramercy Park neighborhood is conveniently close to the 6 train at 28th Street and Park Avenue and also to buses running uptown on First Avenue, downtown on Second Avenue, and cross-town on 34th and 23rd Streets. Inside the apartment you'll find a bedroom with a queen size bed and a living room with a queen size pullout sofa, a large air conditioner, and a TV with DVD and cable.
- Another fully furnished one-bedroom apartment (NY-16217) is located on Manhattan's Upper East Side, just down the street from Central Park, on the 4th floor of a eight-story elevator building. Building amenities includes a rooftop desk and a fitness center . This apartment boasts an ideal layout that promotes privacy and restfulness, with the bedroom on the east-end facing a calm backyard, and the living room on the west-end facing a lively street.
Maybe you've already visited the Met's new Islamic galleries? If there's a particular work of art you think everyone needs to see, please share your recommendations in the space below.
Related apartment rental posts from New York Habitat: