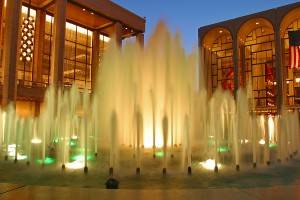 Photo of Fountains at Lincoln Center
For months now New Yorkers have been excited about the new, renovated, and revitalized Lincoln Center. The famous collection of cultural and performing arts organizations spanning 16 acres on Manhattan's Upper West Side (along Broadway, from West 61st to 65th Streets) is in the final stages of a top-to-bottom, $1.2 billion redesign that has made it one of the most inviting public spaces in all of New York City.
Perhaps the most immediately striking (and immediately popular) of Lincoln Center's new attractions is the re-imagined Alice Tully Hall, which has become an instant Upper West Side destination. It's no wonder why: the new Hall (which also houses the Juilliard School) is distinguished by a gleaming, three-story high, glass-enclosed lobby that juts towards Broadway like a ship's prow and lets passers-by look inside to where student dancers and musicians are rehearsing. Just below the glass-walled extension is a sunken outdoor plaza with mini-amphitheater seating that makes it an ideal place to stop and take a rest.
A few hundred yards to the south, meanwhile, Lincoln Center's main plaza has also become much more inviting. The old drop-off lane for taxis that used to separate the plaza from Columbus Avenue has been sunk one level down, and scrolling LED messages on the bottom of the new stairway welcome visitors and announce that day's performances—with the result that the whole entrance entices pedestrians to step up, admire the fountain, and check out what else might be going on.
Along with all these architectural triumphs, a spirit of renewal can be felt inside Lincoln Center's halls and auditoriums these days, too. Culture vultures know that under inspired leadership the New York Philharmonic, City Opera, and the Metropolitan Opera have all entered a period of renewed vitality in recent seasons. Visitors can experience that vitality firsthand this spring, when major events on the Lincoln Center cultural calendar will include the opening of American Ballet Theater's spring season in May and the Metropolitan Opera's new production of Wagner's Die Walkure in April and May—the latter of which is sure to be a big draw for out-of-towners.
Finally, if you'd like to work in an elegant meal around one of the shows at Lincoln Center, don't forget its brand-new Italian restaurant, Lincoln, which GQ magazine's food critic immediately proclaimed one of the "Ten Best New Restaurants in America." For the more budget conscious there are the exceptional sandwiches at 'Wichcraft, inside the David Rubenstein Atrium just above 62nd Street.
New York Habitat has a variety of apartments available on Manhattan's Upper West Side all through winter and early spring 2011. Here are a few to get you started on your search:
- This furnished 1-bedroom apartment in New York's Upper West Side (NY-14209) sits on a high floor (42nd) with an extraordinary view of Lincoln Center and the Hudson River. The apartment is located in a luxury doorman building with an elevator, a laundry, and a gym; inside, the apartment boasts generous amounts of daylight and hardwood floors enhanced by attractive area rugs.
- This furnished studio apartment rental in the Upper West Side of New York (NY-14661) is in a classic brownstone walkup conveniently located on the Upper West Side near the 1 and 2/3 subway lines. There are scores of restaurants, shops, and cultural attractions in the area, with Lincoln Center an easy walk or one subway stop away.
- A 1-bedroom rental in the Upper West Side of New York (NY-562) on West 78th Street is less than a block from Riverside Park to the west and just three blocks from Central Park to the east. The front door is less than five blocks from some of New York's top cultural destinations—in addition to Lincoln Center, the Museum of Natural History and the Beacon Theater are both within easy walking distance.
Do you have a favorite memory of a performance at Lincoln Center you'd like to share?  Feel free to leave a comment below.
Related apartment rental posts from New York Habitat: