If you're looking for an excuse to treat yourself to a trip to Cannes, France in a few weeks, we can actually give you not one but two: The Cannes Film Festival, May 16-27, and the Cannes International Festival of Creativity, also known as the Cannes Lions, June 13-27.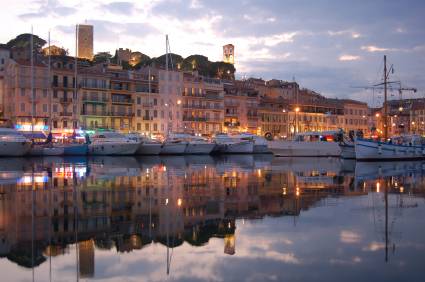 Cannes harbor at night
By far one of the most famous festivals in the world, The prestigious Cannes Film Festival will delight the cinema lovers one more time in May with its wide range of events such as the official competition, Un certain regard, out of competition selection, special screenings, short films, documentaries, classics, tributes, and films directed by the students of the cinéfondation.
Now, you may not be able to actually attend most of those happenings, but you can still bask in the colorful atmosphere and soak up a few sun rays too. You may even bump into a star or two while strolling in the streets, although you'll probably be luckier in the fancy boutiques of the famed Croisette.
If you're more into innovations, you must then wait until June when the largest meeting about cutting-edge creation in advertising and communication will unfold. Thousands of delegates from numerous countries will attend exhibitions, workshops, seminars, screenings and master classes in order to network and learn more on how to help people communicate better.
In a world that is rapidly becoming more connected than ever before, this is a truly unique celebration during which you'll be able to peruse 28,000 entries before the winner of the much coveted Lion trophy is picked.
On the other hand, if your concept of vacation is peace and quiet, you can always go to Cannes any other time and indulge in extended relaxing stays on the beach and delicious local dishes in restaurants.
The bottom line is that, no matter what you prefer, we have the right Cannes accommodation for you.
For one, two or even three persons, our large furnished studio – Cannes Center – PR 264 will totally work thanks to its adaptability, not to mention its perfect location one block from the Croisette. The balcony is one added bonus that can be enjoyed in any season.
If you are not into the urban hustle and bustle, but you still want to have all the amenities possible outside your door, our furnished one-bedroom – Cannes – PR 709 is for you. A southern exposure and a sea view make this inviting space even more attractive.
For a larger party, our light-filled furnished 3-bedroom – Cannes Center – PR 737 is waiting for you right downtown, a few minutes from the Croisette. Its minimalist look and balcony cannot fail to win you over.
No matter what your reason is to go there, you cannot be disappointed by Cannes. Have you ever been there and would like to share your experience in our comments section below?