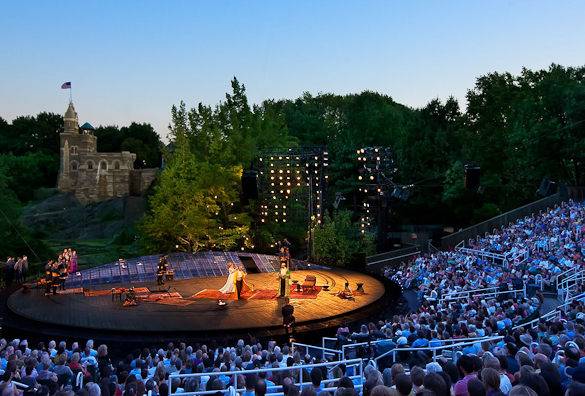 A performance of a Shakespeare play in Central Park, New York (photo courtesy of www.shakespeareinthepark.org)
One of New York City's best-loved summer traditions,
Shakespeare in the Park
has been offering free Shakespeare plays in Central Park's Delacorte Theater since June 1962. That means this summer marks the 50th anniversary of the institution, so there's no better time to experience it for the first time or to reacquaint yourself with New York's most storied al fresco theater.
In honor of the anniversary, this season brings two productions with a sylvan setting to the Delacorte. The Forest of Arden is the backdrop for the comedy As You Like It, which runs from June 5 through 30 and stars Andre Braugher, Oliver Platt, and Lily Rabe as the cross-dressing Rosalind, who might just be Shakespeare's most popular heroine.
In keeping with Shakespeare in the Park's recent tradition of keeping people talking, the second show of its 50th anniversary season isn't by the Bard, but by Stephen Sondheim, a theatrical icon in his own right (and one who needs no introduction to New Yorkers). His musical Into the Woods runs from July 23 through August 25, with a cast that includes Amy Adams (familiar from such film roles as The Fighter and the recent Muppets movie, among others) and the stage stalwart Donna Murphy, who won a Tony Award for her work in Passion, another Sondheim musical.
If you plan on attending Shakespeare in the Park here's a few handy tips. Free tickets are distributed at the Delacorte Theater at 1:00 pm the day of each show, but you should be in line no later than 10:00 am for a chance at getting tickets. Bring at least one person to stand in line with you just in case you need to leave the line while waiting. Bring something to read, and consider taking a folding chair or blanket since the line may not move along that quickly and you might be waiting a while.
Shakespeare in the Park is an event which draws people to the city during the summer, so if you're planning to stay in New York City over the summer months we have fully furnished rentals ranging from studios to multiple-bedroom apartments all over the city. The following is just a sample of what's available:
For a different kind of river view, our fully furnished studio loft apartment (NY-12661) in downtown Brooklyn, on the 6th floor of a 24-story building, has a shared rooftop terrace that offers amazing panoramas of the East River. Inside the studio you'll appreciate luxurious high ceilings and hardwood floors. The apartment's convenient location between Brooklyn Heights and Fort Greene means that two of Brooklyn's liveliest neighborhoods are only a short walk away.
A furnished one-bedroom rental apartment (NY-15255) on Manhattan's Upper East Side has parquet wood floors and a living room furnished with a queen size sofa bed, chair and coffee table, along with a cable TV and a home theater system. Around the corner on First Avenue, meanwhile, you'll find plenty of dining options, from fine to casual, as well as shops and a movie theater.
Have you ever enjoyed an outdoor Shakespeare performance in New York City or somewhere else?