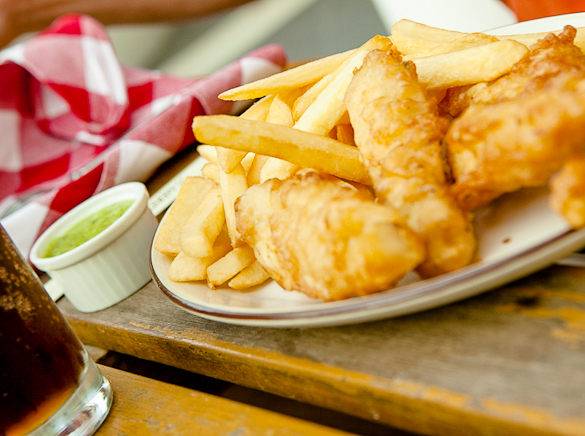 Traditionally prepared fish & chips with mushy peas in London
London's culinary culture is often underrated, while the UK capital has a lot to offer when it comes to food!  There is one inherently English dish that has delighted inhabitants of the Commonwealth for years: fish and chips. The first fish and chips shop in the world was opened in London in 1860, and the meal quickly gained popularity not only in the UK, but also in the British colonies. This is why today you can find variations of the original fish and chips in Canada, Australia, the United States and many more countries across the world.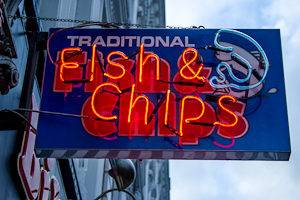 Neon sign of fish & chips place in London
This simple dish consists of deep-fried battered white fish served with chips. The batter can be made using water and flour or by using beer and flour instead.  In the UK, the proper way to eat fish & chips is with salt and vinegar. Common sauces are ketchup or tartar sauce, while mushy peas often serve as a vegetable accompaniment. If you want to taste the original dish, however, you'll have to come to the UK. And what better place is there to try fish and chips than the city where it all started?
Nowadays, there are hundreds of spots where you can buy fish and chips in London, ranging from food trucks to fancy restaurants. On our Foursquare page we've already started a "best fish & chips in London" list to try and select some of the best places to try fish & chips.
In this article, to help you in your quest to find the best fish and chips experience in London, we've narrowed the list down to our top 5 best fish & chips restaurants in the city!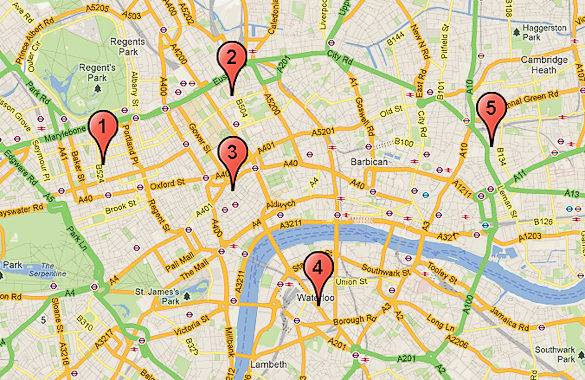 Map of our top 5 fish & chips places in London
1. The Golden Hind in Marylebone
This cute little restaurant makes great traditional fish and chips for a good price. The portions are generous and the fish and chips are not too greasy! You also have the option to order take-out, which is handy as the wait for a table can sometimes get a little long. If you do choose to sit down, be advised that you can bring your own wine or beer and the friendly staff will provide cups for you. You'll find the Golden Hind right in the middle of London's Marylebone neighborhood, with the nearest London Underground stations about 500 meters (1600 feet) away. The nearest station is Bond Street (Central and Jubilee lines), and from here you can walk north on James Street and then Thayer Street to Marylebone Lane & Bulstrode Place.
2. North Sea Fish Restaurant in Bloomsbury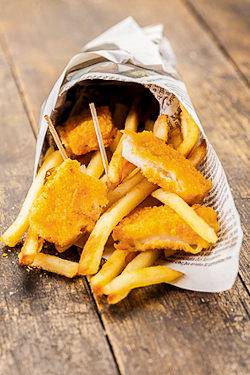 Fish & chips wrapped up in a London newspaper
This family-run restaurant is something of an institution in London. There's a big selection of  different fish, and the main courses are served with traditional chips or boiled potatoes, plus a delicious homemade tartar sauce. The restaurant also has a separate take-away section, but if you don't mind spending a couple more pounds, dining in will treat you to an authentic old-fashioned London experience. You can find the restaurant at Leigh Street and Sandwich Street in the middle of Bloomsbury. The three closest London Underground stations are King's Cross (Circle, Hammersmith & City, Metropolitan, Northern, Piccadilly & Victoria lines), London Euston (Northern & Victoria lines) and Russell Square (Piccadilly line). |
3. The Rock & Sole Plaice in Covent Garden
Not the cheapest Fish & Chips in town, but the fish is absolutely worth it! If the weather is good, the place has some lovely outdoor seating where you can enjoy the generous portions and watch the people walking around Covent Garden at the same time. If you want to save some pounds, you can also get takeaway in a traditional fish & chips newspaper cone and stroll around the neighborhood. The nearest London Underground neighborhood is Covent Garden, just 4 blocks from the Rock & Sole Plaice on the corner of Endell Street and Shorts Gardens.
4. Master Super Fish in Waterloo
Eat with the locals at this hole-in-the-wall in Waterloo! It can be hard to find a fish & chips restaurant where both the fish and the fries are delicious, but this place definitely scores points on both! What's more, the prices are very reasonable, especially when you compare this place to restaurants on the north bank. If you decide to get take out, there's a small park just two blocks away where you can enjoy your fish & chips before they get cold! Master Super Fish is a bit off the beaten path on Waterloo Road and Gray Street, so the nearest London Underground stations are a fair walk away. To get here, take the Jubilee line to Southwark or the Bakerloo, Jubilee, Northern or Waterloo & City lines to Waterloo Station.
5. Poppies in Shoreditch
Another family-run fish & chips place, this East End restaurant has a real 1950's diner feel to it. If you have the time, be sure to sit down, enjoy the great fish & chips and have a chat with the friendly staff. If you can, also try to leave some space for dessert, as this place serves some amazing pudding! The fastest way to get here is to take the London Overground to Shoreditch High Street and then walk to Hanbury Street & Corbert Place. Alternatively, you can also take the Circle, District or Hammersmith & City lines to the Aldgate East Underground Station, but then you have to walk a bit further.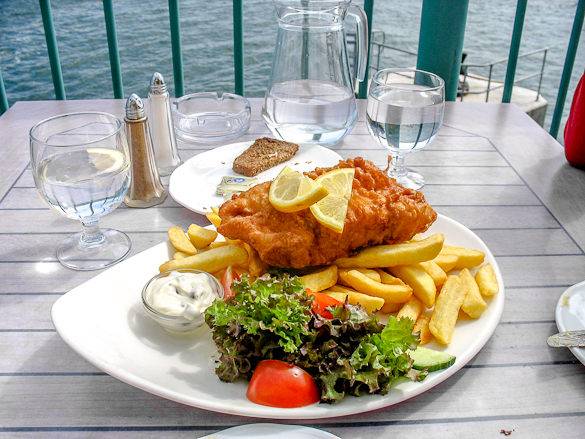 A fancy variation of the traditional fish & chips in London
We hope you've enjoyed this short list of the top places to eat fish & chips in London!  If you feel like you might want to mix it up a little after all this fast-food, check out this article about an entirely different culinary side of London: that of the
celebrity chef restaurants
. And for those foodies who not only want to eat like a local, but live like one too, we have many
vacation rentals available in the London areas
we described in this article, so take a look!
What's your favorite spot to get fish & chips?