Known throughout the world as one of the best shopping cities in Europe, London is a fantastic destination for a shopping holiday. From thrift shops to luxurious department stores, London really has it all when it comes to shopping. In this article, we'll highlight some of our favorite shopping spots in London.
We've categorized them accordingly so you can easily find the type of store you're looking for. Happy shopping!
1. London's Famous Shopping Streets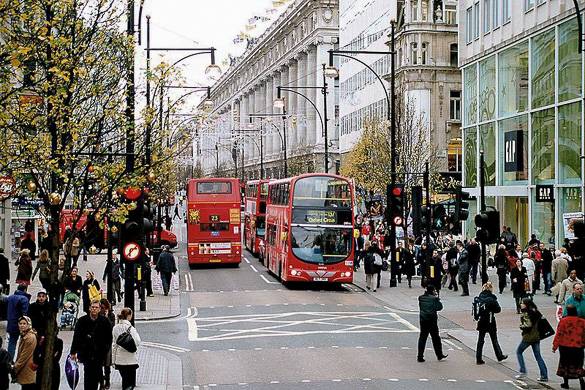 Shopping in London's Oxford Street
London is filled with famous shopping streets that almost have reached landmark status in the UK. Arguably
the most famous of them all is Oxford Street in London's West End
. Oxford Street starts at Marble Arch at the northeast corner of Hyde Park and runs all the way east to St Giles Circus at the intersection with Tottenham Court Road. It's the busiest shopping street in Europe and features more than 300 stores.
There are many department stores in Oxford Street, and some of them are even flagship stores for whole chains. You would need more than a day to get through all of Oxford Street, so we suggest you pick a couple of shops you definitely want to pay a visit to before going shopping and becoming overwhelmed with the choices. As such, some of our favorites include:
The flagship store of the British brand Topshop. The store is located on the corner of Oxford Street & Regent Street, and is supposedly the largest fashion store in the world.
The headquarters of Selfridge & Co. Department Stores on the corner of Oxford Street & Duke Street. Selfridges was named the world's best department store in 2012.
The Primark Store on Oxford Street & Park Street. The Irish clothing retailer offers fashion for very decent prices.
The flagship store of Marks & Spencer, which is located at the western point of Oxford Street at the Marble Arch. The British retailer holds everything from clothing to luxury food products.
Besides Oxford Street, some other shopping streets in London that are definitely worth a visit include Regent Street, Carnaby Street, Kings Road, Knightsbridge and Jermyn Street. Oxford Street and London's West End are a great place to start when you want to go shopping in London. To get an impression of Oxford Street and the West End, check out our video tour of the West End.
2. Famous Markets in London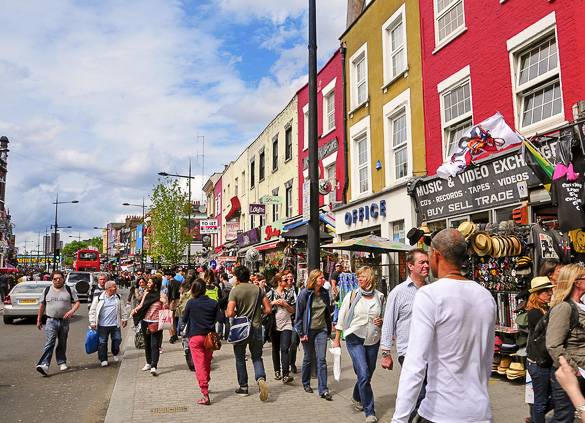 Colorful houses and stores around the Camden Market in London
London is well known for its open-air markets that can be found all around the city.
Camden Market
is one of the most popular of these. Located in the northwest of London in Camden Town, Camden Market has become one of the most visited tourist attractions in the city. The market is made up out of many small stalls and fixed shops that sell clothing, crafts, vintage things and food. The colorful shops near the water of the Regent's Canal make Camden Market a one-of-a-kind shopping destination. During the week most of the smaller stalls are closed, so be sure to come during the weekend for a full experience. Do beware of the crowds though: if you come on a Sunday you're better off taking the London Underground to Chalk Farm station or Mornington Crescent station and walk to the Camden Market, as the Camden Town station is often partially closed because of the masses.
There are several other great markets in London you can also choose to visit:
The Portobello Road Market in Notting Hill is another gem for tourists. The antiques market transforms the quiet Portobello Road with its colorful houses into a lively marketplace every Saturday.
Borough Market is a great farmers market that offers lots of fresh produce. You can find the market under the arches of London Bridge Station from Thursday to Saturday.
The Covent Garden Market in Covent Garden is a great option on a rainy day, as it's completely covered. The indoor food market is also very easy to reach, as it is located right in the city center of London.
3. London's Great Shopping Malls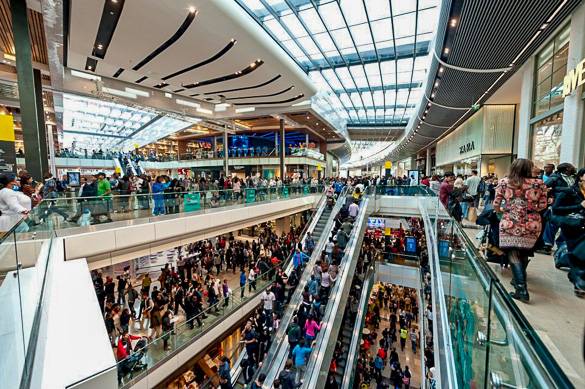 Shoppers at the modern Westfield Stratford City mall in London
Another great option for a rainy day is to visit one of London's many shopping malls. One of our current favorites is
Westfield Stratford City
, which is located in Stratford to the east of London near the Olympic Park. The modern shopping center opened in 2011, and is considered to be one of the largest urban shopping malls in Europe. Some of the attractions in Westfield Stratford City include a gigantic John Lewis department store, a Marks & Spencer, a big Waitrose supermarket and a large Vue cinema. Also be sure to pay a visit to the Olympic Park, where the Summer Olympics were held in 2012, before or after you go shopping.
Other great shopping centers in London include Westfield London, which is also noted for its size and is located just west of Notting Hill; the great Brent Cross shopping center on the northwestern outskirts of London; and the Whiteleys shopping center just north of Kensington Gardens, which offers stores such as H&M, Toys R Us, Victory Vintage, HMV and an Odeon movie theater.
4. The Department Stores of London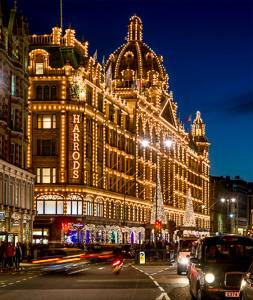 Christmas decorations at the famous Harrods department store in London
We've already mentioned some great London department stores, but we haven't talked about what is arguably London's most famous store:
Harrods
. The well-known building of the upmarket department store is located on Brompton Road in Knightsbridge, just south of Hyde Park. With over 90,000 square meters (1 million square feet) of selling space, Harrods is the biggest department store in the whole of Europe. The department store sells products such as clothing, accessories, jewelry, beauty products, gift items, housewares, home appliances, furniture, food, drinks, and much more.
The Food Hall of Harrods is legendary, and if you don't want to spend too much money have a look at the different teas offered here, which make a great affordable gift. If you're in London in December, be sure to pay a visit to Harrods to see the amazing Christmas decorations and the Christmas shopping department.
Besides the department stores we've already mentioned, Liberty, Debenhams, Harvey Nichols and Fortnum & Mason are also very much worth a visit!
And if you can't get enough of all the amazing department stores, quirky little shops and massive shopping streets in London, why not stay a little while longer? We have many vacation rental apartments available in different areas of London, so you can feel what it's like to stay and shop in the city like a true Londoner!
5. London's Pop-Up Shops & Markets
The last shopping phenomenon we want to address is London's pop-up shops. This so-called pop-up retail denotes the trend of opening up shops for only a short-term sale period. The term "pop-up" has become quite a trend in London, and has also expanded to pop-up bars, galleries and restaurants.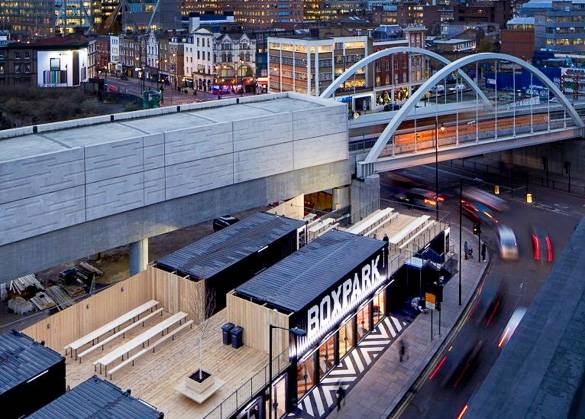 Boxpark Shoreditch with its pop-up shops
In 2011, the world's first pop-up mall opened in London's Shoreditch.
Boxpark Shoreditch
is fashioned of 60 or so shipping containers that were all put together to become retail outlets. Every container contains a pop-up store or pop-up restaurant, and these containers offer everything from well-known brands to young unknown companies and charities. To find out more about the pop-up mall, check out
Boxpark Shoreditch
.
We hope you've enjoyed this article about the many shopping destinations in London. Of course there are a lot of other shopping gems we didn't get to discuss here. What's your favorite shopping spot in London?