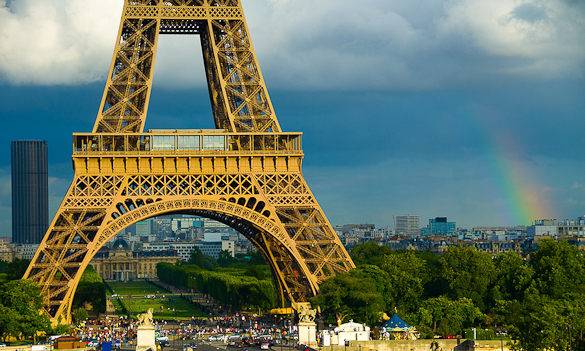 Rainclouds gather over the Eiffel Tower in Paris
Paris is beautiful when the sun shines and when it gets dark; Paris is even still beautiful when it rains. When you're visiting Paris on a rainy day, however, you'll probably have to adjust your plans a little. Luckily, a little rain doesn't mean you can't explore the city. In fact, when it rains you have the opportunity to see and do things in Paris you might not have done otherwise!
In this article, we'll provide some tips on what to do and see to make the most of a rainy day in Paris!
Museums in Paris
There are more than 100 museums in Paris, so if you find yourself in the city of lights on a rainy morning, take this as an opportunity to explore some of the amazing art the city has to offer! We've selected 3 different museums to visit on a rainy day that focus on art from different periods, so you can choose for yourself which museum appeals to you the most.
The Musée du Louvre is the most visited art museum in the world, and an absolute must-see landmark when you're in Paris, rainy day or not! The museum is housed in the Louvre Palace, and stretches 60,600 square meters (652,300 square feet).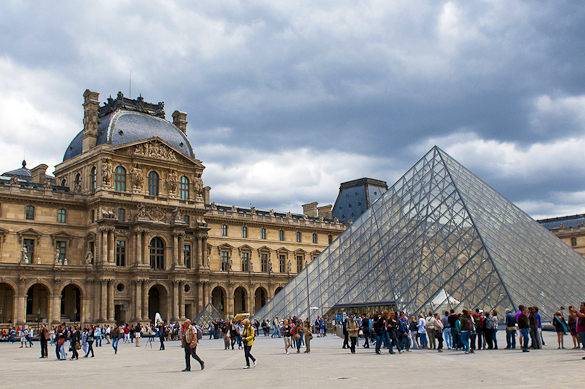 The Louvre and Louvre Pyramid on a rainy day in Paris
Collections include Egyptian Antiquities, Near Eastern Antiquities, Greek, Etruscan and Roman Art, Islamic Art, sculptures, and paintings ranging from the 13th to the 19th century. Basically, there's enough to see to keep you occupied for days. So if you just want to spend a morning or afternoon in the museum, try to decide upfront what highlights you definitely want to see. The Louvre houses masterworks such as Da Vinci's Mona Lisa, the Venus de Milo, Michelangelo's The Slaves and Vermeer's The Lacemaker. The Palace itself is also definitely a highlight, so take some time to explore the different wings and the beautiful glass pyramids at the entrance.
If you're a fan of impressionism and post-impressionism, the Musée d'Orsay is the place for you. The museum is housed in a Beaux-Arts former railway station, and offers an impressive collection of paintings by impressionist and post-impressionist painters such as Cézanne, Degas, Van Gogh, Manet, Monet and Renoir.
National Museum of Modern Art (Centre Georges Pompidou)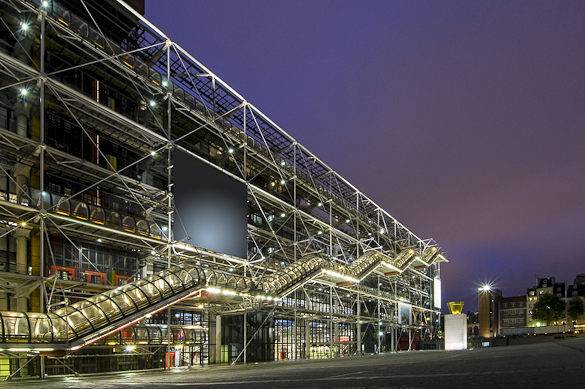 The Centre Georges Pompidou at night in Paris
For lovers of modern art, the Centre Georges Pompidou is a true gem: the permanent collection of the museum houses over 50,000 works of art, including paintings, sculptures, works of architecture and works of other media. The building itself is also a fantastic example of innovating architectural design: the skeleton of the museum is entirely exposed.
The three museums we've highlighted here are among the most popular in Paris, but of course there are also countless other museums well worth a visit. For more interesting museums, such as the Quai Branly Museum, see our blog article about Non-western Art at Paris' Quai Branly Museum.
And if you're staying in Paris with kids, the Musée Grevin (wax museum), Catacombes, Musée d'Histoire Naturelle or Palais de la Decouverte are all great alternatives.
Paris Cafes, Bistros and Restaurants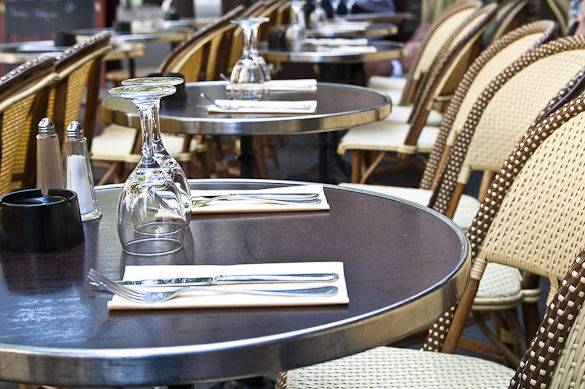 A typical bistro in Paris
After strolling through a museum for several hours in the morning, a good lunch will get you ready for the rest of the day. Paris is simply bustling with cafes, bistros and restaurants where you can take shelter from the rain and order a nice hot French meal.
Check out our Foursquare list of our favorite cafes in Paris for some lunch ideas. If you just want to grab a quick bite and a hot cup of cocoa before continuing to explore Paris, you can also try a famous French crepe at one of the many Paris creperies.
Shopping in Paris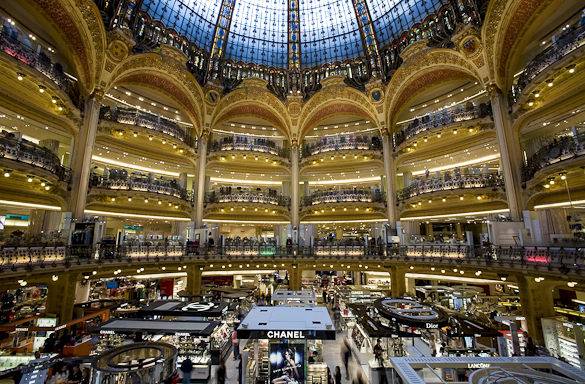 The glass dome of the Galeries Lafayette in Paris
If it's still raining after lunch, you can enjoy a shopping spree at one of Paris' indoor shopping centers. One of the most famous of these is the Galeries Lafayette. This massive department store is housed in a beautiful Belle Époque building complete with a colored glass dome. Take the time to explore the designer clothes that can be found across 10 floors, and don't forget to take in the view of Paris from the top floors!
Another large shopping center is the Printemps Department Store, which is located right next to the Galeries Lafayette on Boulevard Haussmann. At Printemps, you'll also find the latest in fashion, as well as products such as perfumes and cosmetics.
Other great shopping destinations on a rainy day include Rue de Rivoli, Carousel du Louvre (perfect after a visit to the world-famous museum of the same name!) and Les Halles.
French Dinner in Your Vacation Rental Apartment
After a busy day of exploring Paris in the rain, there's nothing more relaxing than coming home to a nice warm apartment where you can even cook your own dinner.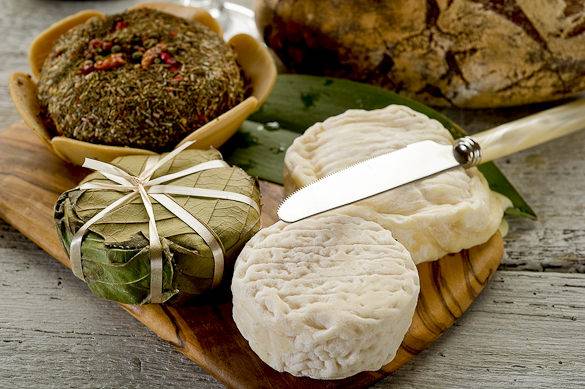 A typical French cheese plate
We have many
vacation rental apartments in Paris
that not only offer comfortable living rooms where you can watch the rain poor down outside, but also fully equipped kitchens where you can try your hand at a French dinner! You can pick up fresh ingredients at indoor food markets all over the city, and have fun creating your own dish. Enjoy your homemade cuisine with a glass of red wine, and try a dessert cheese plate, or "plateau de fromages", after dinner!
If you want to stay in after dinner you can watch a French movie on your own TV, or enjoy some quality time with friends or family. If you do want to venture outside in the rain again, there're also many indoor things to do in Paris in the evening, such as seeing a movie or going to the theater or cabaret!
Movies, Theater & Cabaret in Paris
There are many movie theaters in Paris, and several of them also show movies in English. For independent movies you can try Le Reflet Medicis in the Latin Quarter, which often shows classic Art Noir films and American classics. Another option is Le Grand Rex, which is the largest movie theater in Paris, and has a beautiful Art Deco style.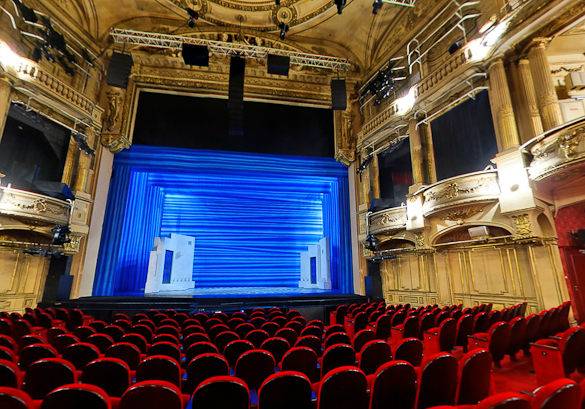 Theatre Mogador in Paris
Paris also offers countless of theaters where you can see old French plays or grand operas. You can see the famous Paris Opera at the Opéra Bastille, and the Paris Opera Ballet at the Palais Garnier. For French plays, check out the Theatre de la Madeleine or Theatre Mogador.
Paris is of course also home to famous cabarets such as Moulin Rouge or Folies Bergeres that'll make for a fantastic night out.
We hope you've enjoyed our tips on what to do in Paris when it's raining!
For more ideas on what to do and see in Paris, see The Top Five Things to Do on Your First Trip to Paris. What's your favorite thing to do in Paris?