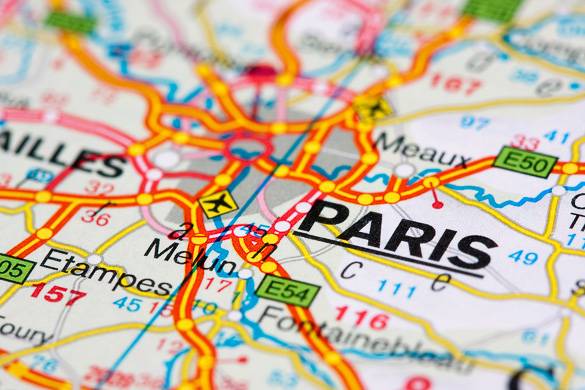 Explore Paris like a local!
There are many attractions in Paris that are well-known throughout the world. Climbing the Eiffel Tower is something you have to do at least once in your life; there are always long lines in front of the Louvre; a river cruise along the Seine is one of the most romantic activities in Europe, and more. However, although Paris is the most visited city in the world, there are some things about Paris you can't find in a guidebook. Especially if you're looking for an off the path experience in Paris, it's best to steer clear of the regular tourist spots.
In this article, we'll give you some tips on how to enjoy Paris like a local, and how to have the best possible experience on your trip to Paris!
Don't Be Afraid to Get a Little Lost in Paris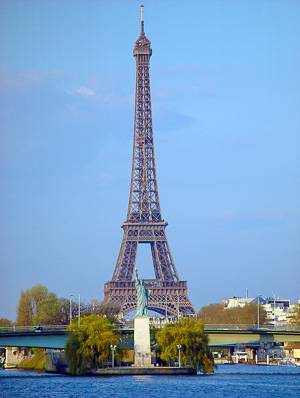 Paris' Eiffel Tower and its own Statue of Liberty
One of the best ways to start your exploration of Paris is to pick any street in the city center and start walking. Around every corner you'll discover something new, and as you walk along the rues of Paris you'll get to take in the remarkable vibe of Paris' different Arrondissements. You'll find hidden gems everywhere in Paris:
For instance, did you know Paris has its own Statue of Liberty? You can find it next to the Grenelle Bridge along the Seine River.
Less famous art decorates the city across Arrondissement. For example, in Montmartre you can find a beautiful bronze statue of a man walking through a wall. The sculpture is called Le Passe-Muraille, and is based on a short story about a man who could walk through walls, written by Marcel Aymé.
Furthermore, if you're walking around and get a thirsty, don't immediately buy water. Instead, look for water fountains you can find all around in Paris! This water is completely safe to drink, and you can even get sparkling water at some fountains!
Also don't be afraid to get a little lost. Contrary to popular belief, many Parisians will be more than willing to help you find your way again. Another assumption that many tourists share is that French people don't speak English. Although French people do appreciate that you make the effort to learn a few words in French, most Parisians are actually very proficient in English. Living in such a cosmopolitan city, Parisians will be more than happy to practice their English with you.
Stay Among the Locals in Paris' Arrondissements Instead of staying in a hotel, choose to live among the locals in Paris by staying in a vacation rental apartment!
Not only will you have to chance to pick a neighborhood to stay in among locals, but you'll also have a real apartment to live in, complete with living room and kitchen! This will come in handy when you want to prepare a French meal with fresh ingredients that you can pick up at local food markets. Cooking dinner with friends and family in your own apartment will be both a money-saving and truly French experience. Especially if you're coming to Paris with a big family or group of friends, renting an apartment can be much cheaper than staying somewhere where you have to book several separate rooms.
Have a look at our selection of vacation rental apartments in Paris to get a taste of a great affordable stay in Paris!
Eating in Paris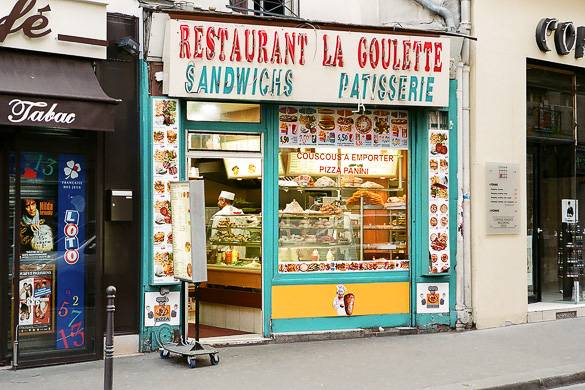 A popular restaurant among locals in Paris
If you don't feel like cooking, you don't have to choose an expensive restaurant to go out to dinner.
If you just want a small bite to eat, do as the Parisians do and try a local diner. Parisians often eat at local fast food restaurants such as Kebab places, Chinese restaurants and even at global fast-food chains. In fact, most of them have a higher quality in France and they even offer "local" dishes.
Some of our favorite eating spots in Paris include La Table d'Aligre, which is located on the Place d'Aligre where you can also find a great farmer's market.
The French bakery chain "Paul" is also very popular among French people, as it offers quality snacks, sandwiches, pastries and coffee for a competitive price. If you're looking for a Kebab place or a Greek restaurant in particular, check out Rue de la Huchette in the Latin Quarter.
For a more authentic "French" experience at a real brasserie or restaurant, make sure to order tap water instead of bottled water to save money. Tap water is always free in France, even in fancy restaurants!
Affordable Culture & Getting to Attractions in Paris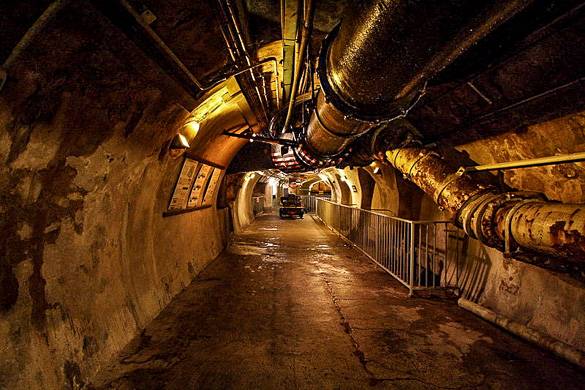 Interior of the Museum of the Sewers of Paris
When you're visiting Paris, you'll probably want to sniff up some culture at one of the city's great museums. Apart from the famous Louvre, Paris boasts many other great museums such as the
Sewers of Paris, The Orangerie, Musee de Cluny, Musee du vin, Palais de Tokyo, Petit Palais, Musee Guimet and many more.
We'll explore three of these in more detail to give you an idea of alternative museums in Paris:
The Sewers of Paris is a great choice if you're looking for a different museum experience. Located beneath the Quai d'Orsay, the underground museum will give you the chance to walk in old sewer tunnels, and learn more about city engineering and the history of Paris.
The Wine Museum is also a great choice if you're looking for a museum treating something other than art. In the Wine Museum, you'll explore the French craft of winemaking, and might even get to taste some wine yourself!
Lastly, the Orangerie displays art from the 19th and early 20th centuries. Far quieter than the Louvre, the Orangerie is full of beautiful works such as Water Lilly series by Claude Monet.
What some guidebooks don't tell you is that there are plenty of ways to visit most museums, including the Louvre, for free!
Every Sunday of the month, entrance to most of the museums in Paris is completely free. If you're younger than 18, you can even get into museums for free the whole month. This also applies to people between 18 and 26 years if they're either from the European Union or have a long-term visa for a country belonging to the EU. If you're not sure if this applies to the museum you want to visit, then check the fee section of their website for "exonerations" (exemptions).
Keep in mind that most of the attractions and museums in Paris are located in the historic city center. This means you can easily walk between them, instead of taking the subway. If you do want to take the subway, don't buy the expensive unlimited pass unless you're sure you'll use the metro multiple times per day. A much cheaper option is to buy 10 metro tickets at the time for a reduced fare. For more ways to save money check our money saving tips for Paris.
Attractions Outside the Historic Center of Paris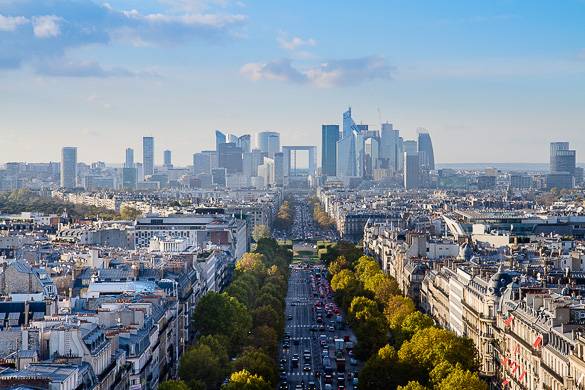 The La Defense business district in Paris
Guidebooks often don't mention the attractions in Paris that are a bit out of the way, which is a shame because outside of the city center there's still a lot to see!
One of the places definitely worth visiting is Paris' business district La Defense. La Defense is the largest business district in Europe, and also houses the largest shopping mall, Les 4 Temps. Visit La Defense for a day of shopping, to get a clear view of the Champs Elysees, and to gasp at the impressive skyscrapers!
Incidentally, if you want to get an amazing and completely free view of Paris, visit the panoramic terrace of the Printemps Department Store! It's open until late at night so you'll get to watch the city of lights glimmer beneath you.
If you're a real nature lover, discover the beautiful flower gardens at Jardin Natural in La Villette. Located close to the famous cemetery Père Lachaise, the flower garden offers a tranquil space in the city.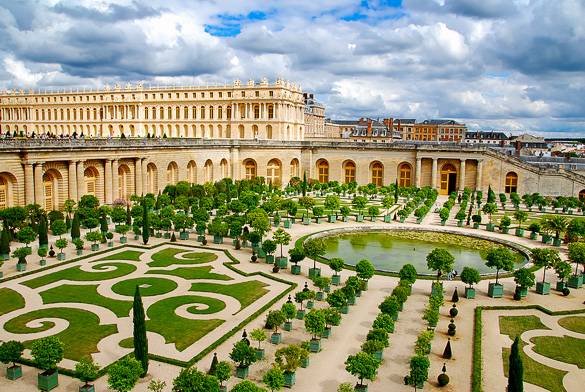 The Gardens at Versailles
If you're willing to leave the city entirely for an afternoon, the other cities and towns in the metropolitan area of Paris also have a lot to offer. Nearby places such as the city of
Versailles and its Palace or Saint-Germain-en-Laye and its castle are great places to visit and appreciate French architecture. You can also visit Vincennes, Montreuil, the Bois de Boulogne (Paris' version of Central Park) and Neuilly-sur-Seine
. They are all very easy to visit by taking the subway, tram, bus or RER train!
We hope you've enjoyed these insider tips for a great holiday to Paris. Do you know of any more travel tips about Paris you can't find in a guidebook?