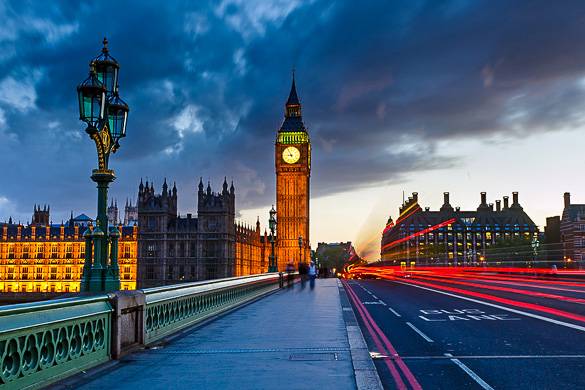 View of the Houses of Parliament and the Big Ben from Westminster Bridge in London
London is a remarkably kid-friendly city. From sprawling parks to run around in to museums designed entirely for kids; the city has many things to offer for families. A family holiday to London also doesn't have to be expensive: there are many ways to save money on a family trip to London. If you select your accommodation and activities during your trip carefully, you can have a great holiday without overspending!
In this article, we'll give you tips on how to save money on a trip to London, including tips on finding affordable accommodation and free sightseeing activities!
Family accommodation in London with a vacation rental apartment
If you're planning your family trip to London well in advance, try to book your trip off-season to avoid high costs. This means avoiding the summer months, as London tends to be more crowded with tourists and more expensive from June to August.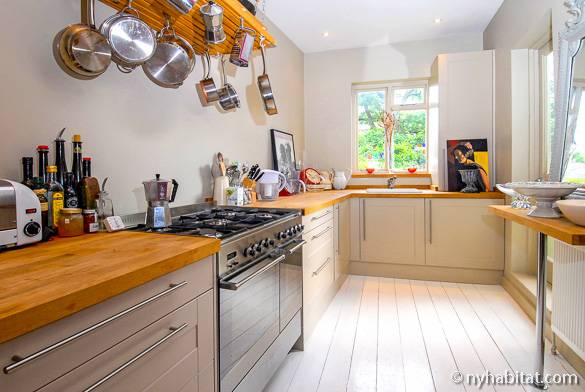 Example of a kitchen in a London vacation rental apartment
As for booking accommodation, consider staying in a vacation rental apartment during your stay instead of in a hotel. Especially when you're visiting with a family, the accommodation prices can be very competitive.
When you rent an apartment you don't have to pay per room like you would in a hotel, and for one price you get:
A fully-equipped apartment
One or several bedrooms
One or more private bathrooms
A living room
A kitchen, which can come in very handy, as you won't have to spend money on expensive hotel breakfasts, so you can just cook your own!
Apartments are generally also much bigger than hotel a room, which means the kids can enjoy the space. They also won't get bored easily as most of the time there's cable TV and Wi-Fi to be enjoyed in the apartments, often without any extra fees! Another plus is the availability of laundry facilities on the premises, which makes it easy to do some mid-holiday laundry.
Have a look at our London vacation rental apartments to see what types of apartments we have on offer and for what prices!
Transportation to and in London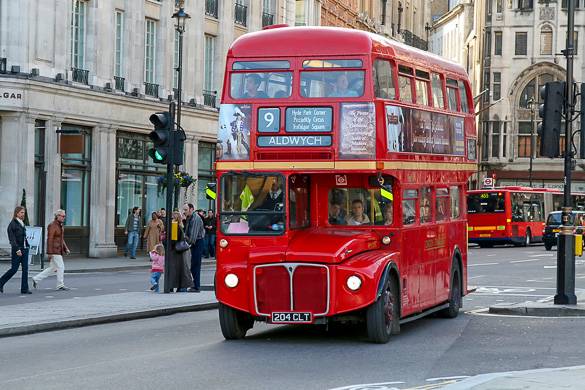 You can also use your Oyster Card to take a traditional red double-decker bus in London
There are several ways to travel to London. Especially if you're coming from mainland Europe, taking a train can be an affordable and comfortable option. For example, the
Eurostar
takes you straight to the St. Pancras Internation Train Station in the city center of London.
London also has three different airports: Stansted Airport, Gatwick Airport and Heathrow Airport, which is the busiest airport in the UK. If you're flying to London's Heathrow Airport, the cheapest way to get to the city is to take the subway.
The London Underground is one of the oldest and most extensive subways in the entire world. The easiest way to travel by subway is to use an Oyster Card. The Oyster Card is a plastic card you can put money on to travel across the Tube.
If you're coming to London for a short period and are planning to use the Underground a lot, then you can also choose to buy a Travelcard. With a Travelcard you can travel unlimited on the subway, bus or tram. You can choose between a 1-day Travelcard and a 7-day Travelcard. If you're travelling to London with kids, remember that for the Underground, special rates apply for children. Kids aged 10 and under can travel for free when an adult accompanies them, and there are special fares for kids aged 11 to 15 on the Underground. It's also possible to buy a special children-rate Travelcard.
Free Sightseeing in London
After finding your way in the Tube, you'll want to start exploring London! When the weather is good, it's great to explore the city on foot. Discover the old stone-cobbled streets of the old City of London, walk past the Tower of London and along Tower Bridge. Both the north bank and the south bank of the Thames offer great pedestrian paths, so you have an amazing view of the city across the water.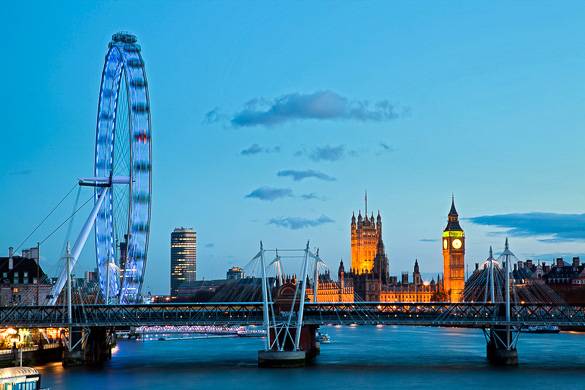 The London Eye and Houses of Parliament with the Big Ben
Another nice bridge to cross is the Westminster Bridge, where you can take pictures of the London Eye to the east and the Houses of Parliament and Big Ben to the west. If you walk west from here you'll come across one of London's gorgeous Royal Parks: St. James's Park. If it's sunny out it's great to take the kids and spend a day in the park. At the end of the park you can watch the changing of the guard for free at Buckingham Palace.
The even bigger Hyde Park is also nearby here. Kensington Gardens is the western part of Hyde Park, and with its Peter Pan themed statues and playgrounds this is a great park to take the kids.
Kid-Friendly Free Museums
London offers an insane amount of fantastic museums that are absolutely free to visit!
Famous museums such as the British Museum or the National Gallery are must-sees for the adults, but there are also a number of free museums that are great for kids. Take for example:
The Science Museum London, which has many interactive exhibits where kids can explore and play as much as they like.
The V&A Museum of Childhood is a very interesting museum full of ancient toys and memorabilia, but it also holds daily activities for kids such as a treasure hunt.
The Natural History Museum will charm adults and children alike. One of the biggest attractions of the museum is the Dinosaurs Gallery, which features models, skeletons and even a moving Tyrannosaurus Rex!
For more detailed information about free kid-friendly museums and other activities in London, see Free Summer Things to Do with the Kids in London.
London Shopping Deals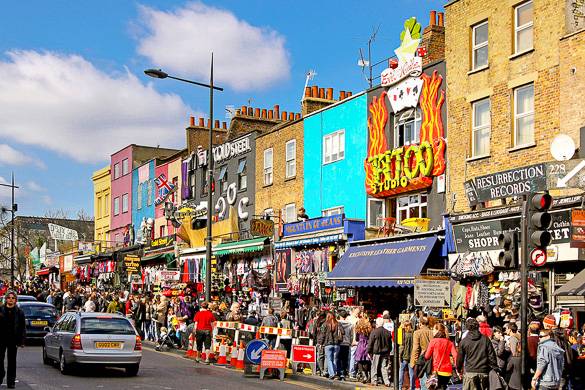 The colorful Camden Market in Camden Town
Even if you're on a budget you can still enjoy a day of shopping in London. If you pick the right places, you'll be able to get great deals on clothes, antiques, food and more!
If you're a fan of the movie Notting Hill, then the Portobello Road Marketis a great first stop for the whole family.Every Saturday, the main street of the Notting Hill district of London turns into one big open road market. You can find anything from fruit and vegetables to fashion and things for the home. It's most famous for its great selection of antiques and second-hand clothes. Even if you don't want to buy anything a trip to Notting Hill is a fun activity for the whole family on a Saturday morning.
Another famous shopping area is the Camden Market in Camden Town.Camden Market is one big complex with stalls and shops selling products such as clothes, crafts, food, antiques and more. If you want to visit with the whole family keep in mind the market can get very crowded, so if you're bringing small children be sure to keep a close eye!
If you're something of a foodie or enjoy fresh produce, also be sure to check out one of London's many food markets or farmers markets. One that offers a vast array of products of good quality is Borough Market. From Thursday to Saturday, this popular food market can be found right under the railway arches of London Bridge Station.
Cheap Eating in London
A traditional plate of fish & chips in London
After a trip to one of the food markets, you can bring home the fresh produce to your vacation rental apartment, and enjoy a family dinner at home! The
fully-equipped kitchen
will make it easy to cook your own meals in your apartment, which can save you a lot of money during your trip!
If you do want to eat out some day, you don't have to go to a fancy restaurant to enjoy a nice lunch or dinner. London is filled with great local pubs where you can eat for less.
There are also many great eateries where you can enjoy real Indian food with the whole family.
For something a little more kid-friendly, try a real English serving of fish & chips! See our selection of London's best fish & chips spots to find a good and cheap place to eat.
We hope you've enjoyed our money-saving tips for a family trip to London! Do you have a money-saving tip of your own? Let us know in the comments below!