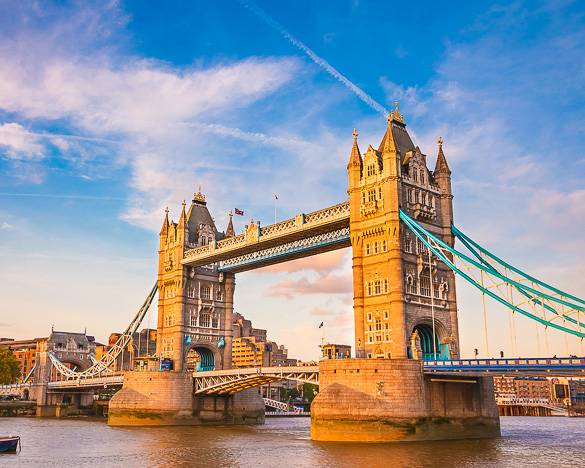 The Tower of London basks in the sun on a hot summer's day
Summer is an ideal time to visit London. The Royal Parks are absolutely beautiful, the weather is at its best and London is simply flooded with festivals and concerts! From open-air movies in the city to the carnival in Notting Hill, there's something new to engage in every day.
This article will list some of the best events to attend in London for Summer 2013. Enjoy the festivities!
Watch Outdoor Movies in London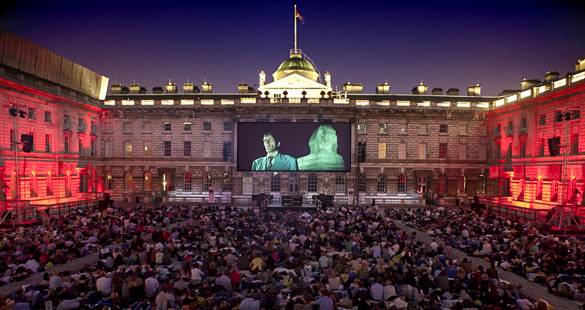 An outdoor movie showing at the Somerset House in London for Film 4 Summer Screen
There are more than a few outdoor movies hosted in London during the summer. Pack some blankets, prepare your picnic basket, be sure to bring a sweater and head out to an outdoor movie showing for the ultimate summer feel!
Pop Up Screens is a London-based outdoor cinema screening 21 different movies this summer. The 2013 season will kick off with a showing of The Big Lebowski on July 12th in London's Bishop's Park. Other titles include Grease, Jaws, Terminator, V for Vendetta, Fight Club, and Mean Girls.
In August, the beautiful Somerset House in London is transformed into one big open-air cinema for Film4 Summer Screen. Bring your own blankets, cushions, even a picnic to the 18th century courtyard! You will enjoy a variety of films on a big screen with full surround-sound.
Other great organizations hosting outdoor movies in London include the Nomad Cinema and the Luna Cinema.
Enjoy the Summer in London with Festivals and Concerts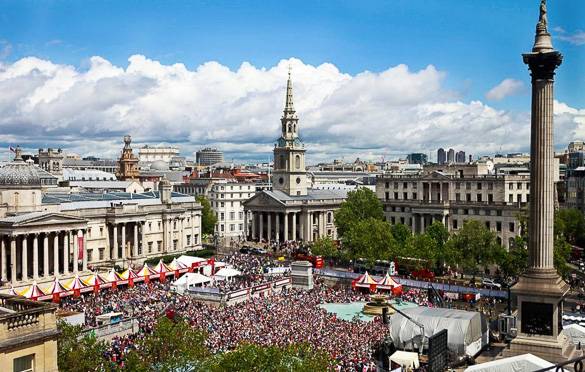 The West End LIVE Festival at Trafalgar Square in London
If we were to describe London in the summer in one word it would be – festivals! Starting in May and ending in late September, there is a different festival to see every week. From concerts to musicals, the city of London never bores!
If you're a musical fan be sure to hit West End LIVE. West End LIVE features free performances of West End musicals at one of London's biggest squares: Trafalgar Square! You can see the West End take the stage on June 22nd and June 23rd.
The BBC Proms is the biggest classical music festival of the season. Starting July 12th and ending September 7th, the festival features an impressive 92 concerts this year. Proms is short for Promenade. Promenade concerts are informal and inexpensive, so people from all over the city can enjoy them! The concerts are held at the Royal Albert Hall, and tickets start at just £5.
For lovers of jazz music, the Canary Wharf Jazz Festival is the place to be in London this summer. This weekend-long music festival is completely free to enter and features some of the best jazz singers, musicians and bands worldwide. The dates for 2013 have yet to be announced, but the festival will most likely be held in August.
The iTunes Festival has been around since 2007 and seems to grow in popularity each year. This year, a performance will be hosted in The Roundhouse Camden Town each day in September. This means there will be 30 performances by some of the best musicians in the world. Musicians and bands that have previously performed at the festival include The Killers, Pink, One Direction, Muse, David Guetta, Coldplay, and Adele. Tickets for the performances are completely free, but can only be acquired by entering in competitions held for iTunes users in the UK.
Other great festivals in London include British Summer Time featuring the Rolling Stones, the Yahoo Wireless Festival featuring Justin Timberlake and Jay Z, and a new LGBT festival.
Cultural Summer Events to See in London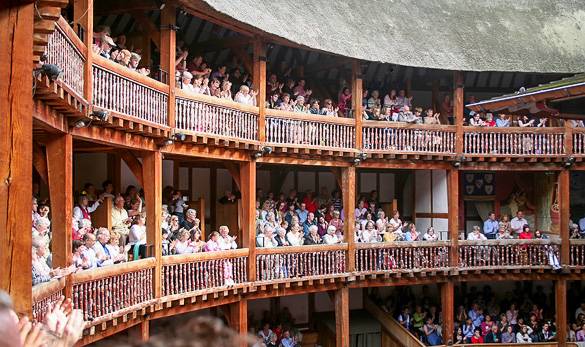 A Shakespeare play is performed at the Globe Theatre in London in summertime
During summer, many cultural events are held outdoors in London. On days when the sun stays hidden behind the clouds, you can explore one of London's many great museums. Most of these are completely free to visit!
This year the Chelsea Flower Show celebrates its 100th birthday. This means the show gardens at London's Royal Hospital Chelsea will be even more spectacular than usual! The Chelsea Flower Show is hosted from May 21st until May 25th.
If you missed the Queen's Jubilee celebrations last year, you get a do-over this summer on June 15th: the Queen's birthday. For more Royal fun, check out the Coronation Festival in the gardens of Buckingham Palace from July 11th to July 14th.
The Shakespeare's Globe Theatre offers a very promising Season of Plenty: there are fifteen different plays scheduled to be performed during the summer season, including Midsummer Night's Dream, King Lear and The Tempest.
During the summer, the Museum of Natural History has an intriguing exhibition on display called Genesis, which features photographs of endangered natural landscapes and indigenous people taken by Sebastiao Salgado. This is a great indoor activity when the weather isn't at its best!
For more tips on indoor activities in London, see What to Do in London on a Rainy Day!
Beat the Heat at London's Swimming Pools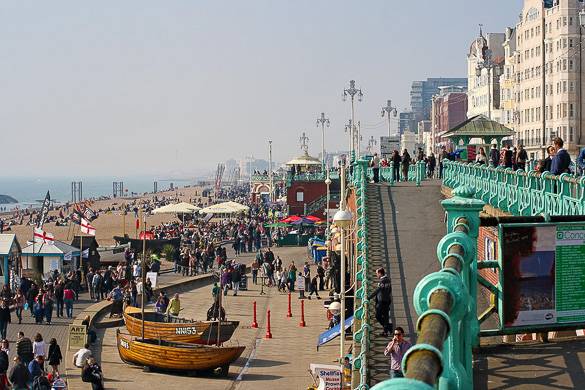 Take a train from London to Brighton for a daytrip to the beach!
For those days when the sun makes an appearance and temperatures rise, London has several
indoor and outdoor swimming pools
where you can cool off. Some of our favorites include the Serpentine Lido, the Oasis Sports Center and the Ironmonger Row Bath, which also features a Turkish Bath.
Alternatively, you can also choose to hit the beach. One of the beaches closest to London is Canvey Island Beach, which is about 60 kilometers or 37 miles east of London. Brighton is another great destination for a day trip. You can catch a direct train to Brighton from London and be arrive at the beach before you know it!
If you're coming to London this summer, consider staying at a London vacation rental apartment. You will have access to your own living room and kitchen where you can easily prepare a picnic basket to take to the parks, and have all the space you need. Furthermore, you can experience what it's like to live among the locals in London!
Do Not Miss These Summer Events in London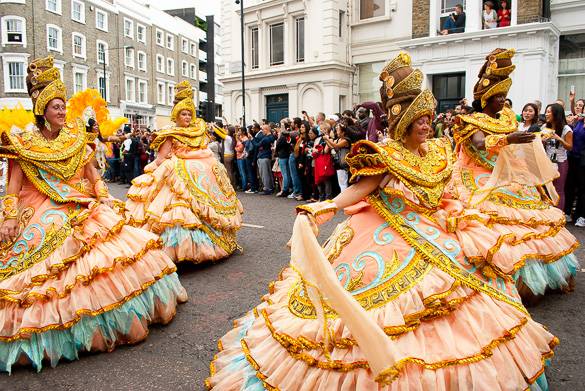 Performers show off their costumes during the Notting Hill Carnival in London
The famous tennis tournament Wimbledon is held in London from the 24th of June to the 7th of July this summer. Dress in white and come cheer on the best tennis players in the world!
Every year, Pride London celebrates gay, lesbian, bisexual and transgender culture in London. Now the largest non-ticketed event in Europe, Pride London features a big parade, countless parties and many performances held at Trafalgar Square. This year Pride London will take place from 25th to the 30th of June.
For those living in England, the 25th and 26th of August means Bank Holiday weekend! On this weekend, London celebrates one of the largest street festivals in Europe: the Notting Hill Carnival. The enormous block party extends all through West London and features costumed performers and colorful floats.
Kid's Week in London is a festival where children are permitted free entry into London's West End Theater and musical shows! Kids Week runs from August 1st to August 31st, and also features free workshops and other fun activities for kids.
We hope you've enjoyed this article about summer events in London! To get an idea of what London looks like in the summertime, check out this video tour of the City of London. What is your favorite summer event?