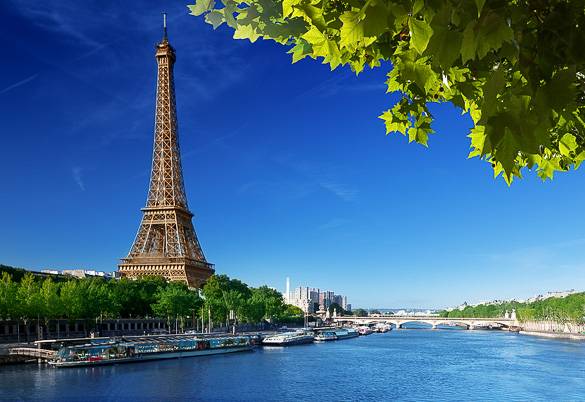 The Eiffel Tower in Paris in summertime
Paris in the summertime is picturesque: Parisians and tourists alike enjoy great food on café terraces, picnic in parks filled with flowers, and watch children play in fountains all over the city. Here, there's something new to see or do every day! In this article we'll list some of our favorite summer events in Paris, and show you how you can make the most of a holiday in Paris for the summer of 2013.
Open Air Cinema in Paris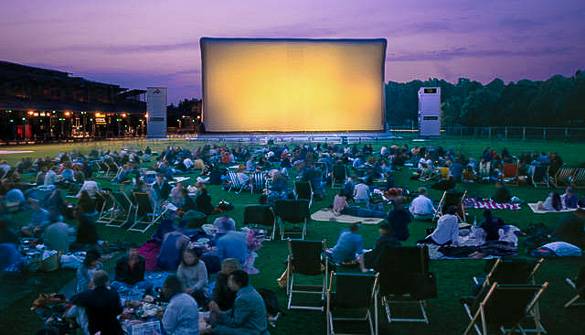 An outdoor movie screening at Cinéma en Plein Air in the Parc de la Vilette
It doesn't get much more romantic than seeing a classic movie under the starry skies somewhere in Paris. In the summertime, this is exactly what you can do in the evenings!
Every year, Cinéma en Plein Air, or open-air cinema, is hosted in the Parc de la Vilette. Starting July 24th and ending August 28th, French and English classic movies are shown in the park beginning at dusk. Tickets are €7 per viewing, or you may choose to purchase multiple tickets for the season at a discounted price. This year, the program of Cinéma en Plein Air includes many French movies as well as American classics such as Ocean's Eleven and The Social Network.
Cinéma au Clair de Lune is a great free outdoor movie festival that is organized by the Forum des Images every year. Running through August, the festival hosts both classic and recent movies under the stars in different iconic locations throughout Paris.
Summer Festivals and Concerts to Visit in Paris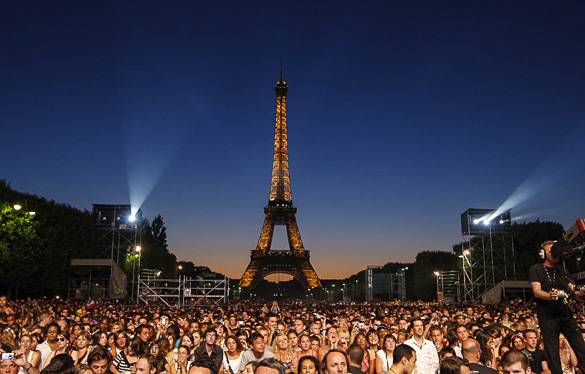 A summertime concert in Paris near the Eiffel Tower
During the summer, music can be heard all over on the streets of Paris. This love for music manifests itself into many different music festivals. Whether you're a jazz lover or rock enthusiast, Paris in the summer has something to offer for everyone!
The Fête de la Musique is a great example of the Parisians love for music. Every year the entire city celebrates music with many different venues playing all sorts of music genres. Taking place ever year on June 21st, the festival also pays homage to World Music Day, founded in France in 1982. On this day musicians play in the streets, in cafes, and on stages all over Paris — for free! One of the best ways to experience the festival is to roam the streets of Paris during the evening to find different musicians at every street corner!
Visiting the annual Paris Jazz Festival at the Parc Floral is another great way to kick off the summer in Paris. The Paris Jazz Festival runs from June 8th until July 28th this year, and is located in the Parc Floral — a beautiful park filled with flower gardens and located in the Bois de Vincennes. Entrance to the park costs a fee of €5.50, but the festival itself and all concerts are free.
The Paris Quartier d'Eté, or Paris Summer Arts Festival, is a month-long festival that brings dance, music, theater and other performances to – often outdoor – locations all over Paris. Many of these performances are free to visit. The festival will take place from July 14th until August 11th.
True festivalgoers will love Rock en Seine, an annual three-day music extravaganza held just outside of Paris. The celebration takes place from the 23rd to the 25th of August at an estate called Domaine de Saint-Cloud. A one-day ticket to the festival is €49, while a three-day pass is €109. Camping is available for three-day-pass holders. The line-up for 2013 includes names such as System of a Down, Franz Ferdinand, The Bloody Beetroots and more.
Another great festival in Paris is the Solidays Festival. Held every year by Solidarité Sida, the festival features several big names in the music industry, and all the money raised during the festival will help fund the research to fight aids.
Soak Up Some Sun at the Paris Plages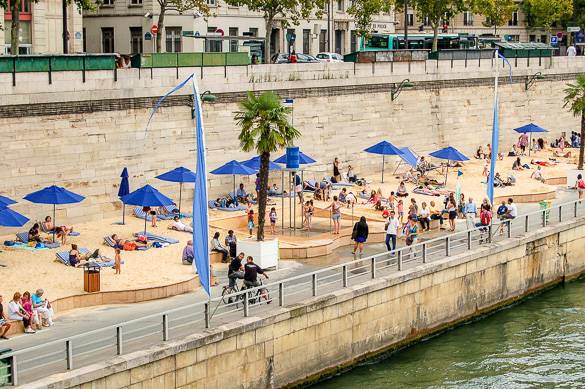 Paris Plages on the banks of the Seine River in summertime
Undoubtedly one of the biggest summer events in Paris is Paris Plages. Paris Plages literally translates to Paris Beaches, which is exactly what the Paris Plages are. Starting July 20th and ending on August 18th, the banks of the Seine River are turned into one big beach from the Louvre to the Pont de Sully. At the Paris Plages you can sunbath in the sand, listen to live music, enjoy ice-cold drinks, and even take a dip in a swimming pool! There's also another location of the Paris Plages at the Bassin de la Vilette, which offers a proper water-sports complex complete with rowing boats and kayaks. To find out more about the Paris Plages, check out Beach Fun in Paris at the Paris Plages.
Have a Cultural Summer in Paris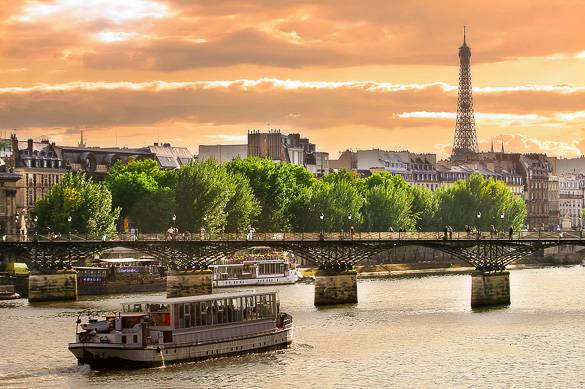 Go on a romantic summertime river cruise in Paris
When you've soaked up enough sun and just want to cool down for a while, Paris' many museums offer nice indoor galleries where you can enjoy an array of cultural activities. From famous classical art at the Louvre to modern art at the Centre Pompidou, Paris has something to offer everyone.
If you're tired of sightseeing on foot, indulge in a river cruise along the Seine River! This is a relaxing way to explore Paris from the water. You can also choose to take a daytrip outside of the city, for example at Versailles where a great fountain show is held every weekend at night.
Can't get enough of Paris? Consider staying in the city as a local. We have many vacation rental apartments available in Paris where you can stay among the locals. Or, if you want to stick around for an even long period, we have furnished apartments available in Paris that you can rent per month, so you can enjoy staying in your own summer home in Paris for an extended time.
Summer Events to Attend in Paris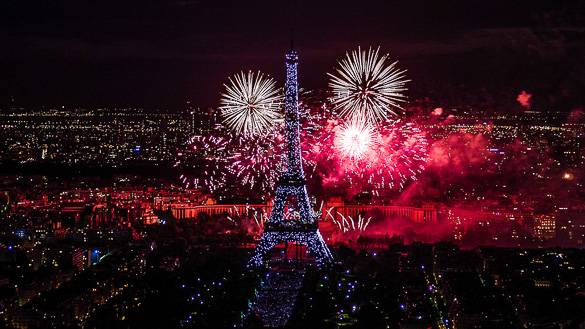 The fireworks show near the Eiffel Tower in Paris on Bastille Day
There are several annual celebrations and events held in Paris that are an absolute joy to attend.
On June 29th, Paris will celebrate Gay Pride during the Marche des Fiertés LGBT, which is a massive parade that draws over 650,000 people every year! The parade is accompanied by a series of parties, balls and other events hosted across the city.
Bastille Day is one of France's biggest holidays. It's celebrated on the 14th of July, or le quatorze Julliet, throughout France. In Paris, Bastille Day includes a big military parade, a beautiful fireworks show, and many great parties!
Our last big event is the Tour de France, which will end in Paris on the 21st of July. On that day, Tour riders will cross the finish line on the Champs Elysées.
We hope you've enjoyed our list of events in Paris for the summer of 2013. To see for yourself what Paris is like in the summer, have a look at our Paris travel videos. What's your favorite spot in Paris during the summertime?
Related apartment rental posts from New York Habitat: