So you've decided to travel or move to an exciting new city like New York, Paris, London, or one of the many locales in the South of France; congratulations! You have an exciting few months ahead of you; just read any of our blog's travel guides and you'll see all the exciting things you can do in your new destination! Beyond just the draw of the city's attractions, however, is the exciting experience of renting a furnished apartment and living like a local in an authentic piece of real estate.
Moving into a fully-furnished apartment also frees you from the hassle of having to hire movers or pack bulky items like kitchenware or sheets and towels, making the transition to a new city simple. However, as any homeowner or renter knows, furniture and appliances can seemingly have minds of their own, and things can naturally wear out or break over time.
Fortunately, renting with a licensed agency like New York Habitat means you won't be left high and dry if something isn't functioning properly when you move in. Our agency aims to facilitate communication between owners and renters and conducts due diligence to ensure that rental issues are resolved. Owners and renters can follow our tips below and ensure that anything from a broken chair to a rogue washing machine is repaired in a timely manner and everyone has the best rental experience possible!
Tips for renters: How to be proactive about repairs during your tenancy
You've spent time hunting for the perfect apartment, sharing your rental criteria and budget with an agent, and you've finally signed the lease for a great new rental! Maybe you looked for a specific amenity like a washer and dryer or a renovated bathroom, even if it meant increasing your budget. Therefore, you want to ensure that specific amenity is working properly. If something is broken, call your landlord right away. Often, owners and landlords are unaware that something is malfunctioning unless you tell them. The sooner you notify them, the faster it can be fixed!
If you discover something is missing or malfunctioning in your rental, here's what you should do: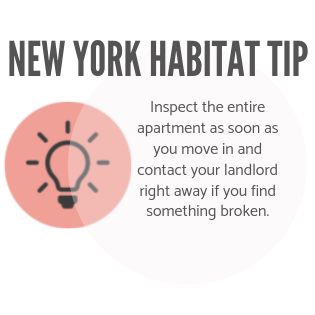 Note what specific items are broken or missing, and what seems to be the issue (for instance, low water pressure from the showerhead, a lack of flatware, a loose lock on the bedroom door)
Consult the apartment's listing to ensure that the item's absence is not already noted in the listing.
Get in touch with the owner or landlord via their preferred contact method and request maintenance.
If you have trouble getting in touch, or the issue is not resolved in a timely fashion, contact your New York Habitat agent.
Upon your move-out, New York Habitat will contact you for a review of your experience and feedback.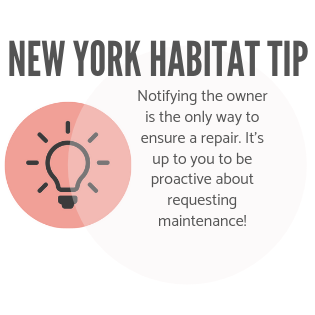 Occasionally, we discover too late that a client had an issue with a malfunctioning appliance, plumbing, or light fixture. Don't let this happen to you! Remember that your agent is here to help you, and owners are happy to schedule repairs—after all, it's their property and they want to take care of it! Contacting your apartment's owner is the only way to ensure that a problem can be fixed. Also, unless an item breaks due to deliberate neglect or misuse, it's rare that a maintenance repair will result in a deduction to your security deposit.
Make sure you get the most out of your apartment rental! As a tenant in a private rental, it's up to you to be proactive about asking for repairs if you need them.
Tips for apartment owners: Ensure your apartment is ready to host!
Your property has caught the eye of a tenant or traveler during the booking process, and soon, you'll get to be their welcoming host. This is an exciting opportunity: not only do you get to meet a new tenant and introduce them to your city, but you'll also make some extra income (remember: New York Habitat is free to list and non-exclusive!).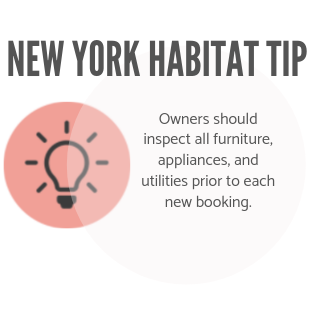 It's not all fun and games, however. In order to ensure a successful rental experience and keep your apartment available for future rentals, you should take steps as a host to prepare your apartment for every new tenant and maintain the unit during their stay. Here's how to make sure your apartment is rental-ready before a new tenant moves in:
Check all furniture, appliances, lights, and plumbing before a tenant moves in to ensure everything is sturdy and working properly.
Take inventory of linens, cookware, and dining flatware.
If you notice something is missing or malfunctioning, replace or schedule a repair before the tenant arrives.
If you can't schedule a repair before the tenant arrives, notify New York Habitat as soon as possible so we can inform the tenant of any changes to their rental.
Even the most proactive host can't always predict when an appliance or furniture might break. If something goes wrong during the tenant's lease term, here are a few additional tips for resolving issues as soon as possible: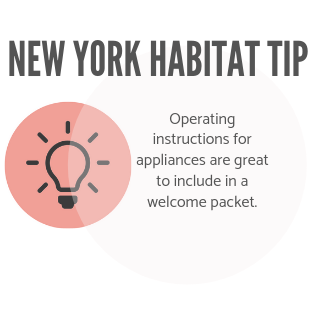 Provide the tenant with your contact information upon check-in. It's a good idea to be present to welcome your tenant so you can explain your preferred contact methods and show them how things work.
Provide the tenant with instructions or manufacturer booklets regarding how to use appliances, technology, and any special features of the apartment.
Inform the tenant about your building's maintenance policy and tell them who should be contacted in the event of a necessary repair.
Make sure you're available for contact in case your tenant needs you to schedule a repair.
Communicate with New York Habitat if you have any questions or need to document a repair.
Available and easy-to-reach hosts are consistently praised in our client's reviews, and positive reviews increase the likelihood of another booking. Additionally, you have certain responsibilities as a landlord to provide maintenance and repairs in a reasonable amount of time.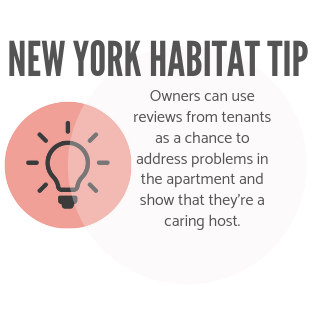 Of course, your obligation only extends as far as a tenant is willing to communicate. Sometimes, owners only learn of an apartment issue after check-out, when they have the opportunity to write a review response. If this happens, try not to be upset. Instead, use the tenant's feedback as a valuable tool and an opportunity to show that you're a caring host. Take the opportunity to address any of the tenant's concerns by repairing any broken furniture or appliances, replacing unsatisfactory inventory, and then writing a response that thanks the tenant for their feedback and addresses their concerns. If you take the time to show that you care about the tenant's feelings, appreciate your tenants, and are proactive about updates and repairs, you can make an underwhelming review work in your favor!
Is it broken or damaged, and who should fix it?
Nobody likes it when something breaks, but knowing how to address a necessary repair can save the situation from becoming an even bigger headache. Tenants and owners should both know that landlords (aka owners) are responsible for regular maintenance and repairs and to keep the apartment in a condition suitable for occupancy. Most cases running the range from burnt-out lightbulbs to a dead refrigerator fall under the category of regular maintenance.
However, in the case that a broken appliance or piece of furniture results from tenant abuse, the situation is more contentious and the tenant may find themselves liable for its repair. Typically, this will come at the expense of the tenant's security deposit. For more information about security deposits and how they can be charged, check out our guide.
Go behind the scenes! New York Habitat's due diligence
One of the biggest benefits of renting or listing your apartment with an agency is that both sides of the lease agreement have an extra resource to help them. Our Quality Assurance team is proud of the work they do to ensure that broken items see necessary repairs.
Each time a client raises attention to a broken or missing item, whether in correspondence with their agent or in a review, our team monitors the case. If a tenant asks for our help, we can attempt to act as a liaison with the owner or landlord to request a repair. We can also be a resource for owners who need help addressing the issues in a dissatisfactory review.
Most importantly, when a client alerts us to a broken or missing item, we will inquire the owner about the status of the repair or replacement before another booking. Maintenance and repairs are a team effort! With the combined efforts of a proactive tenant, a responsible host, and a diligent agency, repairs and replacements can be a breeze for all rentals from basic to luxury.
If you're interested in working with an agency for your next rental, you can visit our contact page for all of our request portals (as a tenant), or list your apartment with us if you're an owner. We're here to help take the guesswork out of short-term rentals!