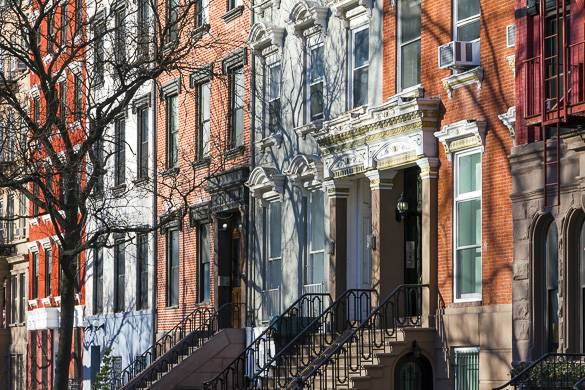 Look around, NYC is full of apartment options!
It's nice to have a big housing budget (hopefully paid for by your company), but many of us do not. This article is for those who need to figure out how they can live in the city of their dreams, without going broke in the process! As licensed brokers, we at New York Habitat know the NYC real estate market and have some insider tips and tricks for navigating it. Continue reading to find out how you can afford to live your dream in New York City.
1. Understand the costs of living in NYC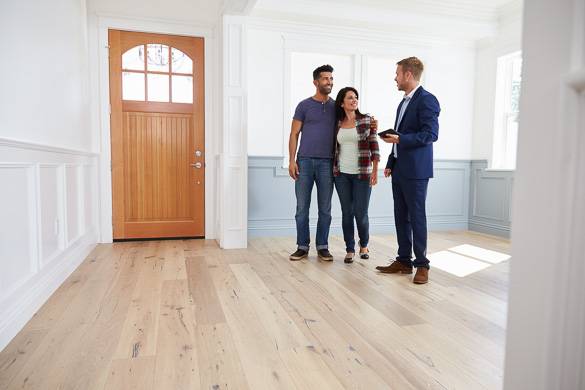 Let a licensed New York broker explain the ins and outs of apartment-hunting in NYC
New York City is one of the top destinations in the world for travelers and renters. Everyone wants the experience of living in the Big Apple, which means apartment rentals get snatched up quickly and rent prices can go through the roof! Being realistic about your budget will save you a lot of time and frustration, and a broker can help you determine what you can realistically get for your money.
If you have a big budget, we plenty of luxury rentals to suit your needs, but for people with more limited budgets, the first step is realizing that you may not be able to get everything on your wishlist on a budget in New York. Differentiate what is an absolute necessity on your list of criteria from what is a "plus" that would be nice to have, but you could also live without. This is NYC; time to give up your vision of a Friends or Sex & the City apartment, and get ready to compromise! Being flexible and willing to trade certain criteria can save you a lot of money on rent.
2. Amenities can add up! A little effort can pay off in cheaper rent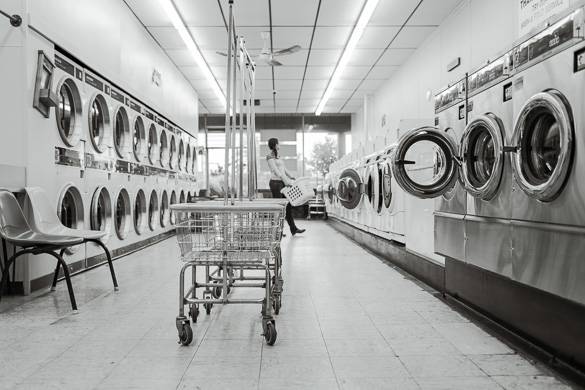 You never know who you'll bump into at an NYC laundromat. (Photo credit: Ryan McGuire www.mcguiremade.com)
We'd all like to have the amenities of our dreams of in our apartment, but let's be real: You're moving to New York City, one of the most expensive cities in the world. It's time to be money-savvy. A washing machine and dryer in your apartment is a nice convenience if you have the budget, but is it really necessary? Plenty of buildings have common laundry rooms where you can do your laundry right in the building. And if your building doesn't have a laundry room? Don't worry, just head to a local laundromat. You can find one on just about every corner, and it's a great chance to meet your neighbors, make some friends, and maybe meet that special someone while folding your delicates. You've seen the movies; love can be just a laundromat away! This one-bedroom furnished apartment in Harlem is right around the corner from a laundromat, and this studio apartment on the Upper East Side has the convenience of a laundromat right next door.
Outdoor space like a garden or balcony would be fabulous, but in New York, an outdoor space will cost you. Why not save on rent by just renting close to a park or garden, or commuting to the nearest outdoor spot of your choice? Luxury can get monotonous. Thrifty renters can change it up and head to a different park, garden, or riverside anytime they want. This two-bedroom apartment in Windsor Terrace, Brooklyn is just 3 blocks from Prospect Park! And don't forget: Some of the city's best outdoor spaces with a view are above your head, at one of the city's many rooftop terraces and bars.
Kitchens in Manhattan are notoriously small, which is what fuels our takeout and delivery obsession. If you're really not into cooking, save some dough by opting for a basic studio with kitchenette instead of a full kitchen, like in this studio on the Upper West Side. You'll have the basics like a mini fridge,  a microwave, and hot plates for your basic kitchen needs. You'll also have an excuse to sample all of the great takeout options that make NYC one of the most unique places in the world. Even Anthony Bourdain decided to open a food market here; need we say more?
3. Get active! Taking the stairs can equal big savings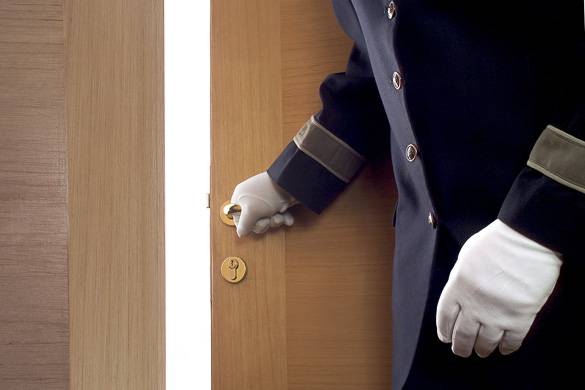 Forgo the doorman and you can save on rent
Some people may need an elevator due to physical limitations, but if you're fit and willing, why not save some money on rent? Walk-up buildings are considerably cheaper than elevator buildings, plus you can get a daily workout without even noticing it.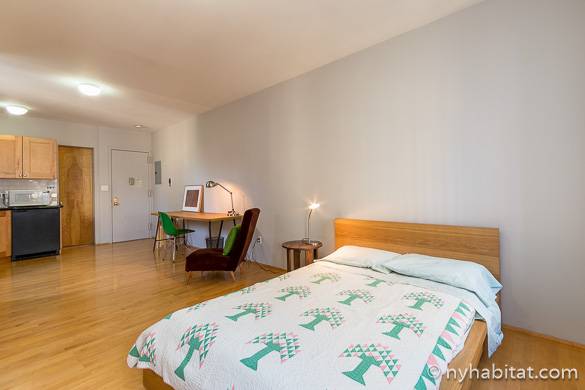 The Lower East Side has many walk-up building options
Brooklyn has a lot of walk-up options, including this one-bedroom in Bushwick. This studio on the Lower East Side is also a good option for bargain hunters who want to remain in Manhattan. A doorman is great for catching you up on the latest building gossip, but do you really want to pay extra for someone to open the door for you? Keep in mind that all that gabbing will cost you when the holidays roll around and it's time to tip the building staff. Keep your arms in great shape and save your holiday budget by opting for a non-doorman building– it could save you a lot! You can still have a swanky Upper East Side address without the doorman with this furnished studio located right on Park Avenue!
4. Be open-minded about location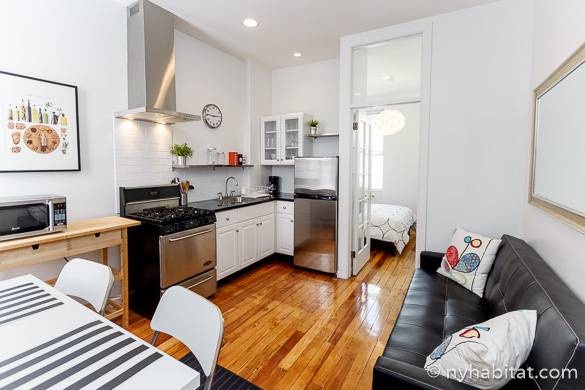 Consider options in Queens, like this one-bedroom apartment in Ridgewood
Is it necessary to limit your apartment search to a two-block radius from your office or school? New York is a commuter-friendly city with one of the most comprehensive transit systems in the world. Everyone commutes here, so grab your Metrocard! Strategy is key, so think outside the box. The center of the Manhattan is going to cost you a premium, so spread out a little. Head further East or West, or check out Upper Manhattan. Consider this one-bedroom in the Upper Manhattan neighborhood of Inwood, or this studio in Hamilton Heights.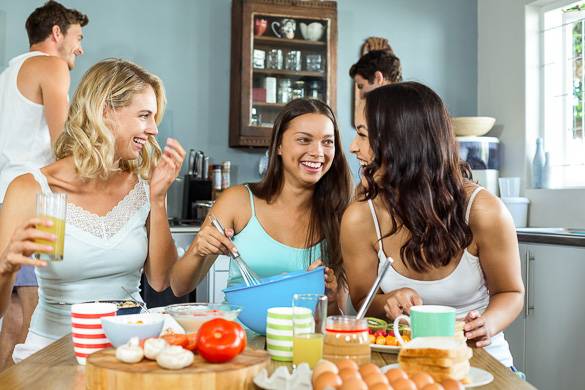 Sharing an apartment can be fun and money-saving!
New Yorkers know there's plenty more to NYC than just Manhattan. Queens and Brooklyn are just a subway ride away, can save you money on rent, and as an added bonus, you don't have to squeeze into an apartment the size of a shoebox. Just hop on the subway after a night out in Manhattan, or take an Uber back to the peace and quiet of your apartment. This one-bedroom in Ridgewood, Queens is close to the border of Brooklyn, while this one-bedroom in Bay Ridge, Brooklyn puts you close to the water and views of New York Bay.
5. Share an apartment with roommates

Can't stomach footing the entire rent bill yourself? We don't blame you! To survive rising rents, plenty of New Yorkers share apartments. New York Habitat has a whole department dedicated to roommate share apartments, where you can rent a room for 30 days or more in a shared apartment. This room for rent in a three-bedroom apartment on the Upper East Side and this room in a two-bedroom apartment on the Upper West Side allow you to live in some of the most expensive Manhattan neighborhoods for a fraction of the cost.
Combining your budget with friends to share a full two or three-bedroom apartment can also help you save on rent and might give you a bigger living space than you'd be able to afford on your own. This three-bedroom apartment in Cypress Hills, Brooklyn and this three-bedroom furnished rental in Bedford-Stuyvesant, Brooklyn are roomy enough to share with friends. If you each don't necessarily need a bedroom, you can save by renting a one-bedroom apartment with a pull-out sofa.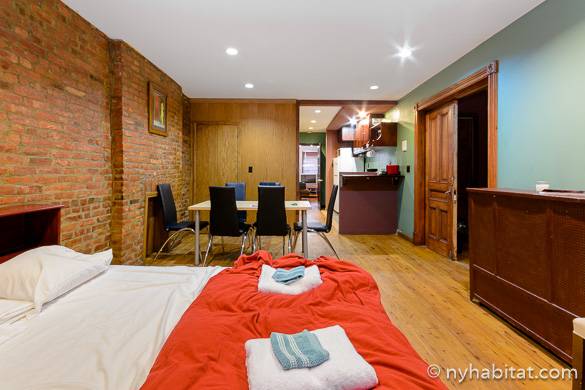 This vacation rental in Bedford-Stuyvesant can sleep up to twelve people.
Last but not least, our brokers know the ins and outs of our expansive apartment inventory, so they can sometimes work some magic and find you something you might otherwise overlook. A one-bedroom apartment with a second "living room" may really be more like a second bedroom in disguise. This vacation rental in Bedford-Stuyvesant with extra living rooms can sleep up to 12 people!
Now that you've got some insider tips for finding a New York apartment within your budget, head to our website and start browsing so you can dream about your next apartment rental in New York City! Happy hunting!