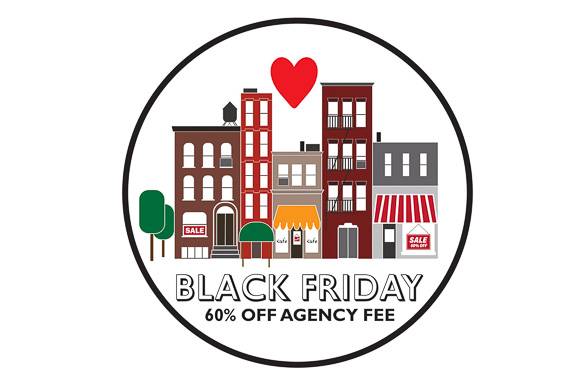 New York Habitat is celebrating Black Friday with 60% off agency fees on furnished apartment rentals!
As the leaves turn colors and fall begins, New York gets ready for Thanksgiving: the beginning of the holiday season. But just after that festive kick-off comes another uniquely American holiday. Great deals and low prices, for a limited time only on Black Friday, draw hordes of shoppers to stores across the country! There's nowhere better to experience the excitement than the famous shopping streets of New York during the best sales of the year!
Stay on for a few more days – or even the whole month – and you can see what New York really has to offer. Even better, we are offering a 60% off sale on the agency fees for bookings made November 1-30 in these one of a kind furnished apartments and vacation rentals to let you live like the locals in some of New York's most famous neighborhoods: Williamsburg and Harlem!
1. Two bedroom rental with panoramic views in Williamsburg, Brooklyn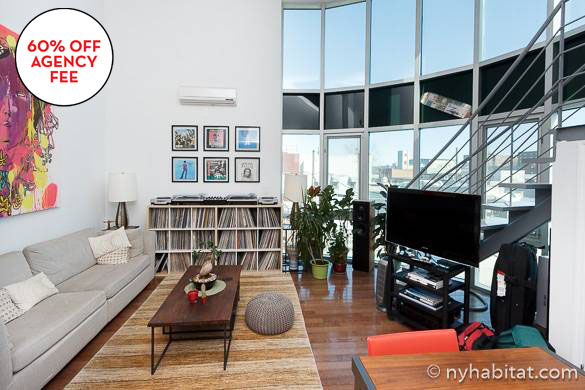 You can watch a New York sunset from your living room thanks to these duplex windows.
It's tough to find a cheap apartment in New York with natural light, let alone floor-to-ceiling duplex windows right in the living room! On top of that, this two bedroom furnished apartment in Williamsburg offers two balconies, off the living room and the second bedroom. Inside, contemporary art and a flat screen television give the space a modern touch, despite the LPs and record player – an homage to Williamsburg's love of vinyl and many record stores.