It probably comes as no surprise: New York City has the world's best pizza. It's one of the many things the Big Apple is famous for; a staple in the diet of every New Yorker. With so many variations (fresh mozz, grandma pies, and would you like some veggies on that?) there is surely a flavor to appease everyone in the family. Pizza is a relatively cheap meal, and an easy way to make your time in the city truly authentic. The streets are brimming with pizzerias to choose from; and though we swear, they're all good, we've managed to pick ten favorites. Here is our list of the top pizza spots in NYC:
Lombardi's Coal Oven Pizza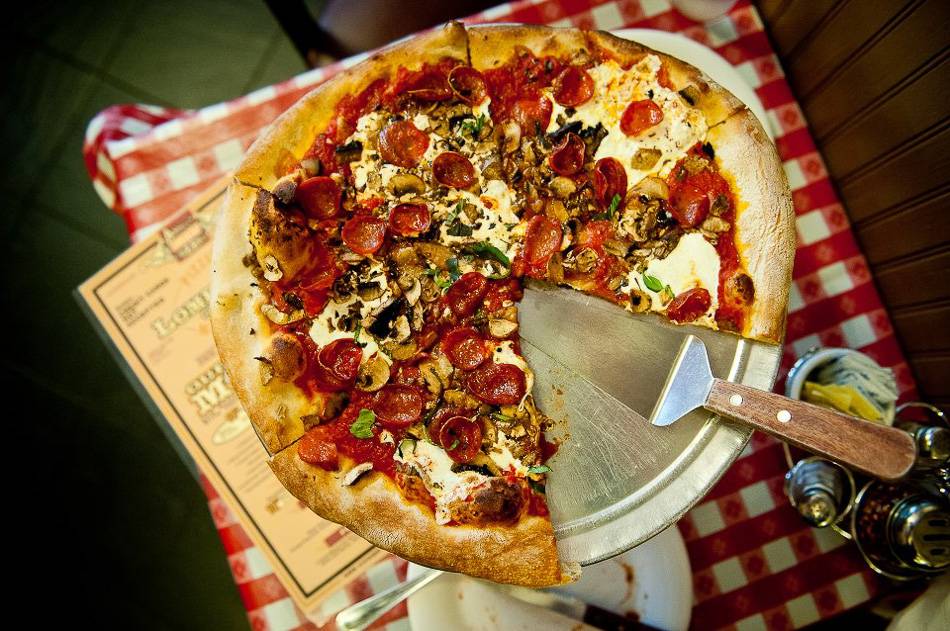 Lombardi's pizza pie.
Are copies ever as good as the original? No, and that's why Lombardi's pizza is still on top. Boasting the title of the first pizzeria in America, it has been on the same street for over 100 years and has more recently expanded the shop to fit its crowds of followers. You can't miss this place – just look for the business with Mona Lisa eating a slice of pizza in the window! Each pie here is made in a coal brick oven and served with smoky thin-crusts that are crisped to perfection. Thanks to its now-larger interior, the long lines have been cut down, more tables are available for dining and a bar serves beer and cocktails. Lombardi's is located on 32 Spring Street in Nolita and is accessible via the 4 and 6 trains at Spring Street. We love the White Pizza pie priced at $18.50 (small), served with mozzarella, ricotta, romano cheese, oregano, basil, black pepper and garlic infused oil and without sauce.
Hours: Mon-Thurs, Sun: 11:30am-11pm; Fri-Sat: 11:30am-12am.
Fun Fact: This establishment is cash only. Don't have any dollar bills in your pocket? That's okay; there is an ATM on the premise. Read the entire story here…»