Earlier we learned about " Uptown-The New Harlem" being an important part of the New York in Song Series.
New York In Song
"Brooklyn Bridge – Living In Brooklyn"
What a lovely view
Heaven looks at you…from the Brooklyn Bridge
This is an excerpt from the song "Brooklyn Bridge", performed by Frank Sinatra in the 1947 film "It Happened in Brooklyn".
Today, nearly 60 years later, it's still happening in Brooklyn. Although out of the Manhattan spotlight, it is nevertheless home to some of New York's most prestigious attractions. These include The Brooklyn Academy of Music, The Botanical Gardens at Prospect Park, and the world-famous Coney Island Amusement Park and Boardwalk.
While Brooklyn boasts some of the hottest real estate areas in New York, another advantage is that it is still usually possible to get more space for less money than in comparable Manhattan apartments. And transportation to and from Manhattan's hotspots is fast and convenient. You can check out our current listings of apartments, vacation rentals and roommate shares in Brooklyn. We have apartments everywhere in Brooklyn, from a vacation rental in DUMBO to an apartment in the Park Slope area.
Whether you're concerned about your budget, or just looking to experience a different part of New York City, consider trying the view from the Brooklyn Bridge!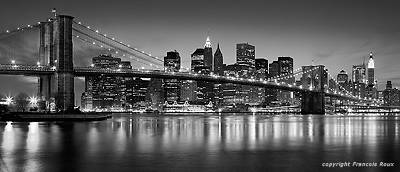 Photograph provided by francois-roux-photography.com