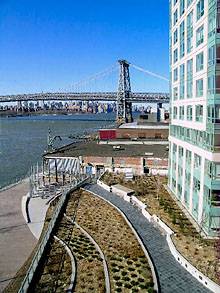 Kent Avenue has been the forefront for new development in Brooklyn with its location extending from Clinton Hill north into Williamsburg along the East River and then into Greenpoint.
It has offered many unused industrial buildings and vacant lots which have been prime candidates for conversion to apartment complexes. Today we will look at a few buildings in this area where New York Habitat has furnished rentals.
Schaefer Landing:
Situated at the southwestern corner of Williamsburg, this two-building complex was opened in 2006 and features a mix of rental and condo units. The building is located on Kent Avenue and offers spectacular views of the Manhattan skyline, the East River and the Manhattan and Williamsburg Bridges.
The complex features a large outdoor public space, a direct stop on the water taxi and a gym within the building. The closest subways are the J,M,Z train at Marcy Avenue and the L train at Bedford Avenue.
If you like the hipster atmosphere of the neighborhood, have a look at other apartment rentals in Williamsburg.
970 Kent Avenue:
Located in Clinton Hill, this renovated building features large, loft-like spaces with plenty of light and easy access to the G train. The building features a gym, a children's playroom and a large shared garden.
New York Habitat is currently featuring a one-bedroom, one-bathroom apartment in this building in Clinton Hill (NY-14154) [This apartment is not longer available as of June 11, 2012]. Please have a look at some of our accommodations in Clinton Hill as well as in surrounding Fort Greene and Prospect Heights.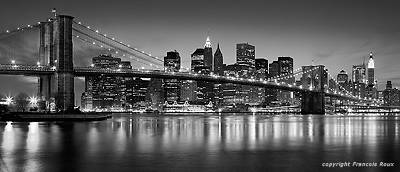 Greenpoint Avenue
This building is another renovated space, formerly the Greenpoint post office branch. The space has been completely gutted and features large one-bedroom, two-bedroom and four-bedroom lofts.
The building is located near the G train at Greenpoint and Manhattan Avenue Station, which offers easy connections to the 7,E,V trains in Long Island City to reach Midtown Manhattan in about 15 minutes.
New York Habitat features several units in the complex including a one bedroom loft in Greenpoint (NY-11599), this two bedroom loft in Greenpoint (NY-12073) and a four bedroom loft in Greenpoint (NY-11890). Plenty of other apartments are also available in Greenpoint.
To learn more about the neighborhoods of Brooklyn, take a look at our other blog posts on Park Slope, Ft. Greene/Clinton Hill, and New York in Song – Living in Brooklyn.
New York Habitat would be glad to work with you to find the perfect vacation accommodation, furnished apartment rental or roommate share in the Brooklyn building of your choice.