Earlier, we learned about The Ultimate Monster Mash being an Important  Part  in the New York in Song Series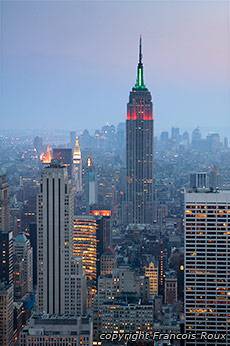 New York in Song
"Angels Sing In New York City"
The Empire State Building
See all the stars – so fine tonight…
The angels sing in New York City
These are lines from the song "Angels Sing In New York City" by the German band Modern Talking.
If the angels really do sing in New York City, chances are they are perched atop the Empire State Building. Located between Chelsea, Midtown West and Midtown East and stretching more than a quarter of a mile into the atmosphere, this manmade miracle can't be far from heaven itself.  To see for yourself, visit the famed Observatory.  From the 102nd floor, you will have the most breathtaking view of the entire City.  Particularly at night, when the city lights are sparkling, it is truly a thing of beauty and an experience to remember.
And speaking of lights, one of the City's biggest mysteries is the ever-changing colors at the top of the building.  Far from a random rotation, each color is chosen for a special significance.  There are those you would expect – red & green during the December holidays; and red, white & blue for patriotic U.S. Holidays such as Independence Day (not to be mistaken for blue, white, and red which is used to honor French Bastille Day!).  Then there are other color patterns carefully selected to honor special causes and events; such as pink and white for breast cancer awareness and purple & white for Alzheimer's disease awareness.  Perhaps the color light that can have the most different meanings is red.  When the Empire State is dipped in red it can be honoring the Red Cross, representing The American Heart Association, highlighting Multiple Sclerosis awareness, or just celebrating Valentine's Day.
And while February is still a while off, a Valentine's Day deadline is fast approaching.  Each year a select number of couples are chosen to get married on the 80th floor of the Empire State Building.  Couples are chosen on the basis of essays that must be submitted to the building's public relations staff by no later than November 30, 2006.  So start writing, and check out http://www.esbnyc.com/ for details on how to apply, as well as much more info about the building's lights and history.
Just think – you can have your wedding at an international landmark and then celebrate your honeymoon in one of New York Habitat's fabulous vacation rentals!  Whether you're getting married or just visiting, we have great apartments and bed & breakfasts for your stay.  Book a New York vacation rental today! To stay close to the New York Wonder, check out Chelsea accommodations, Midtown East apartments or Midtown West vacation rentals.
With all the tourism attractions the City has to offer, it's impossible to see everything.  But you don't want to miss the grandeur of The Empire State Building for your own special New York memory.  From the stunning Observation Deck high up in the clouds, the Big Apple has never looked so big – or so small.  And who knows, when you're that high up – and if you're very quiet – you just might hear an angel sing in New York City after all.
Now we will learn about Chelsea Morning being an important part of the  New York in Song
Photograph provided by francois-roux-photography.com