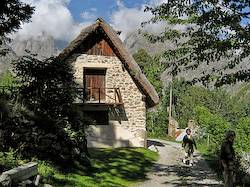 Leisurely adventure in a timeless landscape
For many Americans, a French vacation conjures images of famous landmarks, Parisian cafes, and the awareness that not everyone has air conditioning nor prefers ice in their water glass! Part of the enjoyment of foreign travel involves surrendering one's preferences and habits and welcoming the experience of local customs.
This American has just returned from 10 days in Gap, a provincial seat in Hautes-Alpes, an area of  the French Alps. Gap is located between Briançon and Aix-en-Provence. Returning from the island of Elba in 1815, Napoleon Bonaparte passed through Gap on his way to Briançon, and then on to Paris. In recent years, The Tour de France has passed through Gap several times with cheering spectators lining the route.
Situated in a mountain valley at an altitude of around 733 meters (2400 feet), Gap appears in the distance after a scenic 90 minute ride from Aix. The 100 year-old cathedral spire points skyward, surrounded by terra cotta roofs. Nearby mountains—Ceuzes, Bure, Charrance are easily visible and underline the constantly changing cloud patterns.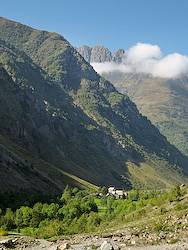 My hosts, a distinguished retired gentleman and his wife, have lived in the region all of their lives. Monsieur is an amateur historian and shared his written account of Americans living in Gap during the past century. It seems that enterprising Gapançais had ventured to California in the early 20th century. One of them, Marius Taix, envisioned capitalizing on the repeal of Prohibition in the US to bring French wines to wealthy residents of Los Angeles and San Francisco. Americans also emigrated to France and, at one time, owned the Hotel Napoleon in Gap. The hotel still stands today and retains the same name.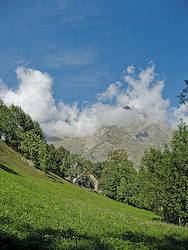 The pleasure of 2 hour lunches is a welcome change from the usual hurried lunch at one's office desk in New York!  I enjoyed regional cuisine, including tourtons, a delicious local favorite. Tourtons, which resemble ravioli, are a lightly fried pastries and are filled with potato, or plum preserves. I sampled meat dishes including stews of chevreuil and sanglier. (venison and wild boar). Many of our meals were accompanied by light and subtle rosé wines from the sloping vineyards of nearby Valserres.
Vacation Rental Apartments in the Alps are spacious and affordable, particularly when compared to hotels in the south of France. In September, warm days and comfortably cool nights predominate. Skiers will soon arrive from all over Europe and from the US.  Local chalets and villas are easily reachable by car and offer comfort, privacy, and the breathtaking mountain views of Hautes-Alpes.
Photographs provided by francois-roux-photography.com