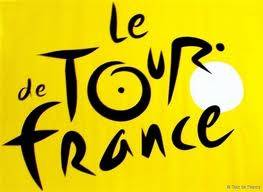 Tour de France Logo
The country of France owes its prestige abroad to a wide range of images and traditions, from historic landmarks and sexy movie stars to unique scenery and multi-faceted cuisine, but for athletic-minded people, nothing spells summer in France like the internationally famous Tour de France. After some inconspicuous debut in 1903, watching the tour quickly became a favorite past-time for all French generations combined during the month of July. As time went by, the beloved national bicycle race eventually turned into a world-class sporting event steadily drawing a large following all around the world.
This year again, the Tour will take its participants and their supporters through some of the most stunning landscapes of the country. And you too can enjoy the natural beauty of the Alps or the South while catching a glimpse of some of the most popular names in the world of sports. Whether you prefer the quiet majesty of the mountains or the exuberant sunshine of the coastal area, there is no lack of tranquility or excitement.
New York Habitat has plenty of lovely vacation rentals in the French Alps for you to follow the Tour.
In the Alps, the attractive town of Gap has been a traditional stop-over for quite some time now. Well-known for its athletic activities, it is also the perfect area for you to relax in. New York Habitat happens to have a lovely wooden chalet located in a quiet hamlet near the village of La Batie Neuve, which will allow you to make yourself right at home in no time: fully furnished apartment– 2-bedroom – La Batie Neuve – PR 954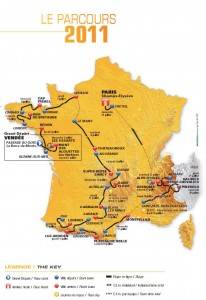 Map of the 2011 Tour de France (Click for a larger image)
Further down South, you can indulge in the joys of nature while enjoying music festivals in the historic town of Forcalquier, where our rustic fully
furnished – 4-bedroom rental – Forcalquier – PR 971
 with swimming pool is waiting for you.
The Tour will grant its cyclists a rest day in the Drôme region, and you may just want to follow suit and take it easy while discovering the area's numerous charms. Just seven kilometers outside Vaison-la-Romaine, our fully furnished vacation rental – 2-bedroom – Seguret – PR 259 is located right in the center of fortified Seguret.
Slightly further out, our fully furnished villa – 4-bedroom – Rasteau – PR 698 is in the perfect spot right between Vaison and Orange, with plenty of peace and quiet smack in wine country.
If you must have a look at the scintillating Mediterranean (and who does not?), you can go check out the sea and the Tour in Montpellier, one of the most vibrant and international cities on the coast. Our fully furnished 2-bedroom loft in Montpellier (PR-1133) is located right downtown and surrounded by all the amenities you'll ever need.
If you want to visit the South of France, we have many vacation rentals.
Whether you are a sport fanatic, a dedicated Francophile or just a lover of the good life, you will find what you're looking for and more with no problem. Have you ever been there and would like to comment below?
________________________________________________________
Map from the Tour de France website