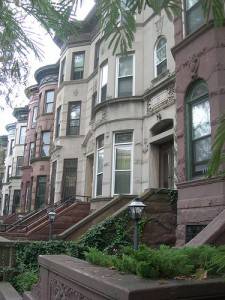 The Fort Greene/Clinton Hill areas are some of Brooklyn's fastest developing neighborhoods because of their unique accessibility to the surrounding areas and desirable selection of furnished apartments in Brooklyn that can be found. Subway access to the neighborhood is available via the B,Q,R,M trains at DeKalb Avenue station to the West and via the A,C,G trains to the south.  The neighborhood is also a close walk to Manhattan because of it convenient access to the Manhattan and Brooklyn Bridges. Therefore, renting an apartment in Fort Greene, Clinton Hill or Prospect Heights areas allows for the luxury of more space and quieter neighborhoods while still be close to the offices in Manhattan.
The neighborhood is known for its restaurants from around the world. The main street for restaurants is DeKalb Avenue though restaurants can be found intermixed along the side streets as well. Some of the top restaurant finds in the neighborhood according to the Zagat Restaurant guide include Loulou a French Bistro, Luz specializing in fusion Latin cuisine, Mo-Bay for Caribbean and Zaytoons for Middle Eastern. Also, a short walk from apartments in the neighborhood is the Brooklyn landmark Juniors famous for both its cheeseburgers and cheesecakes. The neighborhood is also close to the Fulton Mall, which includes various retailers including Macy's and the Atlantic Center, which includes a 24-hour supermarket and Target.
The neighborhood also has Fort Greene Park, which in the summer is ideal for playing tennis, having a BBQ or running on its manicured paths. The park also has a weekly farmers market on Saturdays where you can purchase local fruits, veggies and baked goods.
The neighborhood is dominated by brownstones and townhouses of various sorts though some pre-war high rises and new buildings can be found as well.
Students also find this to be a popular area for housing because of its proximity to Pratt Institute and Long Island University Brooklyn Campus.
The neighborhood is expected to continue to grow in popularity with the development of the new Atlantic Yards project. The project designed by the renowned architect Frank Gahry, who also designed the Bilbao Museum, Walt Disney Hall in Los Angles and new complex at MIT, is expected to bring the area a new feel with several new high-rise apartment buildings, a new arena for the Nets basketball team and park land as well. As this area develops with the surrounding areas of Fort Greene and Clinton Hill are also expected to see development.
Remember when looking for a New York accommodation to consider the outer boroughs as alternatives to Manhattan. Often you will find larger spaces at more reasonable prices. For those of you who have visited New York City before, staying in a new area opens doors to new restaurants, attractions like the Brooklyn Academy of Music and Brooklyn Museum and a different culture experience more like local New Yorkers experience on a day-to-day basis.