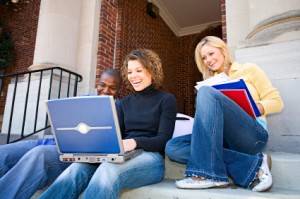 In the December 11th 2006 issue of Forbes magazine they report that apartment buildings specifically tailored to students can be a wise investment. In addition, offering furnished apartments can be a good way to boast the rental occupency rates.
Furthermore, since the student population in The United States has grown nearly 20 percent in the past 10 years to 9.5 milion, the need for quality student housing is great. In New York where the housing market is always tight, quality, well located, furnished student housing can be an attractive rental option, whether it's a room for rent in Manhattan or a whole apartment in Brooklyn. Owners that have converted their housing to student housing see several advantages including:
A relatively high 6% to 7% capitalization rate (1)
Reliable payment guarantees since parents are often guarentors (1)
Strong demand for their units as the market continues to grow
New York Habitat is the perfect venue for property owners in New York to list their student housing options. With our team of professionals we can help to determine what amenities are needed to make the rental successful and which groups might be most interested in renting the apartments.
In addition to our services in New York our teams in Paris, London and the South of France are well versed in their territories and can be helpful in making your student accommodations profitable. Our relationship with academic institutions through out the world enables us to provide a steady inflow of students interested in finding housing.
(1) Swibel, Matthew. "Dorm Deals." Forbes. Dec. 11, 2006: 186-188.