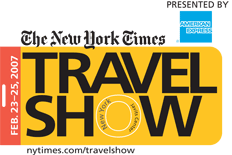 The New York Times' annual travel show is a showcase for worldwide travel partners. New York Habitat, with offices in New York, Paris, London and the South of France, is excited to be attending the event as part of the industry.
The show is an excellent opportunity for people in the industry to learn more about trade trends as well as for others looking for vacation opportunities. There are several hundred travel-related companies setting up booths to showcase their offerings and 26,000 attendees are expected to come to the event at the Jacob Javits Center.
The 2007 New York Times Travel Show takes place the weekend of February 23rd to February 25th. If you are in the travel industry and are looking for a furnished rental provider in New York, London, Paris or the South of France, consider contacting us while you are visiting the Travel Show. We can set up a time to discuss partnering to meet your accommodations needs at our destinations.