New York Habitat is always looking to offer our customers interesting opportunities and advice on the New York Habitat blog. Recently we had a chance to learn about Context Travel, a company that provides unique walking tours of some of the great cities around the world. We recorded a video interview with Lily Heise about the company which you can watch below to learn more about Context Travel's walking tours.
Context Travel Unique Travel Tours (8:08)
In this video, we learn that like New York Habitat, the innovative touring service Context Travel favors quality above all else when it comes to introducing visitors to a unique culture. Never exceeding groups of six individuals, their innovative "walking-seminars" allow vacationers to retain profound discoveries about a city that can be lost amidst noisy double-decker buses and masses of picture-snapping tourists. Perhaps the most alluring aspect of these tours is that they provide a certified field expert as a guide. Whether it is a local sommelier, a graduate student writing his dissertation in Art History, or a European Architecture Professor, their inspiration will engross you in the local fabric of a culture. In essence, clients are truly able to walk a mile or two in the expert shoes to learn about the city. Frequent travelers will surely be delighted by these intimate alternatives to the run-of-the-mill vacation experience.
For instance, while you're taking advantage of a charming studio vacation rental apartment found on the Champs Élysées (PA-4143), you may find yourself desiring to see some of the less well known attractions of a Paris neighborhood, like Ile Saint-Louis, which features many historic buildings and great food options. Context Travel offers tours that cater to individual interests. For foodies, "From Baguette to Bistro" teaches the difference between a great and uninspired baguette. For music enthusiasts, "The History of Jazz" ends its tour at an actual Jazz concert! Or, the tour "The Modernist Architecture" explores Paris' 16th Arrondissement and examines the influence that artist, theoretician, and architect, Le Corbusier, had on both Parisian architecture and Euro-American Modernism. This mobile lecture will leave art enthusiasts with a new-found appreciation for everything from the Villa La Roche to the fascinating façade of their own maison.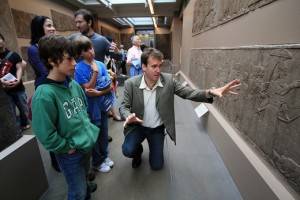 A Context Travel Museum Tour
Similarly, every frequenter of New York City has, at one time or another, visited the Statue of Liberty or ambled through the halls of the Empire State Building. Few, however, have experienced the city from the perspective of the frying pan. The seminar "Tasting the Immigrant Experience" presents an examination of two of the city's most famous gastronomic hubs, Chinatown and Little Italy. After three-hours of sampling, recipe dissection, and a crash course in foodie history, visitors will be able to put some of their newly acquired culinary expertise to use in their fully-furnished kitchen in an East Village, New York 1-bedroom apartment (NY-14595).
Or, imagine overlooking Chelsea from your mod 3-bedroom apartment loft in Chelsea with a balcony (NY-12074). Could there be a better way to break in your fully furnished apartment than by throwing a soiree using recently acquired prohibition-bar-tending skills? Context Travel's walking seminar "Birth of the Cocktail: A Drinkable History of New York," offers grown-up fun for liquor aficionados, adventurous lovers, and seasoned New Yorkers looking for new places to have good ole' time. Recently reviewed by The Times of London, this seminar exposes tourists to some of New York's infamous hidden alcoves of the prohibition-era. Truly the most unique bar-hopping experience of a lifetime, patrons are treated to drink menus reminiscent of 19th century speakeasies.
Considering the unique beauty of every city, the desire to immerse ourselves in different culture should never result in taking anything away from its resources. While the joys of tourism often overshadow the dangers, pollution and traffic are some of the hidden difficulties within an otherwise-perfect vacation. For this reason, Context Travel, which recently won National Geographic's "Sustainable Tourism Challenge", places emphasis on the sustainability of their tours. On top of the obvious dedication their guides have to their native cities, the company avoids using cars for travel, and helps support local conservation projects. They also suggest residing in a furnished apartment or vacation rental while traveling to help contribute to the local economy of a city. A culturally grassroots experience is becoming more difficult to satisfy in this globalized era, but both New York Habitat and Context Travel strive to maintain the authentic beauty of each travel experience.  Thankfully, there are generations of artful travelers to come!
We hope you have enjoyed learning about the innovate tours that Context Travel offers via our video interview and article. We hope to see you in a New York Habitat apartment or on a Context Travel Tour in New York, Paris or London soon.