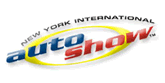 Logo of New York Auto Show
The New York Auto Show is the most attended showcase in New York. Last year, over 1.2 million people attended the event. If you enjoy checking out all of the new models, this is the place to be. And if you want to have enough time to see everything, consider spending some time in New York to visit the auto show and tour the city.
The New York Auto Show takes place at The Javits Center from April 6-15, 2007.  You can find out more information about the event by visiting the show's website. With its location in Midtown West Manhattan, finding a convenient accommodation can be difficult. If you are bringing the family to the show, having a large apartment in Midtown West can be a particularly wise option. Also, consider Chelsea accommodations since the neighborhood is only a few steps from the Convention Center.
New York Habitat has several accommodations in Midtown West, including NY-12250, a large studio loft in Chelsea, NY-11471, a one-bedroom on 11th Avenue just four blocks south of The Javits Center, and NY-8705, a one-bedroom apartment to the west of Times Square; these are all well suited to these needs.
So, whether you are an exhibitor, a visitor or part of the press, remember New York Habitat when you are making your plans for the Auto Show. We can offer you a rental perfectly suited to your needs.
Related apartment rental posts from New York Habitat: