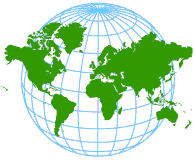 Over the past several years, global tourism has soared. On January 29, 2007, Yahoo News reported that China is set to pass Spain as the second most visited country in the world while France remains the top destination. As worldwide travel continues to grow, finding comfortable accommodations in the world's top destinations becomes more and more difficult.
New York Habitat is uniquely positioned to offer a practical solution for people looking for an apartment rather than a typical hotel room. With more then 500 short-term accommodations listed at any given time in New York and Paris, as well as several hundred offerings in London and the South of France, New York Habitat offers plenty of choices for the discriminating traveler and those on a budget. All of our apartments include fully stocked kitchens, clean linens and a feeling more like home.
The Yahoo News article goes on to mention that tourism in Western Europe and America has remained fairly stagnant. New York Habitat's contention is that because it is increasingly difficult to find suitably priced accommodations in these areas, tourists are looking to travel to other places like China.
New York Habitat strives to spur global tourism by expanding our offerings. Check out our latest additions in New York, London Paris and the South of France.