New York Habitat is proud to be a multi-national company with properties in four unique and incredible destinations: New York, Paris, London, and the South of France. Our clients often choose to rent furnished apartments because of the exciting opportunity to live like a local and fully immerse oneself in a new culture and way of life.
However, there can sometimes be unexpected surprises along the way that come naturally with renting a furnished apartment in a new location! Our licensed agents can help answer any questions you may have about rentals in another city or country, but it's good to be aware of common differences in the types of properties around the world so you're prepared ahead of time. Whether you're looking for an apartment in New York City, a flat in London, a rental in Paris, or a villa in the South of France, we're here to give you a crash course in the little quirks of each type of property that might surprise you (but we're sure you'll grow to love!).
Renting in France: From Paris to the Riviera
Between the metropolitan capital of Paris and the vineyards, mountains, villages, and beaches in Provence, there are multiple different types of properties you might encounter when you travel to France. This is true to the point that property types can even vary between regions, despite being in the same country!
We'll start with Paris, as it's known for its international tourism and is a major destination for commerce, particularly in the industries of art, fashion, and cuisine.
Enter your Paris apartment building and the first thing that might surprise you is the lack of a doorman. Paris apartments are often protected by coded or intercom security systems instead.
You should also prepare to climb several flights of stairs. While elevator buildings are not unheard of, many Parisian buildings were constructed in the 19th century or earlier and only ever designed to make use of stairs.
If there is an elevator in your building, it is likely to be much smaller than an American elevator. Plan accordingly with your luggage!
Communal rooftop spaces are rare in Paris.
Air conditioning is not common in Paris either.
Paris has strict zoning laws, and Paris buildings are not nearly as tall as the skyscrapers of American cities. There are very few high-rise buildings (most buildings are 7-8 stories maximum).
As per the last point, there are some commonalities in French apartments that you will discover all across the country, but may be slightly unusual to international travelers. No matter where you're staying in France, you might be surprised to discover the following features.
Windows do not have insect screens as they do in many American homes. The French are accustomed to opening their windows and letting fresh air flood their homes.
The bathrooms in your French apartment may look different than the norm in other countries. It's common for a French bathroom to be divided between two separate rooms—the W.C. (or toilet) is sequestered from the salle de bain, the main bathroom consisting of a shower or tub and a sink.
You may have to adjust your laundry routine—many French apartments also have a washing machine but no dryer.
European buildings subscribe to a different system of floor numbering than those in the United States. The floor at street level is called the ground floor, and the next floor above is considered to be the 1st floor. If you rent an apartment on the 3rd floor, you can expect it to be the 4th story of the building if you're used to American numbering.
Refrigerators and beds tend to be smaller in France than in the United States. If you're a traveling couple and concerned about the width of the bed, ask if your agent can provide you with a measurement. It's the French way to shop from a local market for ingredients and consume them while they're still fresh, so why not get in the local spirit and do the same?
Be sure to review the common practices of a Paris or South of France apartment before you rent. If you have special needs for an apartment (like a physical impairment that prevents you from climbing stairs), talk to your agent about how you can find an apartment that will suit you. For more tips on Paris travel, you can also check out our guide to some often-overlooked facts about the City of Lights!
Renting in New York: Getting acquainted with your space in the Big Apple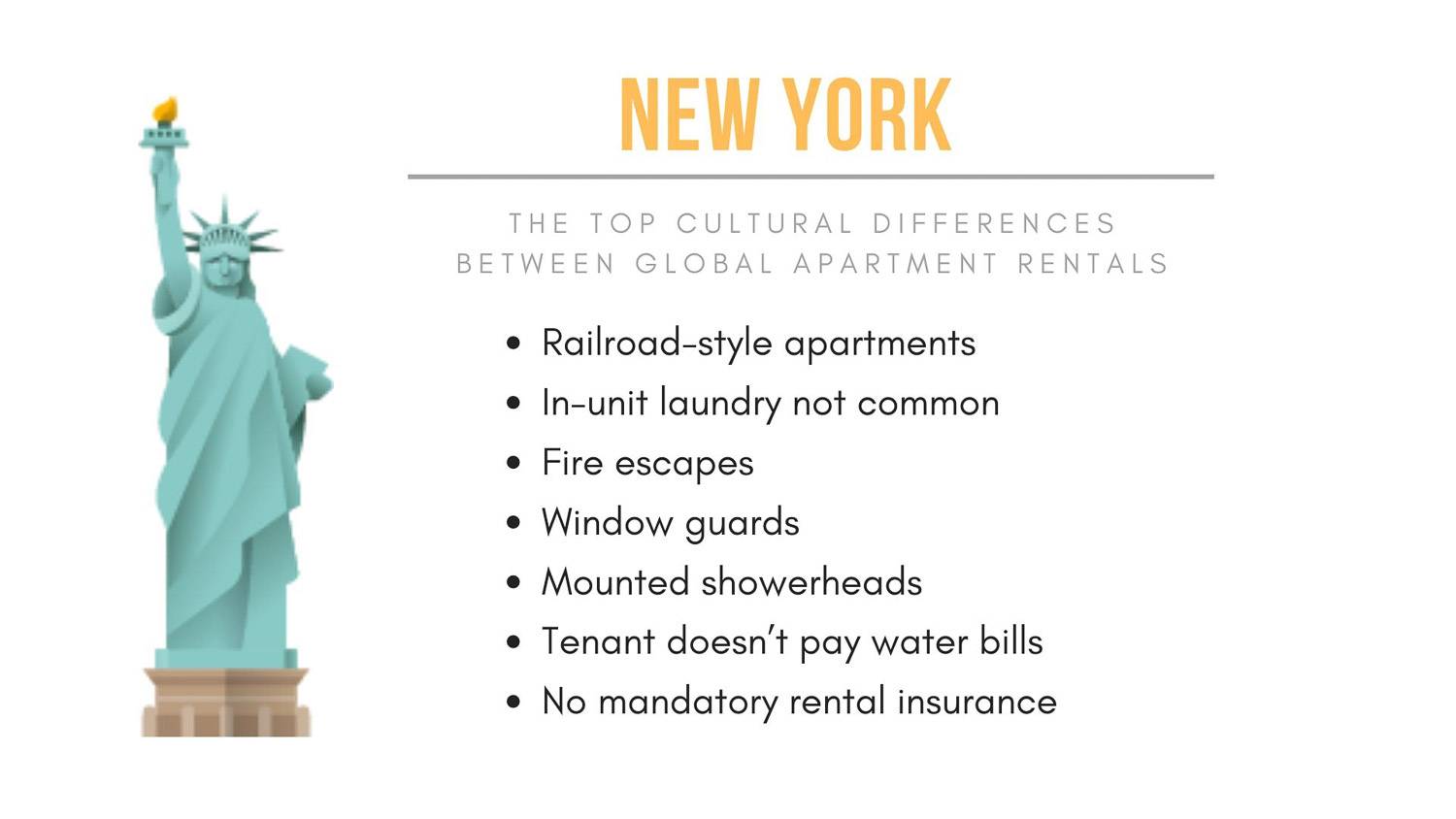 As the youngest city in our list of destinations, New York has some unique quirks and rental regulations that were established to combat the city's growing pains at the turn of the 20th century. Even with the advent of more luxury and modern construction in the city, NYC still holds on to a lot of its unique trademarks (some of which are required by city law!).
The first thing to note is how apartments are categorized in the city. You will generally hear apartments referred to as pre-war (meaning it was built before World War II) or post-war (built after WWII but before the 1990s). 'New construction' or 'modern construction' is designated for apartments built post-1990.
Each style has its pros and cons, so you should talk to your agent about an apartment's features and quirks to make an informed decision (for instance, air conditioning may not be available in a pre-war apartment, but outdoor space is a more common perk with pre-war buildings).
Because the city has always been extremely densely populated, apartments may have unusual layouts to foreign travelers. Railroad or shotgun-style apartments are a resulting style from the tight space; you may have to walk through a roommate's bedroom to access your bedroom or a bathroom!
No matter in which style of building you're renting, know that laundry appliances (a washing machine and/or dryer) are not commonly included in a private apartment. Your building may have a public laundry room or you may have to take your dirty clothes to a pay-to-use laundromat. If private laundry is a must for you, mention this to your agent, but be aware it may mean you have to adjust your rent budget.
Fire escapes are mandatory on most buildings constructed before 1968, so if you're renting a pre-war apartment, you may have access to a fire escape from one of the apartment's windows. To learn all the dos and don'ts of NYC fire escapes, read our blog!
Child-safety window guards are also mandatory in apartments where there is a full-time resident under 10 years of age. Because of this, a rental apartment may sometimes have bars over the windows when you move in. You can double-check with your agent if this is the case at your rental!
Your NYC apartment also most likely will not have shutters on the windows, as is common in Europe.
Like in Paris, you can prepare for some differences in the bathrooms too: U.S. showerheads are usually mounted to the wall, not a flexible pipe that may be familiar to most French people.
Here's a unique bonus for NYC residents: Water bills are not paid by the tenant!
Rental insurance is also not mandatory in a New York rental.
Of course, New York City is such a large and diverse city that there are likely to be variations in the types of rentals available, even between different neighborhoods! When renting an apartment, be sure to consider the things you'd like to have the most in your rental, and your agent can help you find a space that delivers (whether that's a washer and dryer in-unit, a pre-war bargain, or something else). Of course, renting in New York goes beyond just your living space—be sure that you're up to date on your New York sidewalk etiquette as well!
Renting in London: Figuring out your flat
London is a grand city with a long and ancient history, but modern-day London rentals have really honed their style with a particular penchant towards high-rise apartment buildings overlooking the River Thames from Westminster to Canary Wharf, and the luxurious townhouses in neighborhoods like Mayfair and South Kensington. You will also find that many buildings in London offer the best of both worlds: the charm of an older building, but a modern, refurbished interior.
That's not to say that London apartments don't have their own sense of charm! Here's a few of the unique things you might encounter in a London apartment.
As with Paris, air conditioning is not always common in London flats, although it is becoming more of a mainstay in ultra-modern construction.
Fortunately, outdoor space is a lot more common in London than in New York. The city's less dense building population means balconies, backyards, and terraces are a much more common bonus feature than they are in the Big Apple.
As is true in France and the rest of Europe, your European floors will be numbered differently than their American counterparts. Expect the 1st floor to actually be what most Americans would consider the 2nd floor.
Some London rentals are on a floor called the lower ground floor. Often, travelers worry that this means it's a basement apartment and the unit won't receive any light, but lower ground floor apartments almost always have front-facing windows, and as an added bonus, they often have garden access as well!
Due to London building codes, it's unlikely that you will find electrical outlets in the bathroom. The ordinances prohibit an outlet to be within 3 meters of a shower or bath.
Speaking of outlets, be prepared for differences between American and English electrical plugs. London electric outlets are often a higher voltage and different shape than in the United States. If you're traveling to London, be sure to pack a special adapter for charging your phone and other gadgets (this and other London travel tips can be found here).
As well as remembering to pack your adapter, be prepared that storage in London will probably be different than what you expect. Built-in closets are rare in the UK, with most living spaces opting for a dresser or wardrobe for clothing storage instead.
Like our other destination cities, London has a large and diverse public transit system as well. To get the best perspective on any city, study the train system before you go! Knowing the transit system, or at least having a map on hand, can help you and your agent understand the best places for you to live relative to your work or school. Make sure you understand the regulations of the transit system as well (the Paris Metro and London Underground are not 24-hour systems like New York City!).
Finding the perfect accommodation is an often-overlooked part of planning a trip. It can be hard to find the perfect apartment rental (unless you have an unlimited budget), but knowing what to expect in your search can be a huge help along the way to avoid surprises. Of course, our licensed agents are armed with years of local knowledge that can help you as well. The advantage of working with an agent is having someone to answer any of your questions, rather than going it alone.
Now that you have a bit of local knowledge too, are you ready to plan your travels? If so, get in touch with us today!