The 2007 Mermaid Parade will take place on June 23rd at the magical Coney Island, Brooklyn, and New York Habitat offers vacation rentals in Brooklyn and throughout New York as well as furnished apartments with convenient subway connections to the area.
This year is the event's "Silver Anniversary," as it celebrates 25 years of artistic self-expression and summer fun in New York City. The parade is a ceremony to open the beaches of Coney Island for the summer and to celebrate Coney Island's pride, history, mythology.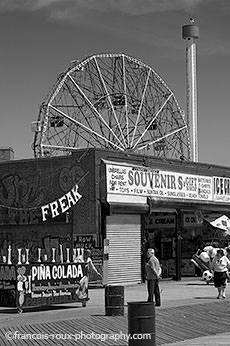 Since 1983, people have participated in this Mardi Gras-like event by dressing in hand-made costumes as mermaids, Neptunes, various sea creatures, and even Coney Island nostalgia such as lighthouses, postcards, and amusement park rides. You will also find marching bands, drill teams, and yacht floats.
A celebrity King Neptune and Queen Mermaid overlook the celebration proceedings each year, with past maritime monarchs like Queen Latifah, Moby, David Byrne, and David Johansen to name a few, leading the parade from the boardwalks to the Atlantic Ocean where they toss fruit as an offering to appease the sea gods. After the parade, the celebration continues at the Mermaid Parade Ball at Velocity (Stillwell and Bowery) with live music, raffle tickets, and burlesque and sideshow acts.
The parade starts at approximately 2 p.m. at West 10th Street by the Cyclone roller coaster. You can pre-register for the parade on the Mermaid Parade website ($10 adults, $5 children), or you can do so on-site from 10 a.m. until 2 p.m. To get there, take the D,F,N, or Q train (Downtown/Coney Island direction) to Stillwell.
To go to the Mermaid Ball, you need to purchase your tickets in advance at the ball's official website.
Coney Island is located on the southern end of Brooklyn and is host to an amusement park area of at least 35 or more separate rides and attractions. It is also home to the world's longest boardwalk with a distance of approximately 2½ miles (about 4km). This is the perfect place to go for summer fun in New York City, as Coney Island maintains a beach community environment within a big city.
When considering summer vacation plans in New York City, remember that New York Habitat offers Brooklyn apartments that are a direct subway ride to the city's beach areas like Coney Island or Long Island, including a beautiful one-bedroom brownstone in Boerum Hill (NY-11601) or a stylish one-bedroom brownstone in Park Slope (NY-14720) .
The Mermaid event occurs during the peak summer rental season, so remember to book in advance.
For a list of other events in New York City, visit the events section on our blog.
Photograph provided by francois-roux-photography.com