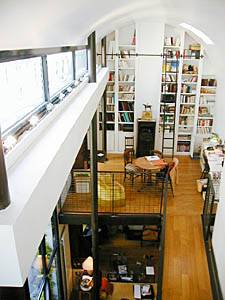 Anyone who knows anything about the Paris art scene knows that the Belleville neighborhood is where artists go to set up shop and home. High rents have landed creative types throughout the gritty Belleville quarter, the area is home to more artists per square meter than any other in the capital. Located just around the corner from the manicured Parc des Buttes Chaumont, and in the heart of Belleville's art epicenter, is a spacious, bright 1 Bedroom Triplex Townhouse (PA-2067).
Unfortunately this accommodation is not available anymore but if you like the neighborhood checkout these choices:
A 1-bedroom apartment in Belleville, Paris (PA-1364)
While the neighborhood might be filled with struggling artists, renters of this townhouse apartment won't have to live like one. The apartment is tucked onto a quiet, green pedestrian street and boasts a generous combination of air and light. The accommodation's open feeling is thanks in part to a gigantic, floor-to-ceiling(that's two floors!) windows that looks over a private garden.
While the apartment is filled with modernity, it also is complimented with classic design touches, most notably the hardwood floors, beamed ceilings and wood furnishings. Best of all, this accommodation offers the perfect respite from the hustle and bustle of Paris, your own private garden terrace. The accommodation resides in the multi-cultural 19th arrondissement and is a short walk to the Jourdain, Pyrenees metro stop.
First off, it's a triplex townhouse. This amount of space and light is a veritable rarity in the crowded dwellings of Paris. If you want to browse some more, we have plenty of other lovely apartment rentals in the 19th arrondissement.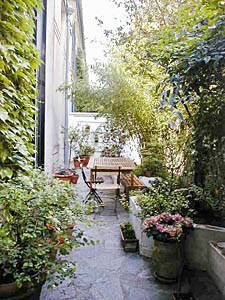 Why is this 1 bedroom Triplex Townhouse a Hidden Gem?
The apartment's location in the heart of Belleville is an art lovers dream. Sure there is plenty to see at the Louvre and Musee d'Orsay along the Seine, but to experience the thriving contemporary scene there is no better place in Paris then Belleville.

Also, this apartment has some great touches: a two story window, private garden terrace, built in bookshelves and a location on a pedestrian street are just a few.